Equal parts exciting and exhausting, Kathmandu is ready to test and thrill your senses
From a pit stop on the Silk Road to a 'Freak Street' hippy hangout and a backpacker circuit stalwart, Kathmandu has been a global crossroads for well over a millennium. Now, seen as the gateway to the Himalayas, don't go thinking the Nepali capital is simply a place to pass through on your way somewhere else – it's a great destination in its own right.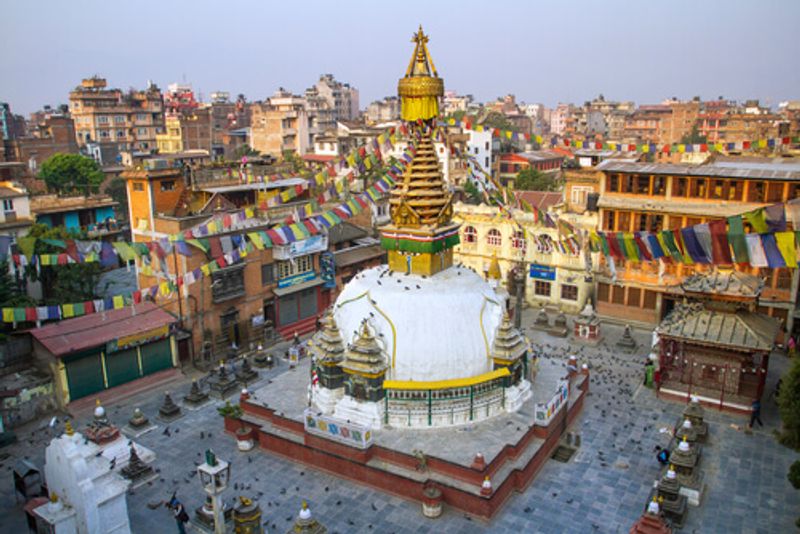 The 21st century is all too evident in this once serene outpost, and Kathmandu's urban sprawl now surrounds the ancient city and carpets the entire valley which shares its name. Home to around 20% of Nepal's 28 million people, the city is the country's economic, political and cultural centre. It was also the royal seat of power until the abolition of the monarchy in 2009, which followed the country's Democracy Movement, itself preceded by the bizarre Game of Thrones-style massacre of almost the entire regal bloodline by the gun-toting crown prince, furious at his family's dislike of his intended bride. The site of the tragedy, Narayanhity Palace, now houses a museum; stay until dusk to watch hundreds of giant fruit bats leave their nearby roosts (not unlike like the opening credits of Scooby Doo). Sadly, the city's older palace, Hanuman Dhoka, was badly damaged in the huge earthquake of 2015. This highlights of this five-acre complex include the Tribhuvan Museum and Nasal Chowk, the square where kings were coronated, which takes its name from its statue of Shiva dancing.
Religion is never far away in Nepal and, although secular, it is overwhelmingly Hindu (81%); in fact, their supreme being Vishnu is said to given the people its double triangle flag; he is even believed to have visited the country – along with fellow deities, Lord Brahma and Shiva – while they were disguised as deer. The country's other main religion is Buddhism (9%), and their main man was said to have been born in its south along the border with India.
On a hill west of town sits one of Nepal's holiest Buddhist site Swayambhunath Stupa; its steep steps are worth the climb for a view which puts the 'stupa' in stupendous. Near the airport is Boudhanath, one of Tibetan Buddhism's most sacred sites, which holds a night festival every full moon; nearby is Hindu temple, Pashupatinath Temple, named after the country's national deity. If you want a temple fix in town, head to Kathesimbhu Stupa, which features a pagoda dedicated to Hariti, the thankfully now obsolete goddess of smallpox.
Kathmandu even has its own living goddess, the Kumari, a young girl who is selected to the living symbol of devi, Hinduism's female spiritual energy. She appears to the public each morning at one of the beautifully carved wooden balconies of Kumari Chowk – but don't bring your camera, photos are strictly forbidden.
If you find the city's heady cocktail of colour, noise, traffic, people and pollution overwhelming, seek out a quiet corner of The Garden of Dreams. It certainly lives up to its name, offering an oasis of calm away just a short stroll from the busy streets of Thamel, Kathmandu's main tourist district. This small park was inspired by the pleasure gardens of Edwardian England's stately homes, and built in the 1920s using gambling winnings the country's prime minister had to cough up to his son!