Nepal is more than a trekker's paradise; it's a feast for travellers seeking dramatic scenery, charming locals and jungle adventures. But, when is the best time to go?
Many people flock to Nepal to tackle some of the best mountain trails in the world. Trekking to Everest Base Camp or conquering the Annapurna Circuit is on many a bucket list and autumn is one of the best times to pull on your boots. From September to November, weather in the Himalayas is clear and dry with great visibility – ideal for trekking. Two of Nepal's major festivals, Dasain and Tihaar, also fall during this time.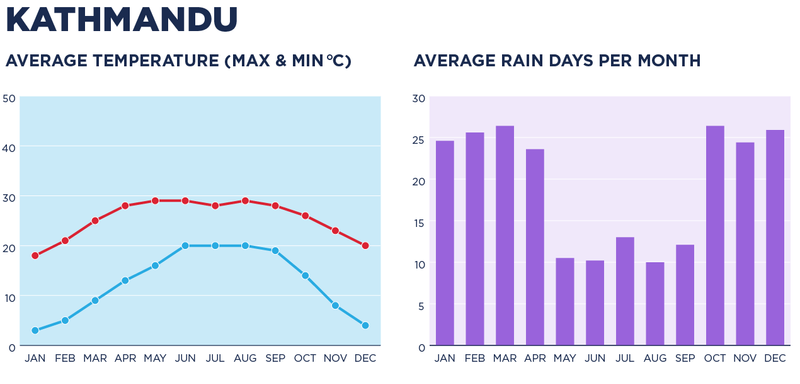 In Kathmandu, temperatures average in the mid-twenties during autumn. It is also warm and comfortable in Lukla and Balthali, and Everest Base Camp averages around 14 degrees celsius during this time.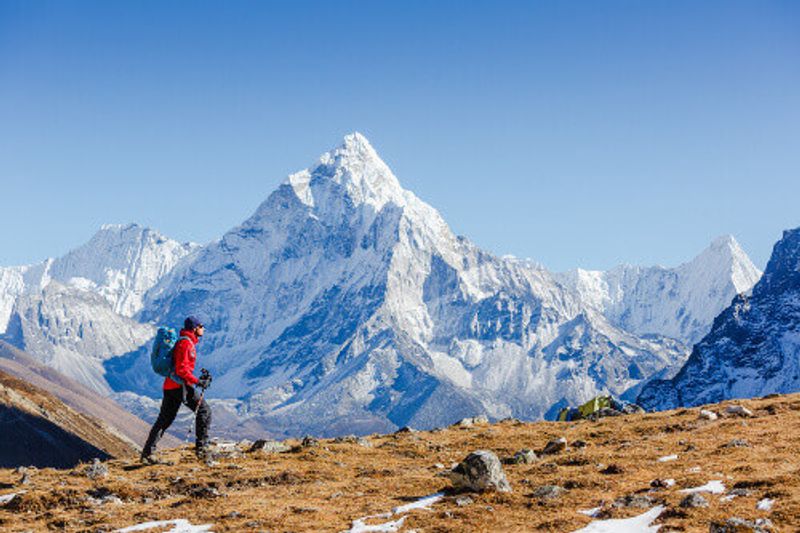 Winter in Nepal tends to be cold and dry, but you may have the mountains to yourself. Between December and March, Kathmandu reaches up to 20 degrees celsius during the day, and cools off at night. Up in the mountains, Everest Base Camp averages around 4 degrees, with plenty of bright sunshine during the day, but expect the mercury to drop well below zero come nightfall. These conditions cover the surrounding mountains in snow, and ensuring spectacular vistas along the hike.
Spring is another ideal time to head to Nepal. Wild rhododendrons burst into bloom, blanketing the Himalayas in shades of pink and red, the weather is pleasant and the days are longer. The colourful Holi festival is also celebrated in Nepal at the beginning of spring. March and April in Nepal are typically mild, before temperatures rise sharply in May. Kathmandu enjoys an average of 27 degrees celsius, Everest Base Camp will be around 10 degrees, and Balthali and Lukla warm past the mid-twenties.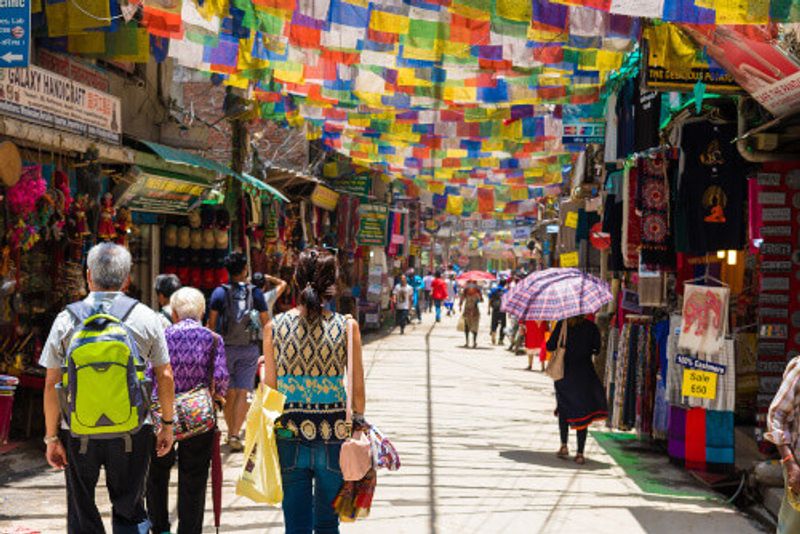 Summer, from June to September, brings the monsoon season. These conditions, coupled with high heat and humidity deter crowds, making it a good time to visit if you want to misspeak season in the cities. Often the rains come at night, too, so days can still be beautiful. Unfortunately, the monsoon means trekking through many of Nepal's most popular areas is off the cards, but routes in the rain shadow like the Upper Mustang and Upper Dolpo are great alternatives.
Kathmandu averages temperatures in the high twenties, with plenty of rainfall. In the Himalayas, it's around 16 degrees celsius, and elsewhere, you'll find temperatures up into the thirties with lots of rain.
Nepal has plenty of opportunities for travellers and so much to see and do throughout the year.
When will you go?
Where else do you want to visit?