Unofficially referred to as Russia's third capital, this bustling city retains every inch of its historical and cultural charm
Situated along the banks of the Volga, Nizhny Novgorod has played an important role in Russian culture and politics since medieval times, despite its status as a 'closed city' after World War II which restricted foreigners from visiting. In the Soviet era, it was renamed Gorky, after the writer Maxim Gorky, before reverting back to its original name in 1990.
Nizhy Novgorod, commonly referred to as Nizhny for short, remained unscathed by the 13th century Tatar invasions, and in time, became a powerful seat for Russian royalty, wealthy merchants, and industrialists. Nizhy is also known for launching the first Russian tram system in 1896, named Oerlikon. Across the Volga is the town of Bor, which can be reached by cable car.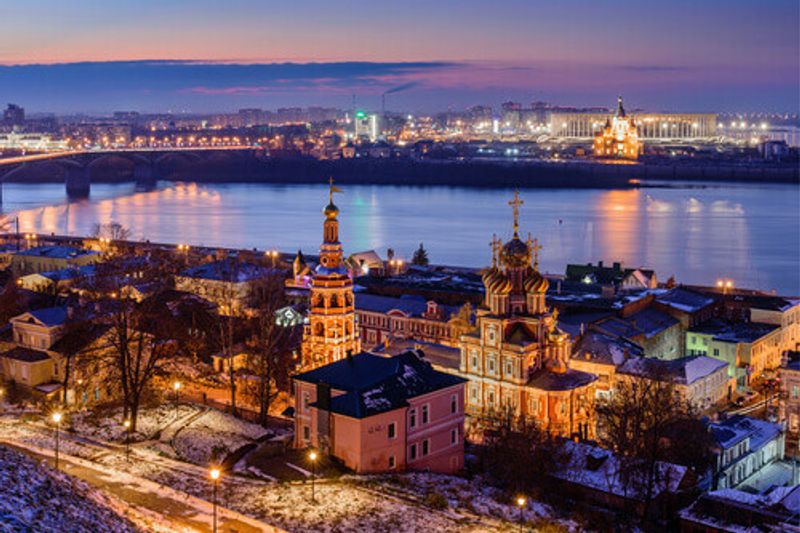 Today, the city is a vibrant urban centre filled with stunning architecture from different eras, as well as museums, theatres, historic religious buildings, and new sports stadiums fresh from the 2018 World Cup. It is also a popular base for many technology and engineering companies.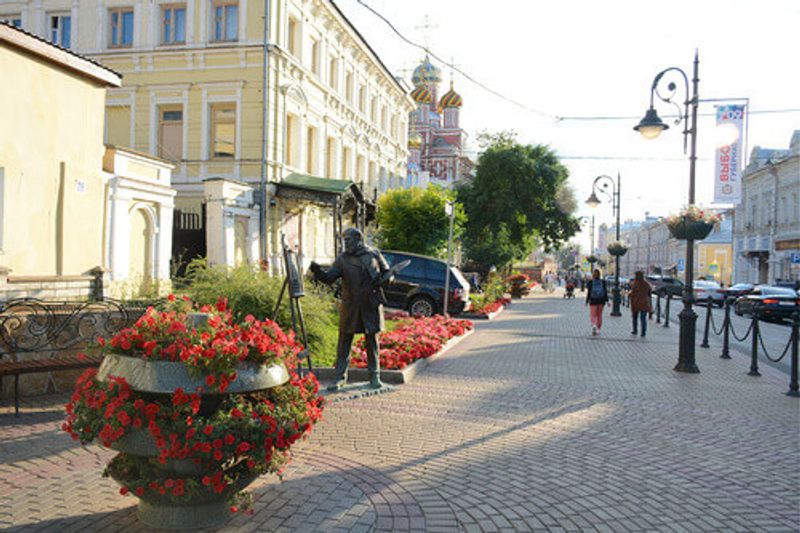 Built under the supervision of Italian engineers in 1500, the magnificent Novgorod Kremlin was allegedly the strongest citadel in Russia at the time. The distinctive red brick fortress, flanked by 13 towers, was heavily damaged during the 1917 revolution. The only intact religious building inside is the 16th century Archangel Cathedral, which houses the remains of the national hero, Kuzma Minin, for whom Minin and Pozharsky Square is named.
Minin and Pozharsky Square is also a must-visit for its historical significance, notable surrounding buildings, and most famously, the monumental Chkalov (or Chklaovskaya) staircase, which is the longest flight of steps in Russia. Take a leisurely walk down Rozhdestvenskaya street, which doubles as a unique open-air museum because of its beautifully preserved stone houses and churches, some of which date back to the 17th century.
The Nizhegorodskaya yamarka, also known as the Nizhny Novgorod Fair, is an imposing historical complex that once hosted international fairs and bazaars, and currently features a multimedia exhibition dedicated to Nizhny's long, rich history.
While Nizhny is filled with numerous Orthodox buildings and churches, don't miss out on two medieval stunners, both overlooking the Volga: the hilltop splendor of the Pechersky Ascension Monastery, and the 13th century Annunciation Monastery – the latter is slightly smaller, but with rich interiors, and absolutely worth a visit in its bucolic park setting.
For a quirkier mini-adventure, venture out to the low-key Museum of Wooden Architecture, an open-air complex just outside Nizhny that offers a glimpse into old peasant life – there isn't much about it in terms of marketing, so ask locals for directions.
A totally opposite experience can be found at the opulent Rukavishnikov Estate Museum, a palace filled with lavish treasures from its eponymous landowning family who made their fortune as merchants. There's also the Sakharov Museum – a small memorial apartment named for its for former resident, the Russian scientist and human rights advocate Andrei Sakharov, who was imprisoned in the flat during the Soviet Era.