The Vietnamese new year festival is a chance to explore seasonal cuisine and immerse yourself in local culture
What is Tet?
Not to be conflated with Chinese New Year, Tet is short for 'Tet Nguyen Dan' and is a Vietnamese celebration that celebrates both the arrival of spring and the Vietnamese New Year. In 2023, Tet falls on January 22.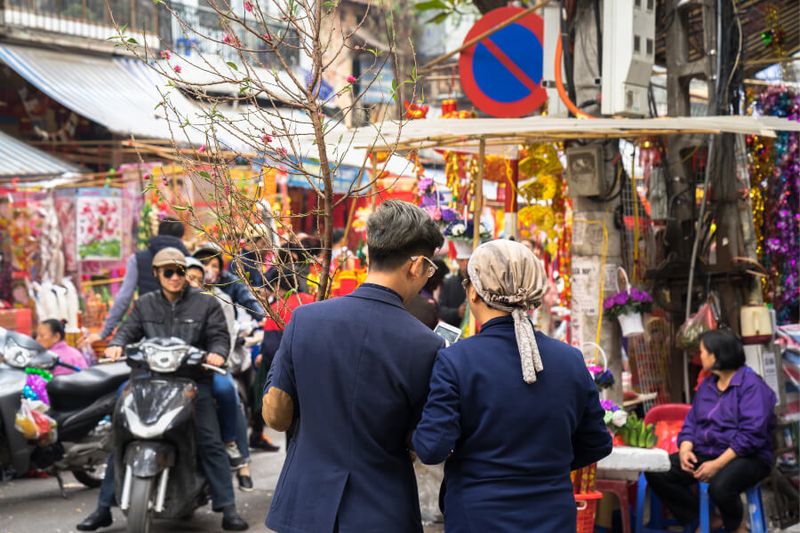 How people celebrate
Tet begins with a bang – literally. Fireworks displays are popular during the festival and light up the night sky, particularly in the capital, Hanoi. The beginning of Tet is devoted to family; many travel long distances to return home with their loved ones and entertain guests. There is also a religious component to Tet, meaning that many of Vietnam's historic Buddhist temples remain open to the public.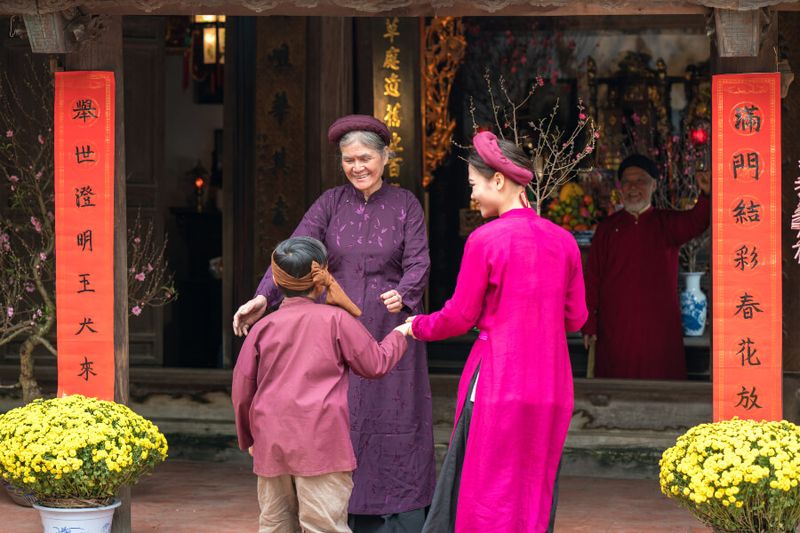 Fortunately, there are only a small number of Tet superstitions for foreigners to be aware of – spring cleaning is to be done before Tet begins, and people tend to avoid wearing black, as its connotations with death and mourning run contrary to the new beginning offered by Tet. There is also importance attached to the first visitor of the new year. In keeping with the positive outlook of Tet, people tend to invite individuals who are thought to be happy and upbeat.


Red dominates the celebratory decorations, as it embodies good fortune and vibrancy for the new year. You may see children and elderly relatives being handed li xi (lucky money) – red envelopes with money in them.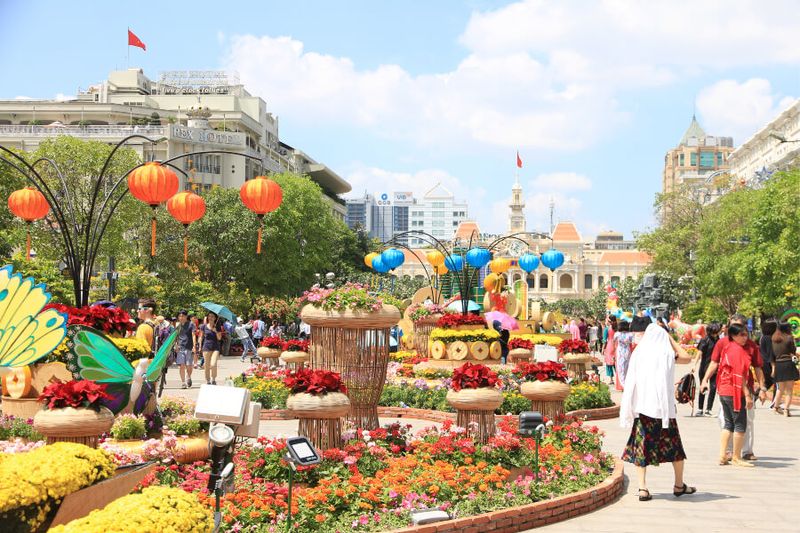 Fake money is also burned during Tet as an offering to the spirits of the deceased, so don't be alarmed if you see bundles of what look like forged banknotes available for sale!


Finally, flowers form a ubiquitous part of Tet celebrations. They are hung in the streets and in homes, as well as placed at altars. Marigolds, daisies, chrysanthemums and more are all in abundance, bursting with colours determined by local harvests. In the north, fruit trees such as kumquat, apricot and peach are commonplace.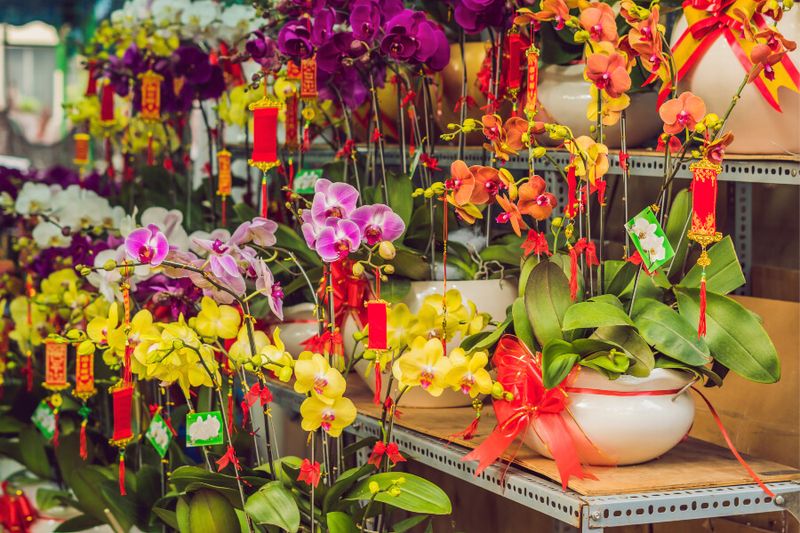 What to eat and drink during Tet
There is an onus on hospitality during Tet, so you may be invited into someone's home to try some local delicacies. Failing that, a wide variety of seasonal dishes will be on offer.


Bánh chung is likely to form part of any Tet feast that you see – a traditional rice cake wrapped in banana leaves, resembling a full green brick. Eaten all year round, it nonetheless takes on a special significance at Tet – its origins steeped in legend as a creation of the Sixth Hùng Dynasty, almost 2,000 years ago. Filled with pork and mung beans, it's a hearty treat for anyone starting the new year with an appetite. Thit ga or ga luoc is another dish found in most spreads. Simple but tasty, it's a whole boiled chicken that is carved up and garnished with seasonings such as salt, lime juice and chilli. Like another popular choice, the Vietnamese sausage gio cha, it is served with sticky rice.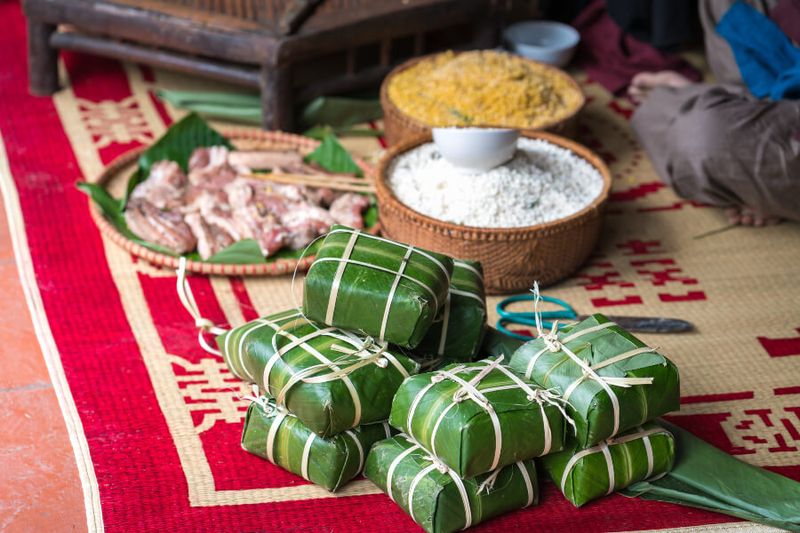 Smaller and lighter treats that are popular around Tet include pickled vegetables – most often onions – and broth-like soups made from pork and vegetables. For those with a sweeter tooth, fruit platters and candied fruits are common.


To wash it all down, beer and rice wine remain the most popular choices. Can ly! (Cheers!)
How to deal with the closures and crowds
If you plan to travel during Tet, book ahead and prepare for far longer delays than usual. Like any national holiday that sees much of the population travel cross country and expats return from abroad, expect flights, taxis and trains to be booked up well in advance. Major cities such as Ho Chi Minh and Hanoi will be particularly congested.
On the first day of the Lunar New Year, a hush typically falls upon the country. The atmosphere is similar to Christmas Day, with empty streets in the morning and many shops closed. Nowadays, more people are out and about, but the major cities are still much quieter than usual. Expect many restaurants and museums to remain closed during this period.


Tet is a wonderful time to visit Vietnam, but don't expect the same tourist experience as the rest of the year.
Places to go and things to see
The seasonal demand for flowers means that Vietnam's flower markets boom during Tet. Paired with the bustling good cheer and activity you'd expect when people are stocking up on holiday decorations, the atmosphere is convivial. Likewise, the spiritual aspect of Tet is a great opportunity to see what religion really means to people in Vietnam. Temples and pagodas are often decorated with both calligraphy and seasonal flowers – a tradition practised each year. And not all restaurants will be closed, so there should still be plenty of opportunities to eat, drink and be merry!