The former capital of Vietnam is steeped in a rich, royal history
The dissolution of the Nguyen Dynasty in 1945 marked the end of Vietnam's imperial period, but the legacy it left behind in Hue preserves the country's feudal architecture and culture.
In a city densely populated with historic sites, the Imperial City still manages to form an epicentre: inside its ring fenced walls are an array of temples, courtyards and other attractions. An entrance fee of VND150,000 (A$9) will grant you access to the city and the Hue Museum of Royal Antiquities.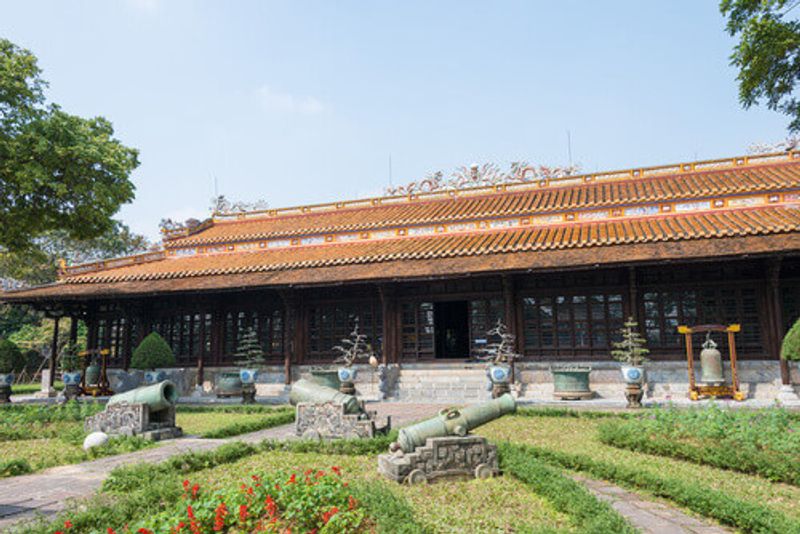 Hue's Flag Tower is a popular place to start a tour of its many places of interest. Built during 1807, its three storeys have been modified but retain striking brick and marble features, as well as marks from the 1968 Tet Offensive. Located by the gates either side of the flag tower sit Hue's Nine Holy Cannons, another piece of history. Commissioned in 1804 by Emperor Gia Long, they were fashioned from the bronze he claimed during his victory over the Tay Son dynasty and constructed to represent the four seasons and the five elements (earth, fire, water, metal and wood). The cannons have been only been used on ceremonial occasions and are regarded as national treasures because of their size, weight and carved wooden carriages.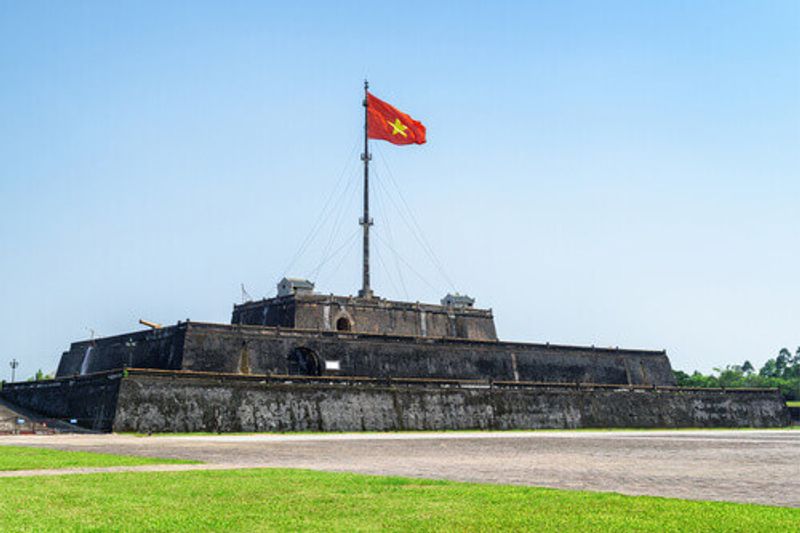 Also part of the Imperial City's border is the Noon Gate (Cua Ngọ Mon), the only city gate to be used exclusively by emperors. Built under order of Emperor Minh Mang in 1833, its two tiers have been restored so that visitors can share the royal vantage point and marvel at the palatial structure that creates a grand entranceway.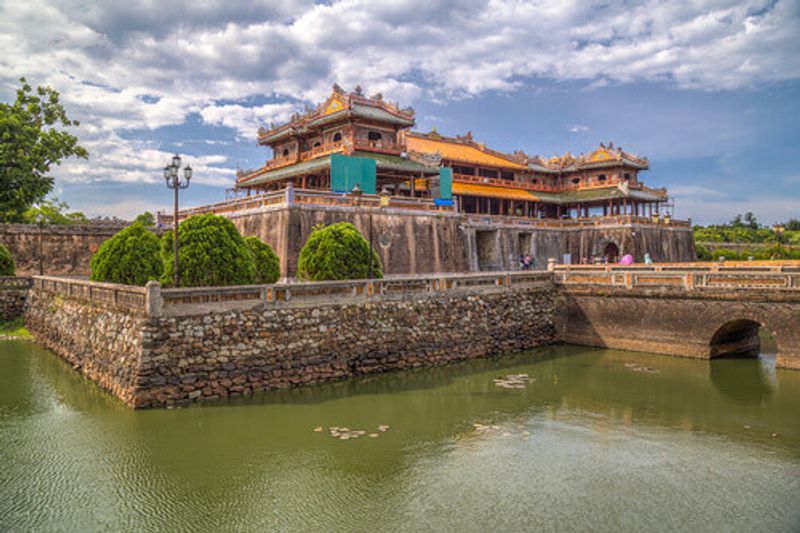 Another of Minh Mang's legacies is the Nine Dynastic Urns. Completed in 1837 and also constructed from bronze, the three-metre high monuments memorialise different Nguyen emperors, whom are also commemorated in the nearby Mieu Temple.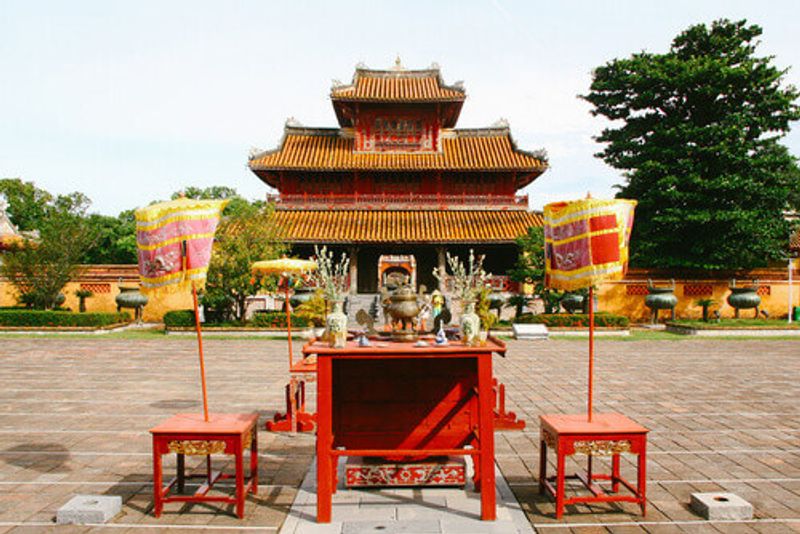 An even more impressive royal structure is the Thai Hoa Palace, which hosted many important receptions in its grounds. Built by Gia Long and relocated by Minh Mang, it retains ornate flourishes such as the nine carved dragons that adorn its roof and the philosophical tenants that run throughout its structure and decoration.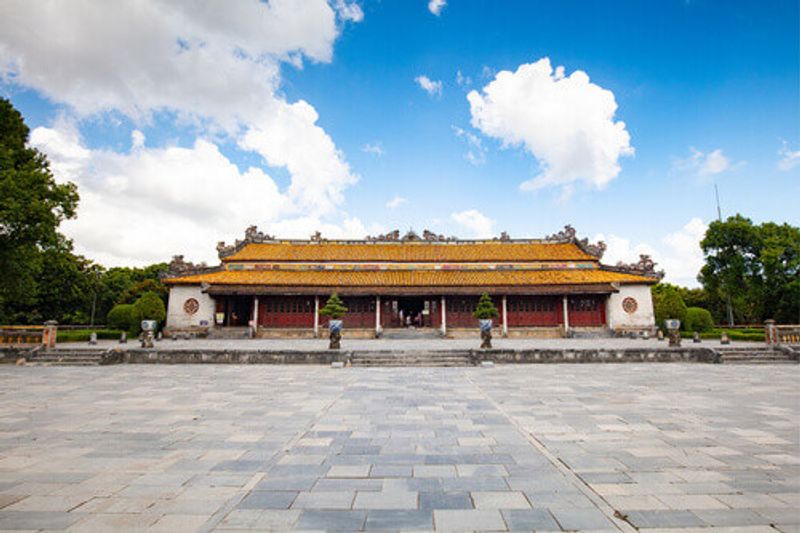 From there it is not far to the Forbidden Purple City – a walled city within a walled city that now lies in ruins but previously formed an even more exclusive realm – and Perfume River, on the north bank of which lies the Thien Mu Pagoda, a 21m, seven-storey tower built in 1601 that has embedded itself in Hue's folklore and been maintained by different rulers during the past four centuries.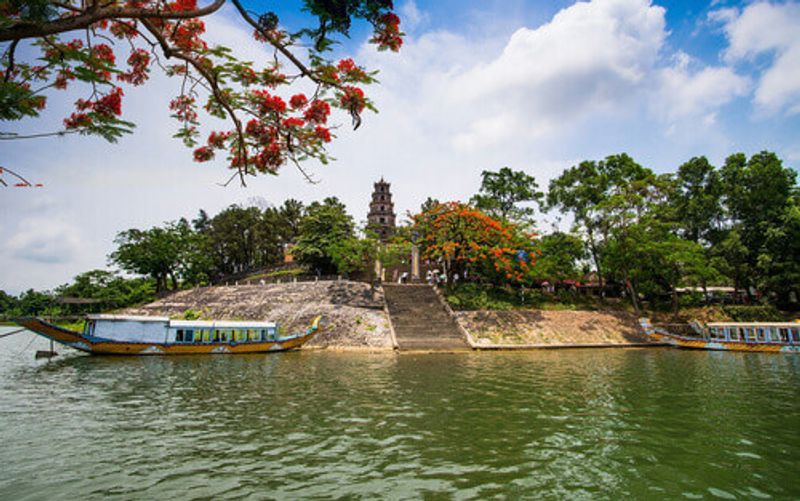 Visitors can also journey to the final resting places of Minh Mang and Khai Dinh, the second and 12th emperors of the Nguyen Dynasty. Several miles downriver from Hue, their construction lies almost a century apart and between them show the final requests of a ruling class now gone forever but that managed to immortalise itself along the way.