The languid calm of Essaouira will lull you into a tranquil state of mind
Located just two hours drive away from Marrakech is Essaouira, an easy, breezy seaside town with a laidback vibe that's been a welcome respite for many visitors to Morocco.
The charming blue-white town has never been short of admirers, Jimi Hendrix was a frequent visitor, as was Cat Stevens and Frank Zappa. Orson Welles filmed part of Othello on its historic ramparts, and if other parts of the city look familiar, it's been featured in everything from Game of Thrones to Oliver Stone's Alexandra.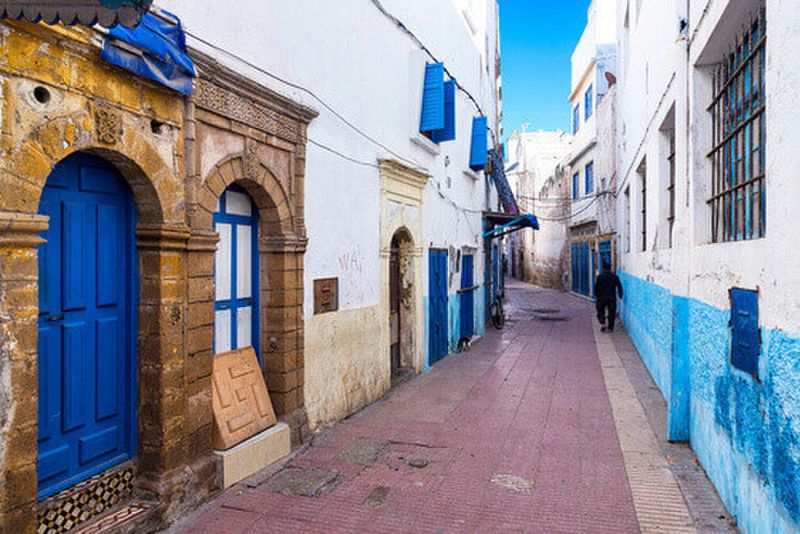 With its rich history as a former trading base for the Portuguese and as the only port south of Tangier that was open in the 19th century to European trade, the resident mix (and influence) of Arabs, Berbers, Jews, Africans and Europeans have contributed largely to Essaouira's plentiful charms.
Here, a few gems to seek out on your Essaouira adventure.
Eat at the Fish Souk
No visit to Essaouira would be complete without some time (and tummy space) at the fish souk. Morocco's main fishing port in the mid-1900s, it's located at the edge of the city where pretty blue and white shacks hawk every type of fish and seafood imaginable. Take your time to browse the haul of the day – best to go just before lunch – before selecting your choice to be cooked at a nearby stand for a small fee, often a small salad, olives and fresh based bread will accompany your piece of fish or seafood, making it the perfect midday meal.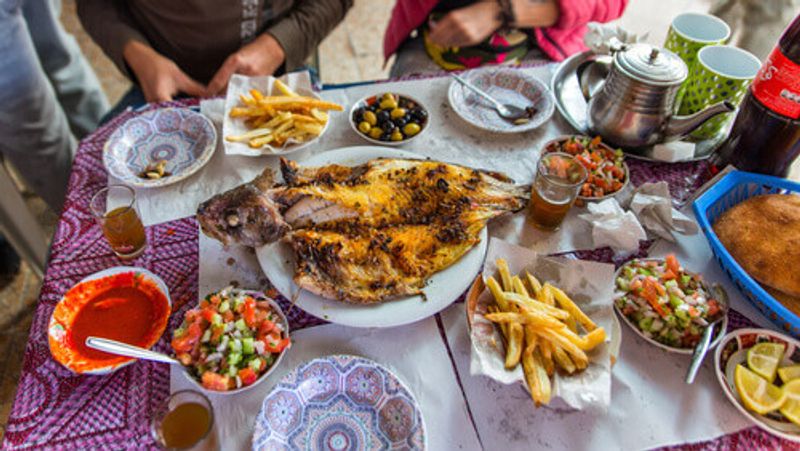 Pick up a souvenir from Mashi Mushki
With a name that translates to the equivalent of 'no worries' that's just one reason to visit this small shop located in the north of the medina selling works (paintings, jewellery, bags, handwoven throws) by local artists and artisans. If you need another reason, 10% of profits go to Project 91, a charity that works with the local children of the area to help them find employment.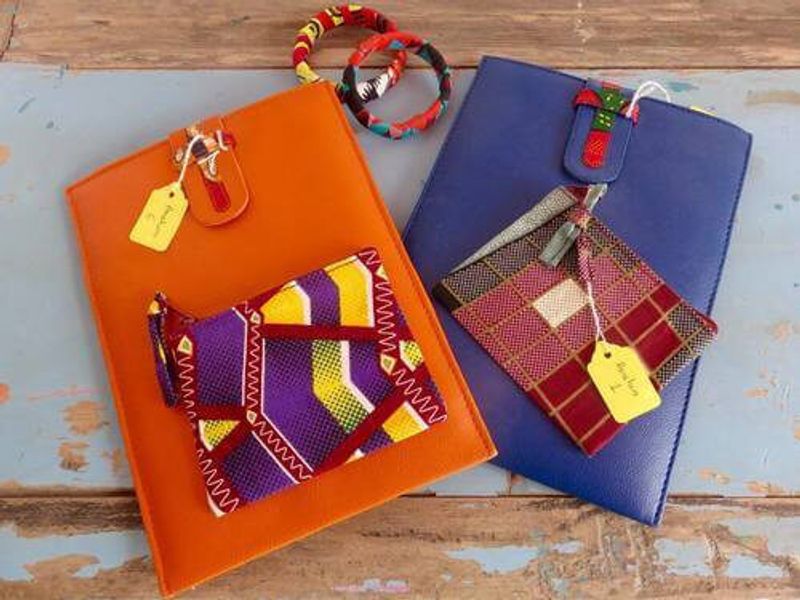 Visit Had Dra Market
If you happen to be in Essaouira on a Sunday, you're in luck. A short taxi ride away is the expansive Had Dra market and probably the best spot of people watching you'll do in Essaouira. The largest rural market in the region, farmers from everywhere gather there to sell their vegetables, fruits, livestock, animal feed, crafts all while catching up with friends over cups of mint tea or while getting a haircut at one of the many open-air barber tents. A great insight into the life of a real Moroccan farmer, there are also numerous cafes around the market if you're in need of refreshment.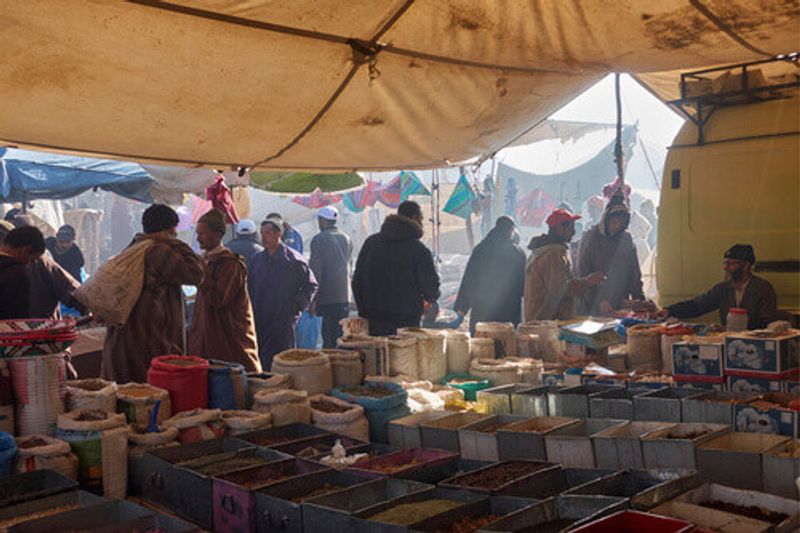 Learn about Berber culture
Housed in a 19th-century riad, the Sidi Mohammed Ben Abdallah Museum was named after the founder of Essaouira and displays a number of historical artefacts, cedar woodwork, carpets and stringed instruments that re-tell the city's rich history. An added attraction of this museum is its focus on Berber culture and its rich traditions and rituals particularly well documented through photographs and ethnographic displays.
Visit the beach
If it's a windy day, be warned that you may come back covered with grains of sand. Otherwise, the 1.5km stretch of beach makes for a pleasant stroll (or camel ride) where you can rent a beach chair, watch kids kick around a soccer ball or kite surfers hurtling through the sky.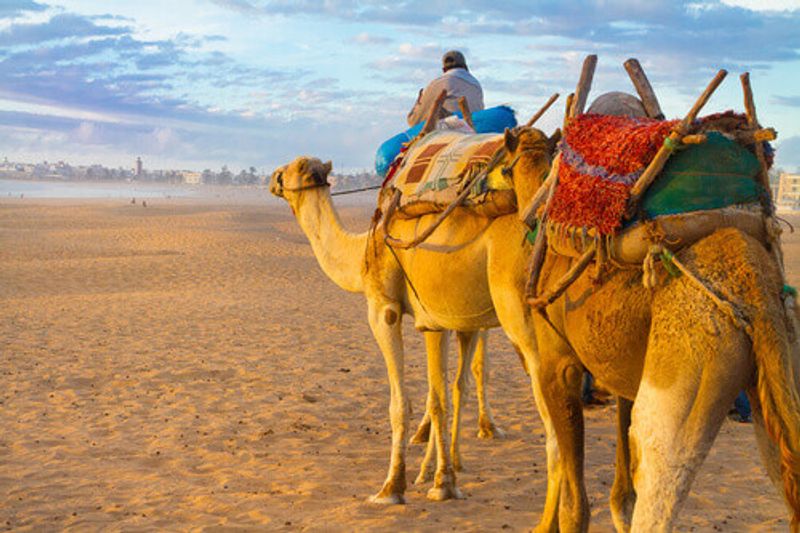 Shop the souk
While smaller than other medinas around Morocco, the benefit of Essaouira's souk is its size and relatively calmer (and reportedly cheaper) shopping experience. Head here to stock up on saffron or Morocco's special royal tea made with a combination of 15 spices. If there's a hand-woven rug you've got your heart set on, have a browse at one of the many stores, some even displaying price tags making the purchasing process a lot simpler.