Hidden in the depths of the forests of Lapland is a smattering of glass igloos, providing the plushest views of the Northern Lights anywhere in the world
If you're looking for a bit of peace and quiet, isolation, or a romantic hideaway then look no further than the glass igloos of Sinetta. Just a short journey from the provincial capital of Rovaniemi, the igloos are situated deep in the woods near the Ounasjoki River. It is from this river that ice blocks are taken then carved into luxury dwellings, based on building designs that have changed little over the centuries. However, these 21st-century igloos are far from simple ice holes. They all come with mod-cons including warm toilets, showers and heating. The sheepskin throws that are strewn over the comfortable beds make spending the night here anything but a chore.
The igloos at Sinetta have a 360-degree glass roof that allows guests to stare up at through the to see the crystal clear night sky. Away from the urban light pollution of the nearby town, these remote igloos couldn't be more isolated. They are tucked away, nestled among the trees, allowing perfect conditions for watching the Aurora Borealis – or Northern Lights – the magical light show that splashes rays of green and pink light across the night skies.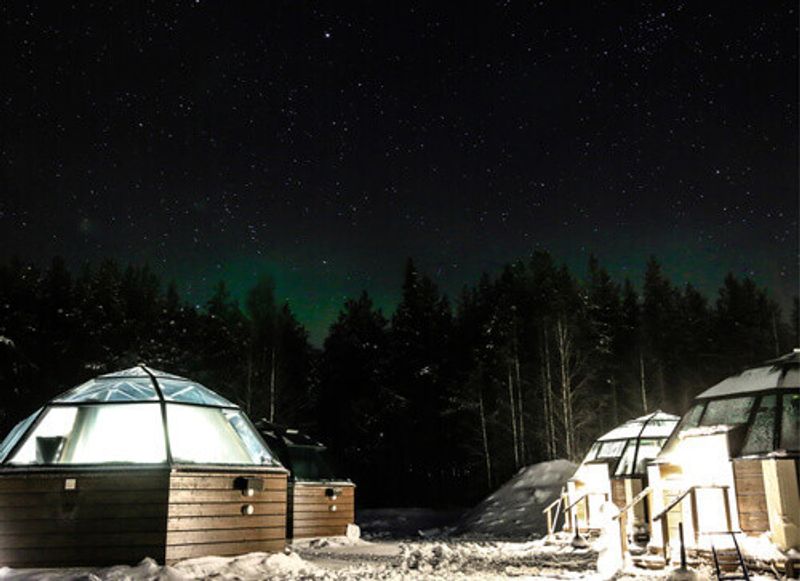 The igloos have motorised beds that allow guests to watch the magical light show in the night sky without having to even get up from the bed. Moving the bed's angle and position to ensure the best possible views out the fully glassed ceiling. There's no fear of getting cold as the igloos are extremely well heat insulated with underfloor heating to keep temperatures as warm as any traditional hotel even during the coldest nights. The glass roofs are electrically heated too, keeping the snow and ice at bay and ensuring that the sky is visible whatever the weather.
Igloos come in a range of sizes for couples or families, and each one has a Northern Light alarm which can be turned on so guests can get some sleep and let someone else do the watching, and then, when the Lights appear, the alarm encourages guests to either watch from the warmth of their igloo or pop outside, drink a warm tipple and be at one with the remote, chilly landscape.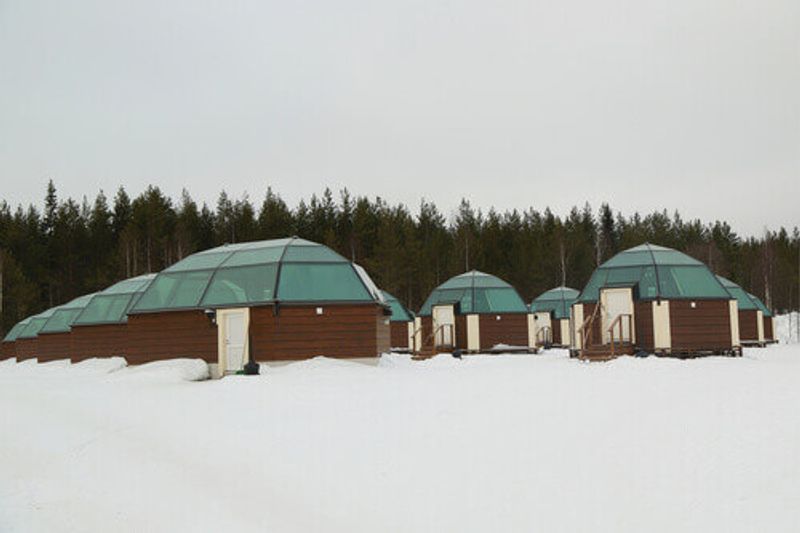 Nearby is a fantastic restaurant that serves roasted meats and where you can taste some of the exquisite regional dishes made from locally sourced produce. Snowshoes, toboggans and sledges are available to explore the area. And a snow sauna and an outdoor jacuzzi allows guests the chance to stay warm under the stars – the perfect way to unplug from modern life and get a taste of how the local Sami people have lived in harmony with nature for centuries.