Shopping in Sweden is far from a cookie-cutter Ikea experience
Sweden is a veritable paradise of good design, which will probably make it difficult to refrain from splurging at the shops. But for those unfamiliar with what Stockholm might have to offer - beyond Ikea and H&M - there's more than meets the eye in the capital, and even more to explore if you venture out to neighbouring cities and towns.
We talked to Karin Fredriksson, a retail expert whose resume of work includes Bukowskis, Sweden's equivalent of Sotheby's, and the Swedish royal palaces.
The Swedish native gives us the lowdown on all things shopping-related in Sweden, tips on getting a good bargain on handicrafts, quintessential Swedish brands, and recommends liquorice as an ideal souvenir, but only for the brave.
​
What are some typical Swedish handicrafts and souvenirs?
As in many other countries, handicrafts tend to be very regional. The Dala horse comes from the region of Dalarna but has become an unofficial symbol of the entire country. We Swedes tend to be very much into our food, so I will often bring food with me as gifts when visiting friends. A very typical Swedish food would be our Marabou chocolate (I pass the factory on my daily commute to work and I've seen their products all over the world, especially airports). One famous export is the Västerbottenost cheese. I grew up very close to where it's manufactured and it's my favourite cheese. It can be picked up at any local grocery shop; it's quite similar to Parmesan, but we eat it in sandwiches, too.
What are some of your favourite areas to shop in Stockholm?
I tend to shop in and around Östermalm and Vasastan. Here you can find NK (Nordiska Kompaniet) – our Harrods – and Åhléns (chain of department stores like M&S but without the great food). Åhléns is my favourite go-to, as they have everything, and it's the one shop I miss when living abroad. Massive shopping malls are a relative new addition to Sweden, but recently Scandinavia's largest opened just north of the city centre, called Mall of Scandinavia. Here you can find all the usual high street shops typical to Sweden under one roof. There's also an IMAX and lots of restaurants, so great for an outing when the weather's not that great.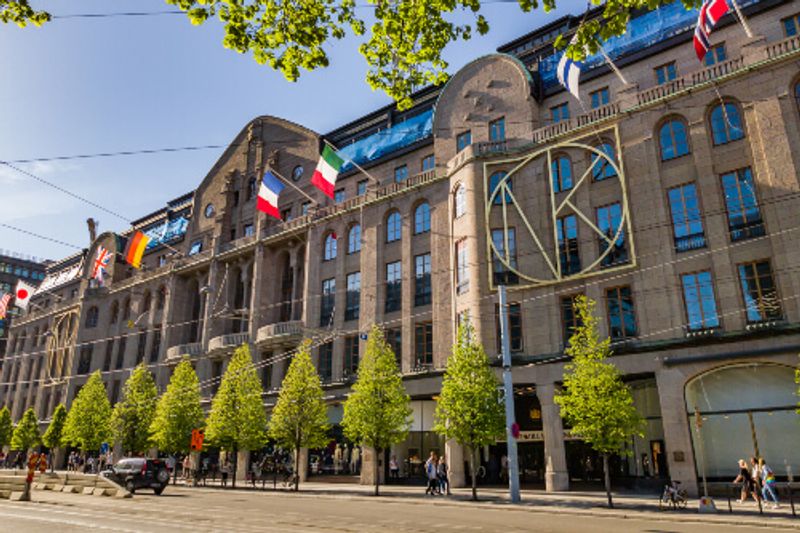 In Stockholm I'd recommend staying away from Gamla Stan (Old Town) when looking for souvenirs. It has unfortunately become very commercialised and you'd be lucky to find genuine, handcrafted goods at affordable prices there. The same goes for eating in Gamla Stan - just don't unless you want to pay double what it ought to be. Enjoy the area for its old buildings and the atmosphere, but I'd do my shopping elsewhere.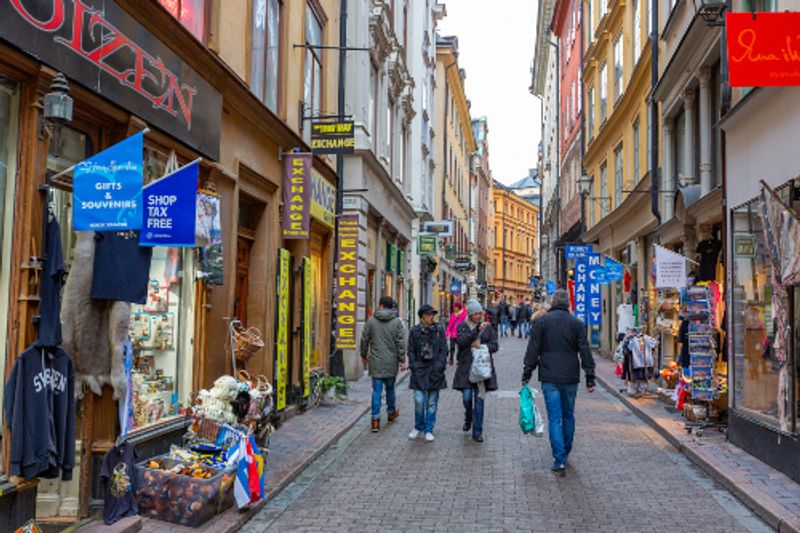 Skansen is a great place for local handicrafts and holds an annual Christmas market worth visiting. High end shopping is done around Östermalm and streets of Biblioteksgatan, Birger Jarlsgatan och Nybrogatan. Everything from Louis Vuitton to smaller local high-end shops can be found here.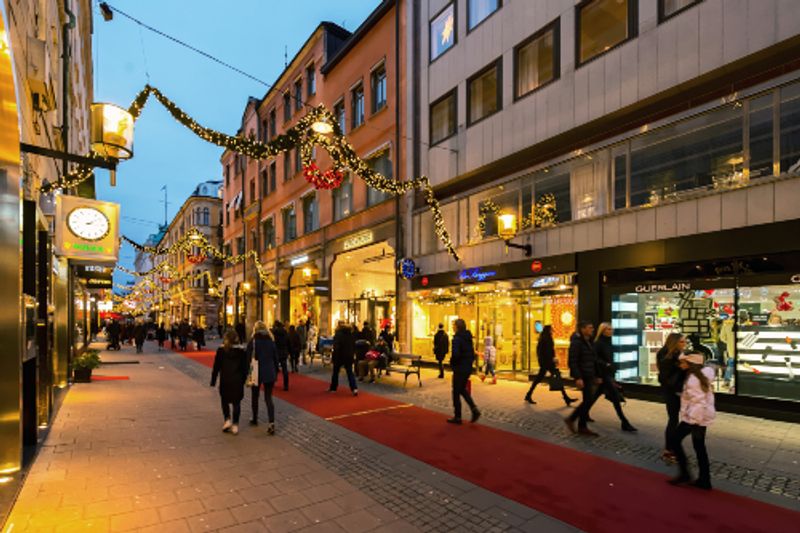 What are a few things that visitors might not know about shopping in Sweden?
The larger cities tend to be almost cash-free these days, so don't be surprised if some shops don't accept cash. However, out on the countryside it can be the opposite, so always carry some cash just in case. Public transport is paid for by a card payment or using an app. More info can be found at the bus stop/metro station. Should you wish to buy bottled alcohol you need to know the following: it's not found at the local supermarket but at a government-controlled shop called Systembolaget. You need to be 20 years old to purchase and you'll most likely will be asked to show ID. This shop closes at 3pm on Saturdays and is closed Sundays, so plan ahead (you can enjoy a drink at any local watering hole at your convenience, of course). Flea markets are aplenty, the most popular is probably Röda Korset (the Red Cross) and are scattered all over Stockholm. With a good eye and a bit of luck you could pick up a nice crystal vase from Orrefors for a steal here.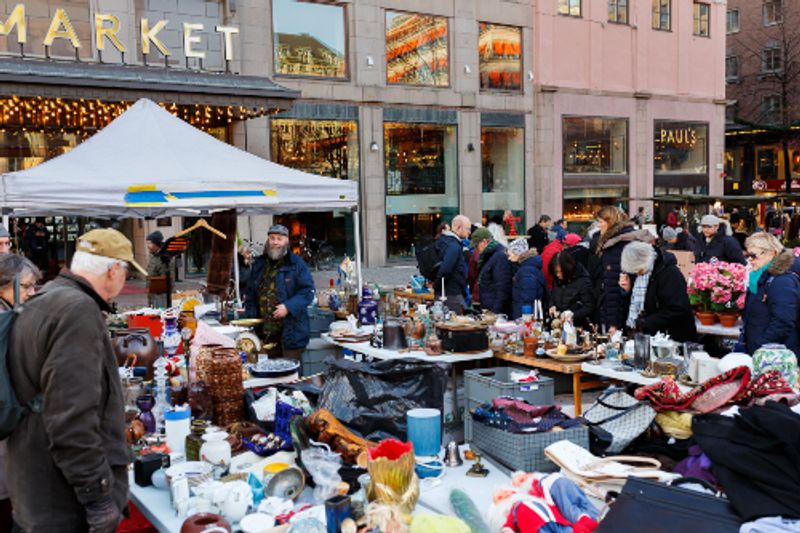 Also, don't be afraid to get out of Stockholm. There are several cute, smaller cities just an hour away, and local trains and buses can get you anywhere. I live in Uppsala which is our equivalent of Harvard/Cambridge, and well worth the train commute in my opinion.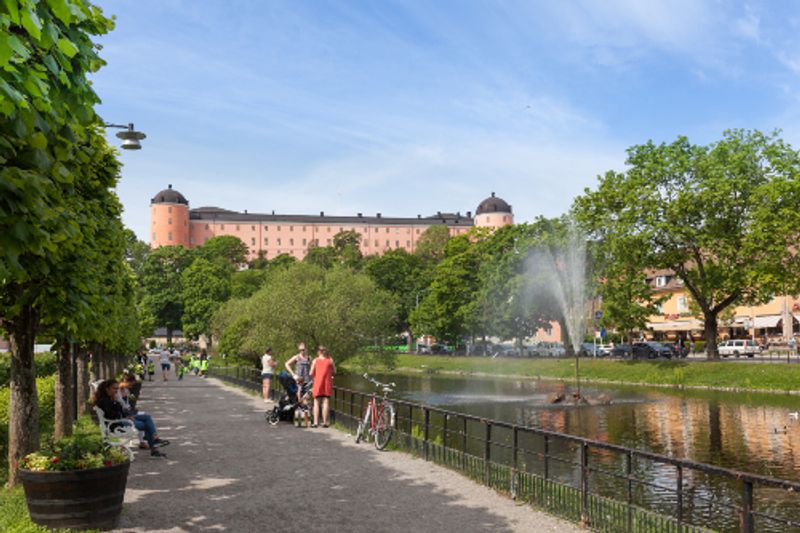 Can you recommend some Swedish brands that cannot be found outside of Sweden?
Svensk Tenn: our most iconic interior design shop with prices to match. They also have a fabulous tea salon should you like to soak in the iconic furniture for a bit longer (make reservations if you'd like to go on the weekend).
Skultuna: manufacturers of high-class brass objects for over 400 years.
Cervera (chain store): here you'll find everything you possible can need to set a beautiful table from cutlery to glasses. Great place for souvenirs of this sort. My top recommendation for finding souvenirs from iconic glass, crystal, and porcelain brands like Orrefors, Kosta Boda, Rörstrand, and Gustavsberg.
Tiger of Sweden: ladies' fashion, modern yet traditional and high-quality clothing.
Design House (chain store): the place when looking for quirky but quality presents.