Get acquainted with one of the world's longest-running dynasties and its stunning golden artefacts
In present-day North Gyeongsang province, Gyeongju was once the capital of the ancient kingdom of Silla, a powerhouse ruling dynasty that dominated much of Korea until the 10th century. Gyeongju's previous names were Seorabeol ('eastern land') and Gyerim – it is also called Kumsong or the 'city of gold.'
Silla-era Gyeongju flourished as a busy cultural and commercial centre and is sometimes called a 'museum without walls' because of its numerous historical and archaeological treasures, including the Cheomseongdae Observatory, the Daereungwon Tomb Complex, and Bulguksa Temple. While modern-day Gyeongju is also home to many treasures of the later Joseon dynasty, its heart and soul is very much rooted in Silla history and culture. The city's list of must-see destinations – the Gyeongju Heritage Areas – reads like a who's who of UNESCO World Heritage sites.
The Silla dynasty ruled Korea for almost a thousand years – the longest period in Korean history. Its founder, Pak Hyeokgeose, established the first incarnation of Silla, known as Saro-guk, in 57 BC. According to folk legends, Pak Hyeokgeose was born from a magical horse egg and helped to bring six village clans together as one. During the golden age of Silla rule, Gyeongju saw the rise of great Korean scholars, military leaders, scientists, artists, and craftsmen.
Longtime residents of the city can even trace their ancestry back to Silla aristocracy. The Silla dynasty also adopted Buddhism, and as such, Gyeongju became a hub of Korean Buddhism – it is home to the treasured Bulguksa Temple complex, a national treasure considered to be the most ideal example of Silla Buddhist art.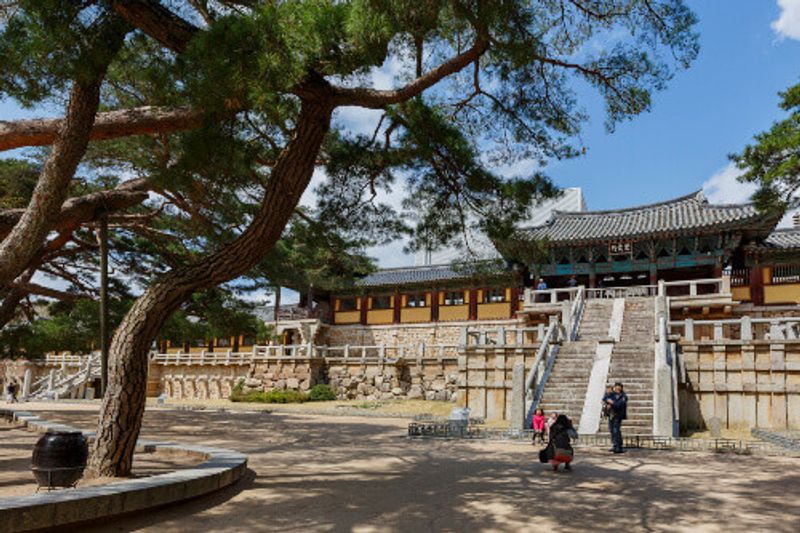 Silla royalty left its mark all over the city in the form of royal tumuli or burial mounds, which can be seen in fine form at Gyeongju's Daereungwon Tomb Complex. This is also the site of the only surviving artwork from the era – Cheonmado, an eight-legged horse painting found in a tomb. Silla royal society followed an extremely hierarchical "bone-rank" system, which divided nobles who were eligible to ascend to the throne from those who were not. In early Silla times, only those of the 'sacred bone' (seonggol) caste – those of pure royal blood – were allowed to inherit the crown. As a result of this strict rule, ancient Silla had Korea's first queens – notably Queen Seondeok, who built the Cheomseongdae Observatory.
Silla handicrafts were known for their exquisite quality and detail, often incorporating techniques from other countries in the Mediterranean, Egypt, Persia, India, China, and beyond – thanks to the Silk Road, bustling international trade introduced the concept of metal filigree to Silla craftsmen. While this also brought other precious materials to Gyeongju, Silla's most iconic element is, by far, gold.
The finest examples of Silla crafts can be seen in its magnificent crowns and regalia, as well as ornate jewellery and accessories. Popular silhouettes usually followed form of natural, organic shapes, like antlers, animals, and trees, in line with Silla culture's foundations in old shamanistic beliefs. Silla's golden crowns were as heavy as they were beautiful, and were most likely only used for formal ceremonies.