What to do and see on a one, two, three day layover on the Little Red Dot
Changi Airport is consistently voted the best airport in the world, and for good reason: there's no shortage of things to do while you're stuck in transit, it's practically an attraction in itself - free booze samples, video games, an up-to-date movie theatre, numerous themed gardens (orchids, sunflowers, cacti, water lilies, and a whole butterfly garden), an excellent food offering (the late Anthony Bourdain was a fan of the hawker centres), and even a swimming pool with a jacuzzi.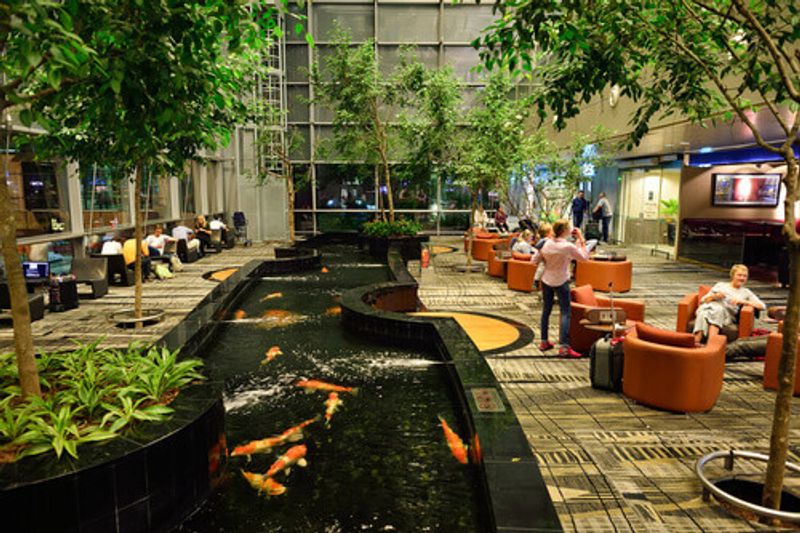 For travellers with over five-and-a-half hours of layover time, Changi offers a free sightseeing tour of the city, which means a chance to step out for some fresh (but humid) air.
The tour comes in two forms: the Heritage Tour, which rolls through historic districts like Kampong Glam, Little India, and Chinatown. The City Sights Tour is more of an evening tour that showcases Singapore's most famous sights, including the Gardens by the Bay, Marina Bay Sands Hotel, Esplanade, and the Singapore Flyer; both tours have a pit stop at the Merlion for an obligatory photo.
If you're staying for longer than a few hours, here's a cheat sheet to the best that Singapore has to offer for one, two, three day visits.
One day in Singapore
For the time-pressed visitor who wants to see the best of Singapore, the Singapore Zoo is one of the finest in the world – not only does the zoo have a mind-blowing collection of flora and fauna, it also does extensive educational programmes and regional conservation work. Located in Mandai – about a half-hour drive from the airport – the zoo is at least a half-day affair if you want to fully take advantage of its size and scope. Night-time visitors don't despair – come through for the interactive Rainforest Lumina night walk, or the famous Night Safari, which is a fantastic chance to see nocturnal animals in their element.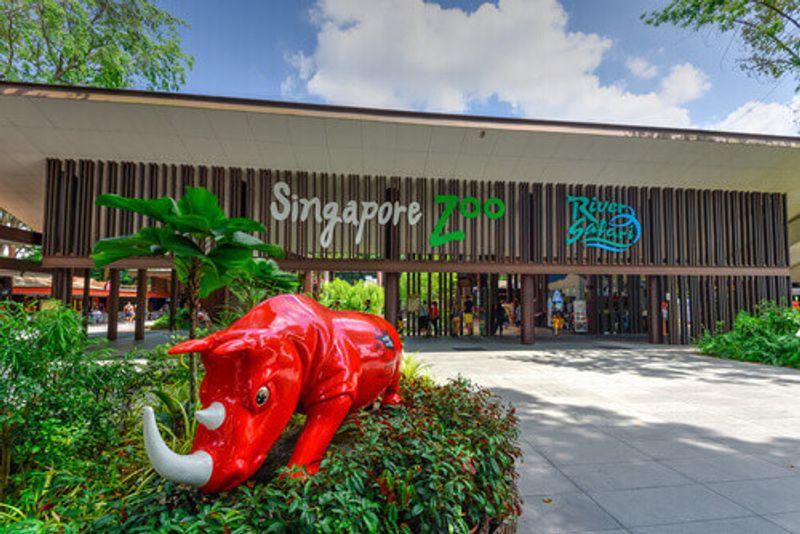 If you're feeling ambitious, the Asian Civilisations Museum (ACM), National Gallery, and the National Museum are a great trio to take up a full day; if not (depending on the time of day, or energy levels) pick two and take your time. ACM usually has one main exhibit, and permanent galleries that explore the history of trade, religion, ancestor worship, crafts, and different rituals around the region.
From here, it's a stone's throw to the National Gallery, which occupies Singapore's old Supreme Court Building and adjacent City Hall; here, visitors can soak up local art and contemporary exhibitions with big ticket artists. Conveniently, the National Museum is only a 15-20-minute walk away; it's a great place to learn about Singapore's history, culture, and people, as well as contemporary exhibits on how Singapore reconciles its past with its modern present.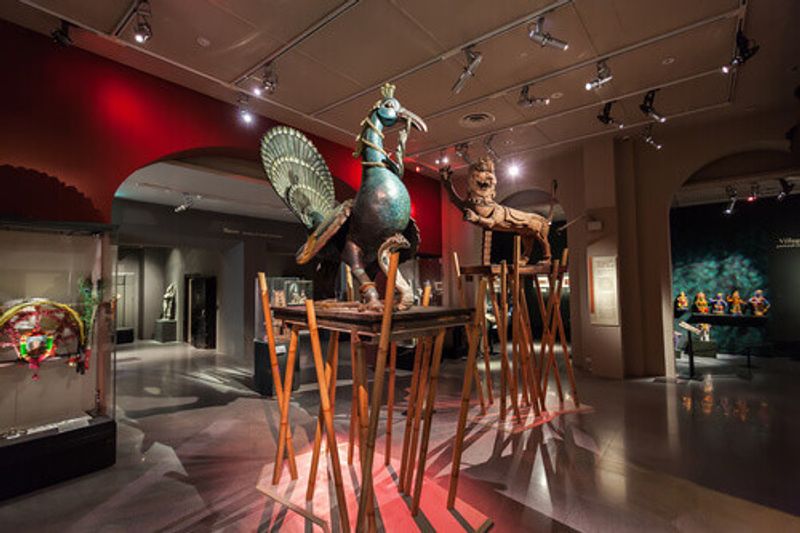 Two days in Singapore
Depending on how into nature you are, the Singapore Botanic Gardens – the only tropical garden classified as a UNESCO World Heritage Site – could take up a good half day, what with its exotic Orchid Garden, rainforest walks, and colonial structures (check out the gazebo). The park has expanded well beyond its original Tanglin 'core,' with new additions like the "Walk of Giants," ginger garden, and wetland section.
After visiting the garden, Orchard Road – also known as the epicenter of Singapore's shopping scene – is only a short cab, bus, or train ride away, so you can top off a day of nature with a peep at retail heaven.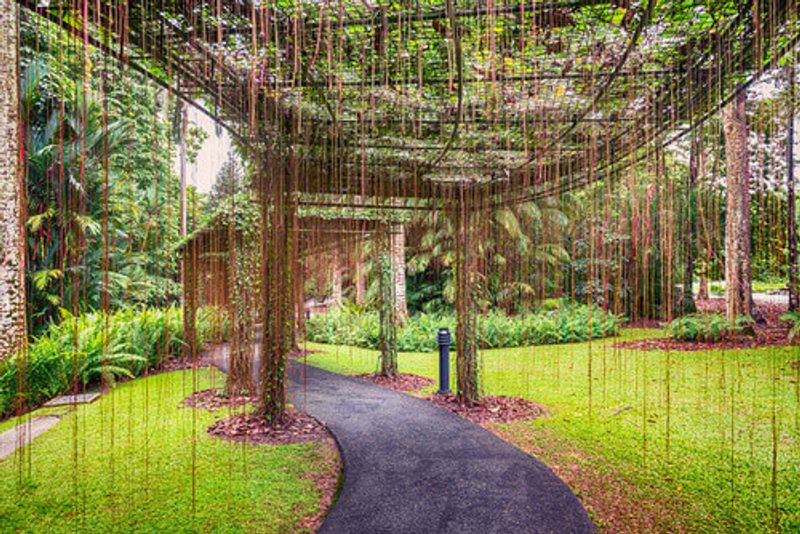 On day two, if you're after a unique contemporary cultural experience, the ArtScience Museum has an edgier curatorial approach that focuses on the evolving grey area between tech and art, with exhibits that run the gamut from minimalist to downright ancient. The museum itself is housed in a striking 'open hand' style building designed by Moshe Safdie. Afterwards, head on over to the Gardens by the Bay for an unforgettable experience in the Flower Dome and the Cloud Forest. When you eventually get hungry, Marina Bay Sands is right there to finish your day with a round of world-class eating and shopping.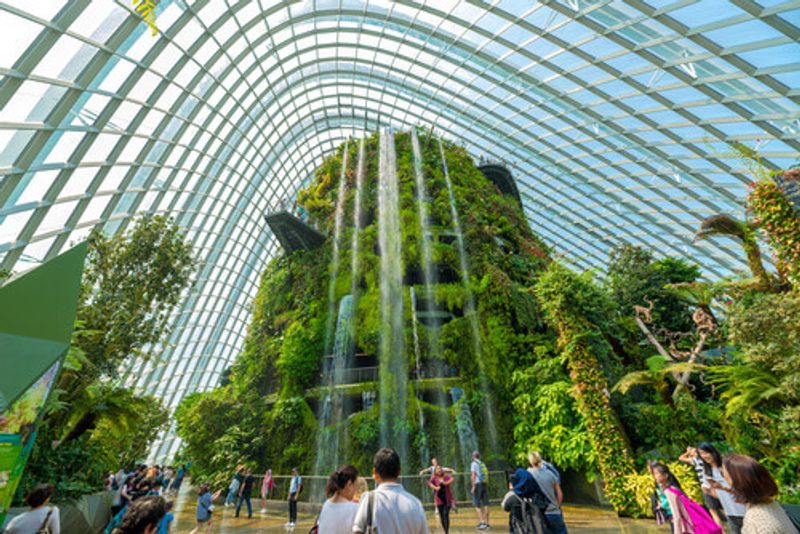 Three days in Singapore
If you have three luxurious days to spend around Singapore, you can do a combination of all of the above, and much more.
Sentosa's Universal Studios is a great way to let off steam and pick up some souvenirs to bring home – it has rides and attractions for both kids and adults. Sentosa also has a little Merlion (in case you miss the original).
If you're after one of the world's weirdest theme parks, check out Haw Par Villa – an old Chinese park founded by the Aw brothers, creators of Tiger Balm – tucked away in Pasir Panjang; besides its numerous statues and dioramas of Confucian and Chinese mythology. Its most iconic feature is the "ten circles of hell" exhibit, which shows detailed, gory scenes from the Chinese underworld.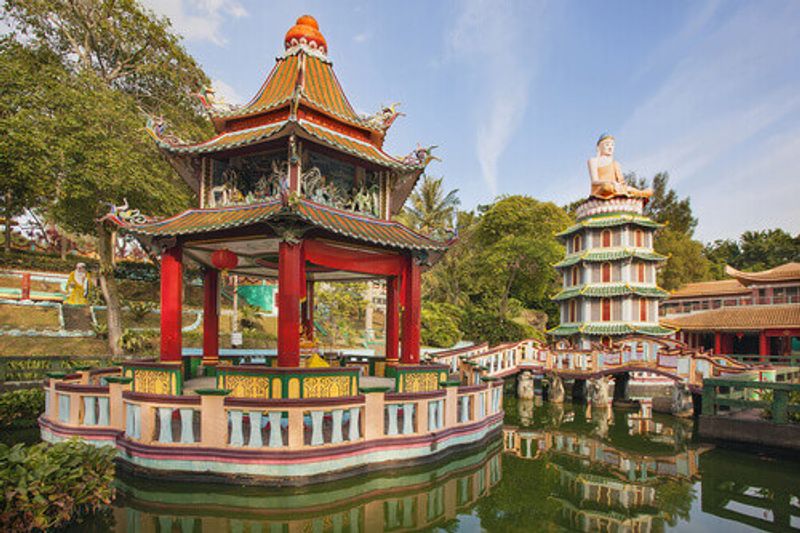 Take a whole day to explore one of Singapore's most old-school neighbourhoods: Arab Street and Haji Lane, once a hotspot for shisha and hookah bars, is still a thriving place for live music, street cafes, small independent shops, and cool street art. There's even a trendy pod hotel. Just down the street is a piece of Singaporean history: the Golden Mile Complex, a historic Brutalist megastructure that houses much of Singapore's Thai community. It's also the site of Singapore's only art-house cinema; The Projector – take the lift up the Golden Mile Tower for a drink at its Intermission Bar, and if you're in the mood, catch a show in one of its vintage theaters and support the local art scene.