From kitschy alpaca pens to hand-woven hats, souvenirs are serious business in Peru
As the former capital of the Inca empire and a stronghold of Andean tradition, Peru is widely considered one of the world's most culturally-rich nations. Visit the Sacred Valley to watch locals weave with technicolour thread or shop for handmade treasures in the many markets. You can even visit an alpaca farm and pick up winter woollies straight from the source. 
Forget tacky fridge magnets and slogan mugs – here, six souvenirs to buy in Peru. 
Wool jumpers
Walk the streets of colonial Cusco and you're guaranteed to spot at least one person wearing a patterned woollen jumper. These cosy knits are the country's most popular souvenirs, thanks to the large camelid population residing in the Peruvian Andes and the time-honoured tradition of Peruvian weaving. Aside from being a fashionable wardrobe addition, these beautiful pieces are perfect for combatting the chilly high-altitude temperatures.


Alpaca wool is typically favoured thanks to its soft fibres but many shops sell clothing made from llama, too. If you're feeling fancy, splurge on a vicuña jumper and warm yourself with some of the most expensive wool in the world.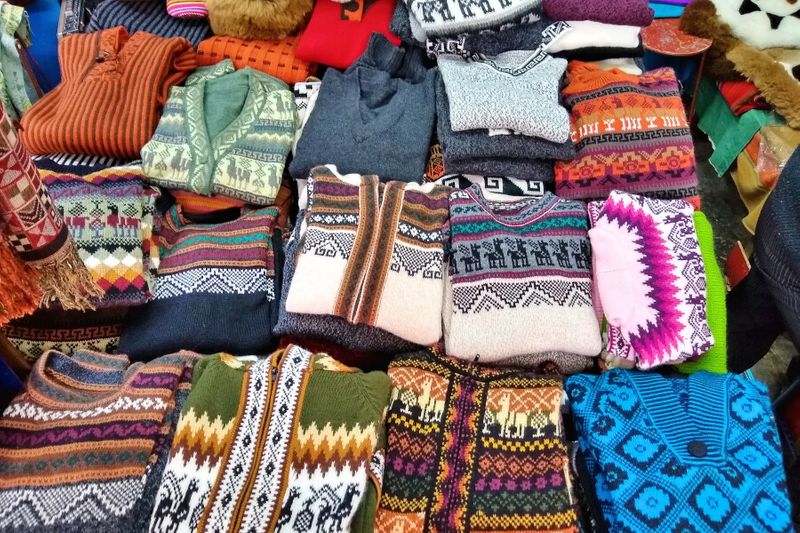 The ancient capital of Cusco is home to dozens of shops and stalls selling wool jumpers – from vibrant pieces with animal designs to upmarket clothing made from premium fibres.
Hand-woven textiles
Weaving has long been an important skill for the women of the Peruvian Andes. Thousands of years ago, the craft played a pivotal role in Quechua culture. It was seen to shape identity (both personally and regionally), facilitate communication between communities and in some cases, record historic events. Even today, the clothing styles and colours worn in traditional Andean communities signify where people are from.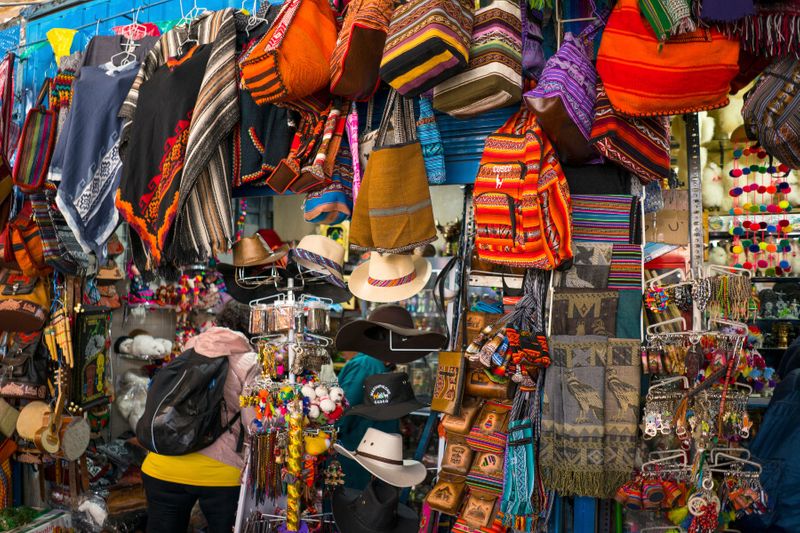 Visitors are encouraged to visit a traditional weaving cooperative to learn about the looms, dye techniques and processes used before browsing for mementos. The bright colours and dynamic patterns of Peruvian weaving lend themselves to many different pieces, from bags to pillowcases and tablecloths, so save room for plenty of souvenirs. 
Traditional instruments
Peruvian music is a product of the country's pre-Columbian and indigenous cultural heritage. Listen closely to traditional tunes and you'll notice a fusion of sounds, including Andean wind instruments, African percussion and European-style harmonies. Through this mezcla (mix), history and traditions have been passed down for generations. 


Peru's most well-known instrument is the pan flute – a woodwind instrument typically made from clay, reeds or bamboo whereby multiple pipes are joined together in order of length. But the ancient Incas used many different instruments, from drums to the charango, an Andean cousin of the lute. Novelty instruments are sold in all major souvenir shops, but serious musicians can engage a local luthier and commission a bespoke instrument to take home. 
Pisco 
Known as the key ingredient in Peru's national drink, this distinctive liquor is adored across South America but its origins are long disputed. Interestingly, both Peru and Chile claim to be the original creators of pisco and its production is strictly regulated in both countries, ensuring it's only produced with correct equipment in designated districts.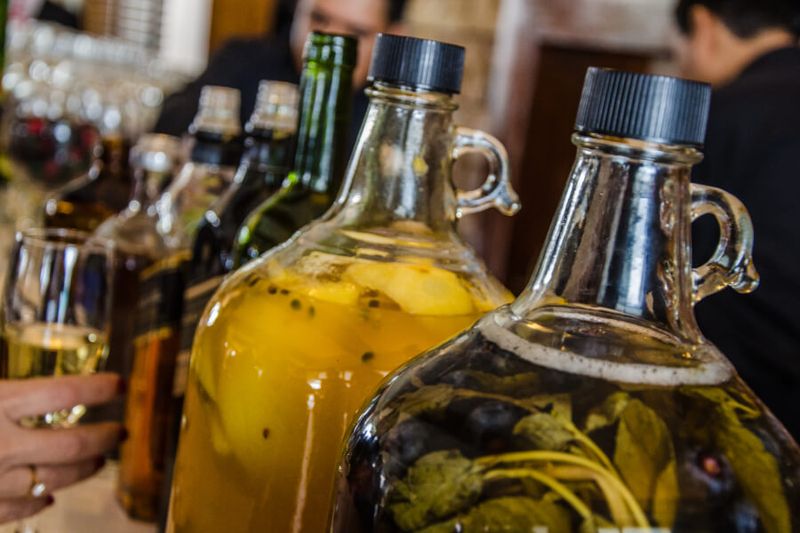 This high-proof spirit is made from distilling fermented grapes much like brandy, however, its flavour profile is totally distinct and differs depending on the grape variety. While travelling Peru, be sure to sample a frothy pisco sour or two and purchase a bottle to make your own Peruvian-inspired cocktails at home. 
Chullo hat
A chullo hat is a vibrant woollen creation with origins dating back to the Inca empire. Much like the textiles mentioned earlier, chullos and their distinctive patterns play a crucial role in Andean identity and also in protecting wearers from the cool climate. Chullos were originally hand-made from local llama, alpaca or vicuña wool but nowadays, specialised machinery is often used to expedite the knitting process.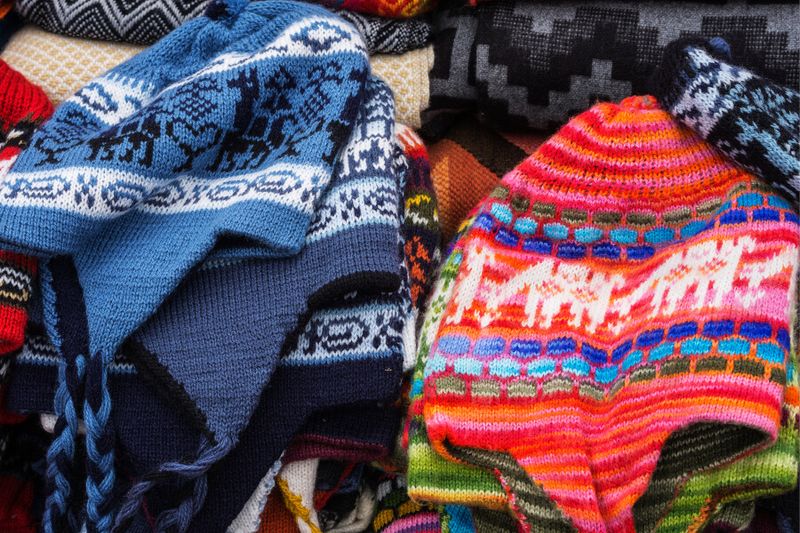 Pick up your chullo in one of Cusco's many local-operated souvenir shops, or buy one directly from a Peruvian artisan. 
Chakana cross jewellery
If you're in the market for wearable art, there's one pendant you'll find throughout Peru: the chakana cross. Distinct from the Christian cross, the chakana is a holy Inca symbol representing the Southern Cross constellation – considered by ancient Peruvians to be the centre of the universe. The three-stepped design is thought to represent the three worlds of consciousness, from the lower underworld to the middle world of Earth and the upper world of stars and celestial beings. It's commonly pictured with either a hole or a spiral in the centre – the former representing the ancient capital Cusco and the latter representing Pachamama or Mother Earth. 
Over the years, the design has taken on additional purposes; it's often used as an almanac, a meditation aid, and even a template for architectural design. Jewellery featuring this sacred symbol is a perfect souvenir to commemorate your time in Peru.