As one of the world's most historically influential countries, Greece's mythology and archaeology is legendary. But, when is the best time to go?
Greece is blessed with one-of-a-kind natural beauty, and topped off with some of man's greatest inventions. Foodies and architectural enthusiasts are well catered for in this European nation, which radiates history from every street. From cultural Athens, to the chilled beaches of Mykonos, the Hellenic Republic will charm you at every step.
Peak season in Greece is undoubtedly the summer; travel from June to September and prepare to rub shoulders with many other visitors, all eager to soak up the strong Greek rays and swim in the sparkling Aegean Sea. While the summer's a busy season, there's no question that Greece basks in this climate. Expect long, lazy lunches of grilled octopus, yemista (stuffed tomatoes and capsicums), gyros (shaved rotisserie meat) and plenty of tzatziki, made even better by the lively atmosphere.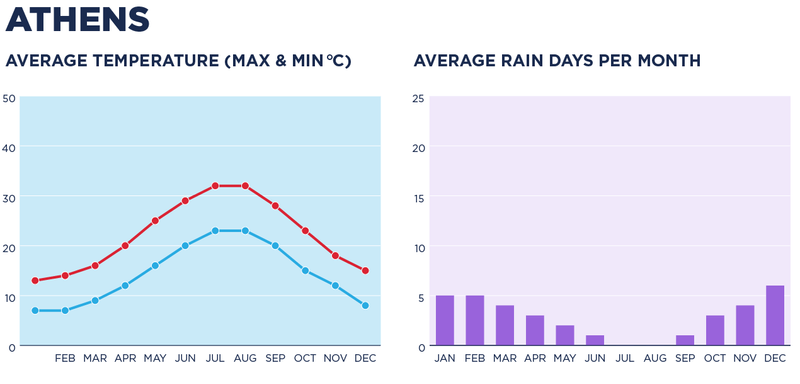 Summer in Athens hovers around 33 degrees celsius, so plan your Acropolis visit for the morning or late afternoon. Temperatures at the historic site of Delphi will be around 29 degrees, with the slopes of Mount Parnassus helping cool the heat.
On the Cyclades Islands, Santorini and Mykonos are at their summer peak; temperatures average around 29 degrees, but heatwaves in the forties are fairly common. At 8 pm, head to the coast to watch all that sunshine culminate in a legendary Aegean sunset.
In Autumn, the heat tapers off to warm temperatures country-wide, and the local harvest is heartily celebrated – from wine, to olives to mushrooms. Autumn leaves brighten the Greek landscape, turning it lovely shades of orange and red; it's a sight not many associate with Greece, but one that's just as beautiful as Italy or France.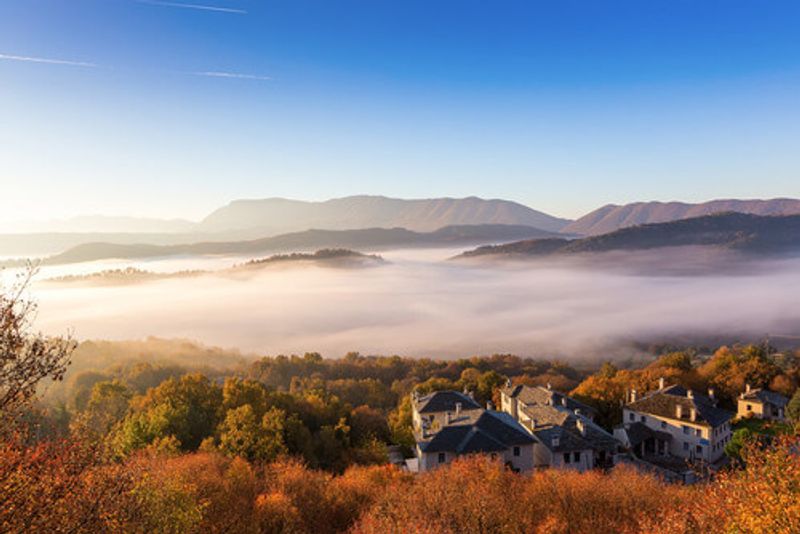 This period, from September to December, is one of the best times to visit the islands – the crowds have gone home and sand temperatures aren't so hot. Wandering the winding and hilly streets of Santorini's capital Fira won't raise as much of a sweat, and on Mykonos, you can explore the idyllic white architecture in comfort. Plus, the seawater is still warm enough for a dip afterwards.
The sites around Athens are also mild, bathed in the autumn sunshine and perfect for touring. The capital averages around 23 degrees celsius in the middle of Autumn, while the Cyclades, Delphi and Meteora all experience temperatures in the low twenties.
Though Greece is known as a summer destination, it does experience winter and can get quite chilly, particularly in the north. The beginning of winter is often stormy and wet, but if you travel at this time, you'll have no crowds to contend with. Winter temperatures in Athens average around 13 degrees celsius, Delphi and Meteora will be closer to 10 degrees, and on the islands, expect the low-to-mid tens.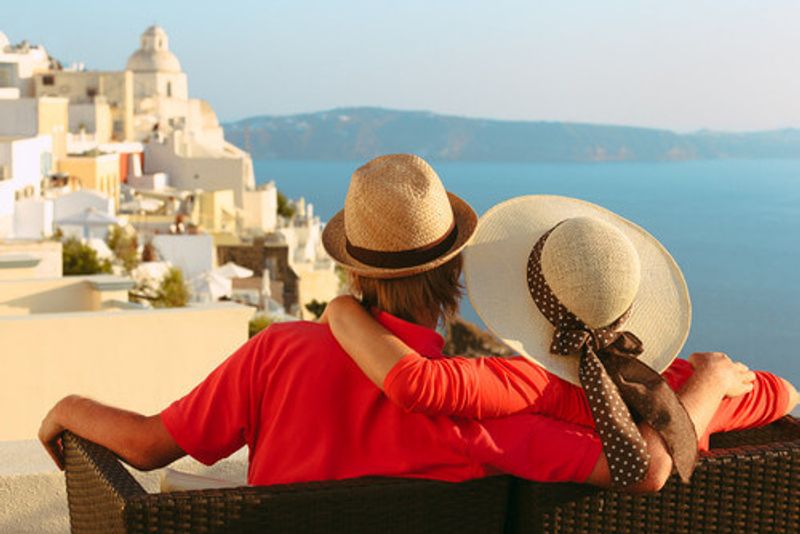 Spring is widely regarded as one of the best times to experience Greece. The sun shines, wildflowers bloom in their millions and Greek Easter is celebrated across the country. Sites on both the mainland and the islands aren't yet crowded with visitors, and prices are not quite so high.
The spring season, roughly extending into early June, brings temperatures around 25 degrees in Athens, 22 degrees on the islands, and 26 degrees in the Delphi region.
Whether you are a history and culture buff looking for some of the world's best, or a beach lover seeking island life, Greece is guaranteed to impress.
When will you go?
Where else do you want to visit?