Santorini is world-famous for its vistas, but look hard enough and you'll discover its Greek food is second-to-none
With its simple yet perfectly balanced Mediterranean flavours and emphasis on fresh produce, a trip to Greece is as much about the food as it is about the sights.


Santorini, Greece's most visited island, is home to a miraculous landscape. Whitewashed buildings interspersed with windmills and blue-domed churches spill over its dramatic cliffs – a dazzling sight against the sparkling caldera for which the island is known. Take a stroll through the main town of Fira, and you'll quickly see why the nisí (island) is so popular. But with popularity comes tourist traps – the good news is, there are still plenty of authentic places to go, you just need to know where to look.


Breakfast (proino)
Kick off your day the Greek way: with coffee and a filo pastry. While there are many to choose from, you can't go past bougatsa, a parcel of buttery filo wrapped around a semolina custard filling, dusted with icing sugar and cinnamon. The treat has its roots in northern Greece, but is popular across the country. Pair the warmed-up pastry with a cappuccino freddo (espresso topped with frothed milk, served over ice) for that all-important caffeine hit.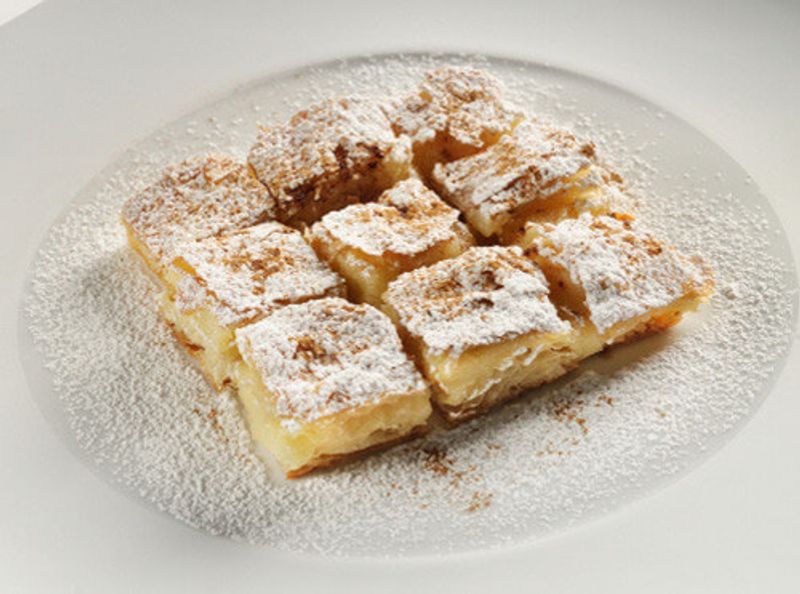 Try it at:
Bougatsa is available at almost every Greek bakery, but for a perfectly flaky rendition, head to Santa Irini Bakery (Main Road Perissa, Perissa 84703).
Lunch (mesimerianó)
After a morning of exploring Santorini's winding laneways, you'll need a hearty lunch. One of the most iconic Greek dishes, the gyros (pronounced yee-ros), sees lashings of shaved meat marinated to perfection, wrapped in pita, smothered in tzatziki and stuffed full of chips, onion and tomato. It's then topped with paprika and wrapped in paper, making it perfectly portable. We won't judge you for ordering seconds.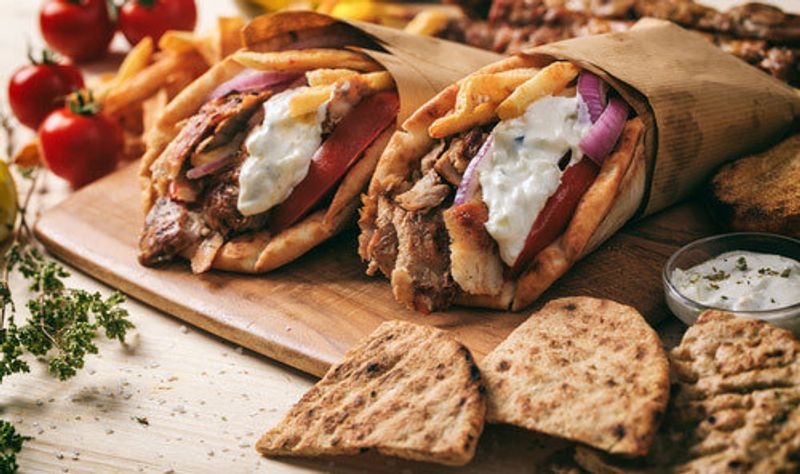 Try it at:
You'll find restaurants slinging gyros on every street of Santorini, but the island's best is served up at local-favourite Pitogyros in the northern town of Oia. Surrounded by expensive, fine dining restaurants, Pitogyros is reasonably-priced and nails the all important ratio of meat to filling and tzatziki.
Snack (mezze)
When the afternoon rolls around and your stomach starts to rumble, it's time for another filo hit – this time of the savoury kind. Spanakopita, a spinach and feta-filled pie, is a delicious snack that's sure to hit the spot. The perfect spanakopita is a textural delight, with a crispy top, chewy filo base and oh-so-creamy filling.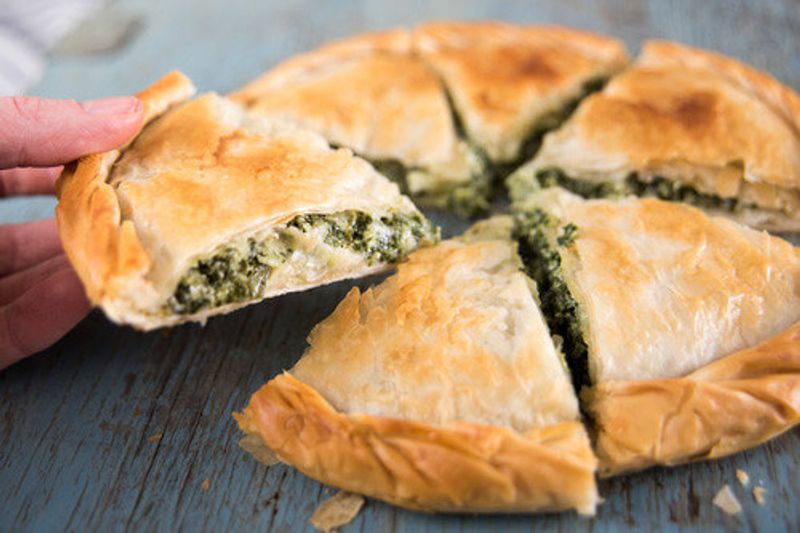 Try it at:
Erotokritos is one of Santorini's most loved bakeries and once you tuck into their version of spanakopita, you'll understand why. If there's any other pastry you've been dying to try, there's a good chance you'll find it here, too.
Dinner (vradinó)
While lunch is a big deal in Greece, dinner is the main event. Start with a classic Greek appetiser of pita and dip. There are many to choose from, but we recommend venturing beyond tzatziki and trying melitzanosalata (eggplant dip). Accompany this with a fresh greek salad, and a serve of ntomatokeftedes, a Santorini specialty featuring locally-grown tomatoes and feta made into fritters. Greeks love their seafood, so finish off your meal with the catch of the day or indulge in some mouthwatering lobster.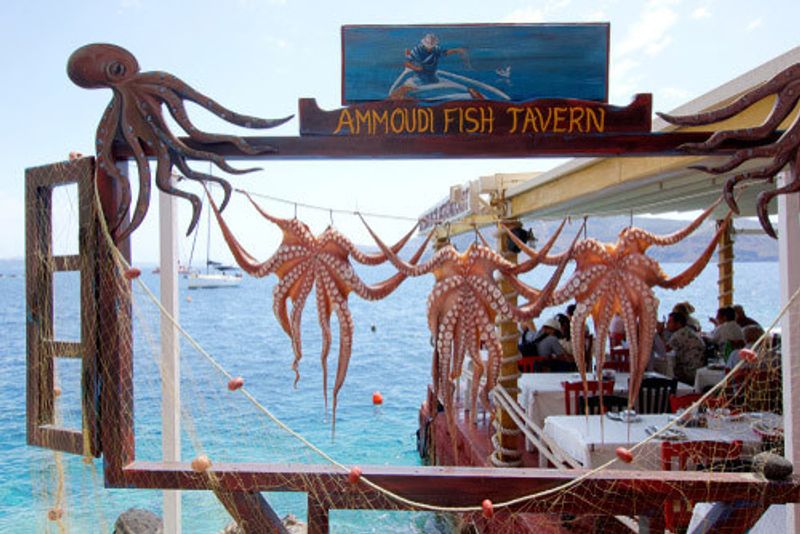 Try it at:
Ammoudi Fish Tavern is widely regarded as the best seafood restaurant on the island. Book a waterfront table and splurge on a seafood feast with views to match. A word of warning: the restaurant is located at the bottom of 300 cobbled steps, so prepare yourself for the climb back up after your meal.
Nightcap (metá apó to skotádi)
In Greece, drinking is a way to bond with family and friends. Order a traditional Greek beverage like retsina (white wine with a resin flavour), tsipouro (brandy made from grape pomace) or ouzo (anise-flavoured spirit commonly diluted with water), and enjoy with a meze or two. Rest assured, regular beer and wine are widely available, too.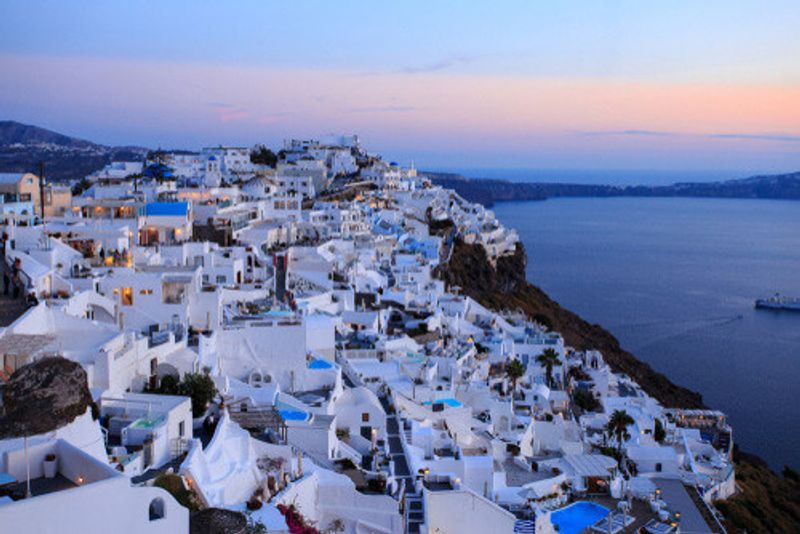 Try it at:
Cap off the night with a tipple and snack at Franco's (Fira, 84700). Their caldera views are second to none, but you'll need to arrive early for a coveted balcony spot.