King Tutankhamun's long-lost tomb, complete with his mummy, is a must-see for any visitor to the Valley of the Kings
Tutankhamun, the 12th pharaoh of the 18th dynasty, is the most recognisable king in Egyptian history. In fact, it's fair to say that his gold funerary mask is as synonymous with ancient Egypt as the pyramids. After the death of his father Akhenaten, Tutankhamun ascended to the throne at just nine years of age and ruled Egypt with the help of two advisors, Ay and Horemheb.


During his reign, the young king achieved many notable things, most of which involved reversing drastic changes his father introduced which left the country in disrepair. Tutankhamun moved the royal court back to Thebes, launched reconstruction projects on sacred temples and reinstated the traditional religion that Akhenaten outlawed, in an attempt to get Egypt back in favour with the gods. However, in the context of Egyptian history, his feats were relatively minor and he was all but forgotten by history after his untimely death at age 19, in around 1324 BC.
In 1922, British archaeologist Howard Carter located King Tutankhamun's long-lost tomb and made an enormous discovery. Unlike almost every other royal tomb in Egypt, Tutankhamun's final resting place was left practically untouched for thousands of years and was still full of priceless antiquities. Scientists attribute this to rubble that concealed the entrance shortly after the pharaoh's burial, hiding it from both would-be thieves and the elements. The artefacts inside provided Egyptologists with a profound insight into the countries ancient history and led to Tutankhamun's eventual fame in popular culture.
Today, visitors to the Valley of the King's can pay a small additional fee to enter the tomb of Tutankhamen. While all of the aforementioned relics are now housed in the Egyptian Museum, there's one thing inside that you cannot see anywhere else in the world: his mummified body. Sitting in a glass case right beside the entrance, Tutankhamun's mummy is on display sans the resin-soaked bandages that would have covered his face. The only other thing remaining inside the tomb is one of his golden coffins, encased in an elaborately engraved granite sarcophagus.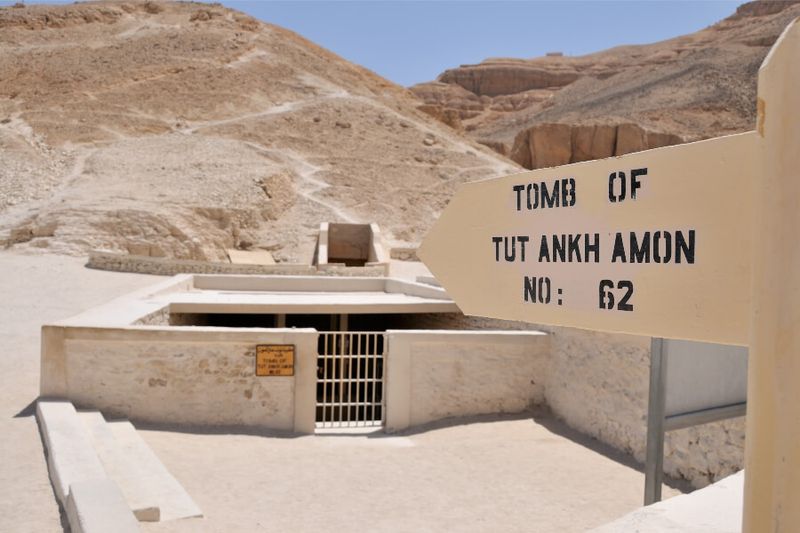 The walls of Tutankhamun's tomb are covered in hieroglyphics and life-sized paintings depicting gods, Osiris and Anubis. One significant difference between this burial site and others in the Valley of the Kings is its lack of reliefs. Because Tutankhamun died so suddenly, those in charge of his tomb didn't have time to etch details into the wall as they usually would. Thankfully, as his tomb was undisturbed for so long, the paintings are still wonderfully vibrant and full of detail. If you look closely, you can even see individual brush strokes.


A visit to King Tutankhamun's final resting place is a truly humbling experience and an essential part of any trip to Egypt.