Japan is one of East Asia's most beloved countries, with a cherished ancient culture and exquisite sights. But, when is the best time to go?
Japan is an island country full of contrasts. From ultra-sleek modern cities, to soaring alps, traditional villages and ancient shrines. And with four distinct seasons that each change the landscape, it truly is a year-round destination.


Two-thirds of Japan is mountainous, so those that love the snow and winter sports should plan their trip between December and February. As the temperatures fall, so do crowd numbers. While many frequent the world-famous slopes in the north, many of Japan's most famous sights like Fushimi Inari are relatively peaceful. Cities like Sapporo average temperatures of -1 degree celsius in January – perfect for skiing, bathing in traditional Japanese onsens (hot springs) and enjoying events like the Sapporo Snow Festival.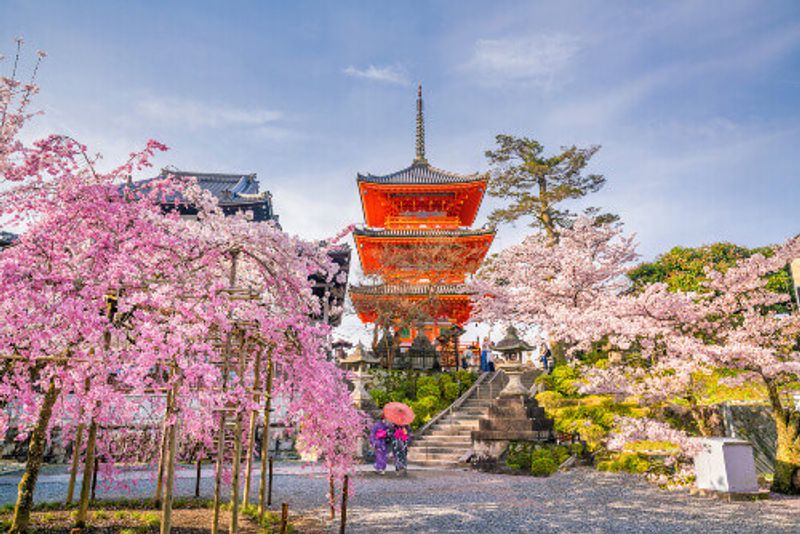 Meanwhile, in southern hotspots like Tokyo and Nagasaki, temperatures can still reach a mild 10 degrees during the day.


One of the highlights in Japan every year has to be the spring cherry blossom season. To bask in this spectacular time of year, you'll want to arrive between late March and mid-April. Although many visit expecting balmy temperatures, Tokyo and Kyoto are typically cool to mild, reaching up to 18 degrees. Make sure you pack layers if you're planning to hanami (blooming flower viewing).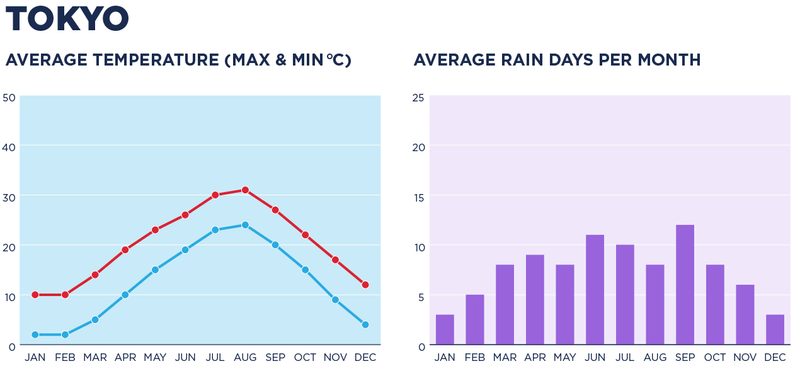 In May, things start to warm up in Japan, beginning with 'Golden Week' – one of Japan's busiest holiday seasons. Late spring can be one of the best times to travel before things start to seriously heat up.


Summer, from June to August, doesn't just bring steamy daytime temperatures and the rainy season, but also some of the most spectacular festivals. If you can handle the heat, many say the season is worth enduring for the matsuris (festivals) that take place. Think elaborate street parades, music, traditional games and of course, delicious food. Temperatures in summer average around 26 degrees in the north and 31 degrees in the south, with high humidity all-round. Northern Hokkaido is one of the more comfortable parts of the country at this time, and is popular with outdoor enthusiasts.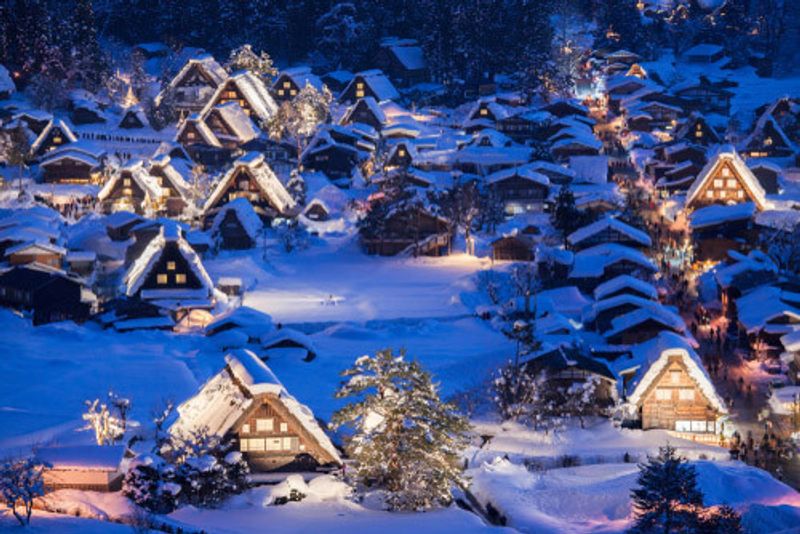 Finally, autumn is one of the most appealing times to visit Japan, thanks to the magnificent seasonal foliage that paints the landscape in swathes of red, orange and yellow. Temperatures begin at a comfortable 22 degrees in the north and 30 degrees in the south, getting cooler as winter approaches. For hundreds of years, visitors have sought out the autumnal colours on display all over the country. The vibrant foliage can be the perfect backdrop to your Japanese adventure. The beginning of the season can bring monsoonal weather, so make sure to pack a raincoat.


Japan has a season to suit everyone, whether you prefer snow sports, flowers, or festivals.


When will you go?
Where else do you want to visit?