From September to December every year, Japan's temples and ancient shrines are transformed by seas of crimson foliage
After months of steamy weather, an epic transformation begins across Japan. Trees change seemingly overnight from green to red, orange and yellow, turning the landscape into an artist's palette of autumnal hues. Whether you're touring Tokyo or exploring the countryside, the fiery foliage is so vibrant it's as if someone turned up the saturation.
Many plants also bloom in autumn. The chrysanthemum – symbol of the Japanese Imperial Family – is perhaps the most famous flower at this time of year. However, seven traditional flowers are associated with the season in Japan; these are known as aki no nankusa, and they have been featured in literature and art for centuries. They are: hagi (bush clover), nadeshiko (dianthus), kikyō (Chinese bellflower), ominaeshi (valerian), fujibakama (boneset), kudzu (kuzu) and susuki (Japanese pampas grass).
Much like the cherry blossom season, aki (autumn) is entrenched in Japanese tradition. There's even a term that refers to searching for autumn foliage: momijigari. For centuries, Japanese people have taken pilgrimages across the countryside to appreciate the autumn scenery and find koyo (autumn leaves). Some go hiking; others have picnics under the vast maple trees – all to admire Japan's natural beauty.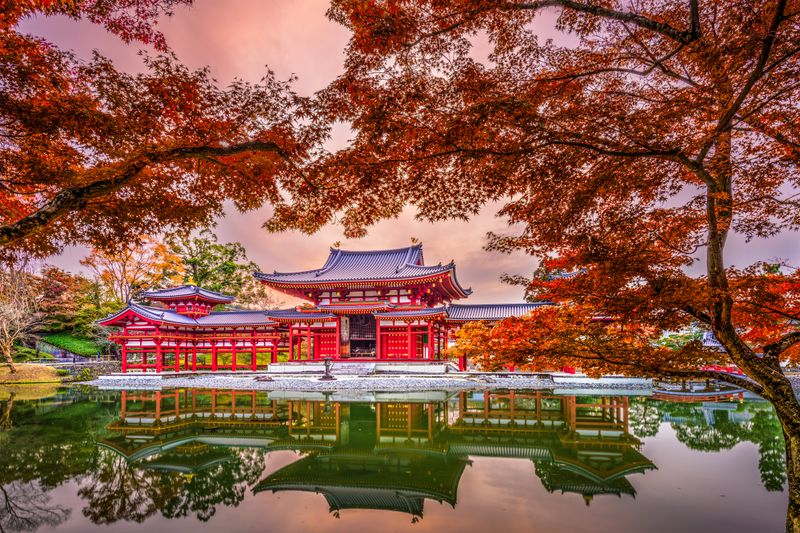 Why does Japan look so beautiful in autumn?
The main reason autumn transforms Japan so dramatically is the abundance of deciduous trees. Many of the country's most famous trees, such as the maple and ginkgo, fall into this category. They adapt to the seasons, appearing different throughout the year, depending on the weather.
Autumn marks the end of the growing season for deciduous trees, so their leaves typically change colour before falling off and becoming dormant over winter. The result? Japan's iconic landscapes blanketed in gorgeous autumnal hues.
When is the best time to see autumn foliage in Japan?
Autumn in Japan is from September to November, but the trees don't abide by a strict schedule. Like all natural phenomena, environmental factors such as temperature, latitude, and elevation impact when the leaves turn. However, the general rule of thumb is the colder the area, the more colourful the leaves. That's why the northernmost island of Hokkaido is the first to change, followed by Honshu, Shikoku and Kyushu.
The Japan Meteorological Corporation releases a yearly map detailing the predicted foliage forecast across the country. In 2022, Tokyo was most vibrant in mid-late November, while Kyoto was best a few weeks later in early December.
Autumn foliage is much longer lived than the cherry blossom bloom. So, even if you miss the optimal window for momijigari activities, you're still likely to see plenty of stunning scenery.
Where to enjoy autumn leaves in Japan
Whether you're planning a whirlwind trip to the most famous shrines and landmarks, or a longer journey through cities and countryside, you're almost guaranteed to find beautiful autumn vistas wherever you travel in Japan.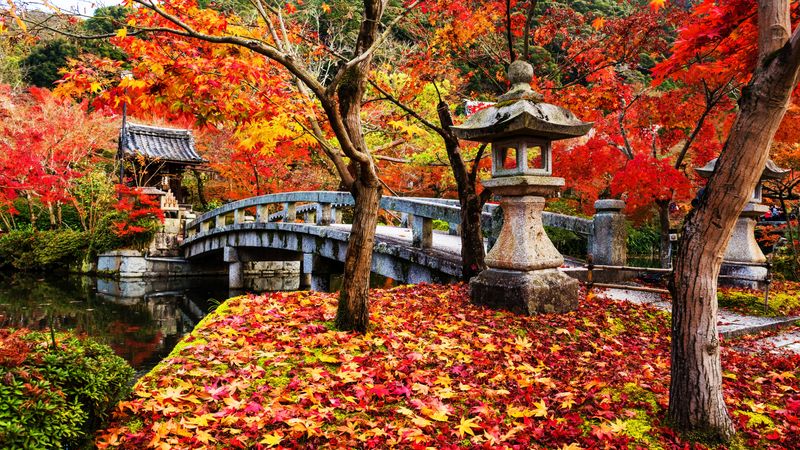 Kyoto
Kyoto hosts many of Japan's most impressive attractions, but it's also a stand-out in autumn. Walk down the famous bamboo-lined paths of Arashiyama Bamboo Grove, and you'll eventually make it to Togetsukyo Bridge, where a lush forest of autumn trees sits beside a crystalline lake. Hop on a traditional yakatabune boat to take in the views from the water. And what is a trip to Kyoto without visiting a temple or two? Kitano Tenmangu Shrine is particularly striking at this time of year.
Miyajima Island
The southwestern city of Hiroshima is home to plenty of tree-lined parks, but the real autumn gem is a short ferry ride away on the island of Miyajima. Here, you'll find maple-shaped sweets, wild deer napping on fallen leaves and the picturesque Momijidani Park, with over 200 maple trees.
Mt Fuji
Autumn is a spectacular time to see Japan's highest peak. For the best views of Mt Fuji, head down the mountain and out to one of the five surrounding lakes. Lake Kawaguchi is the largest and arguably the most photogenic; here, you can capture that postcard-perfect shot of Mt Fuji in front of a lake, flanked by crimson leaves.
Kanazawa
Kanazawa is nicknamed 'Little Kyoto', so it's no surprise that this town is also home to an equally impressive autumn showing. Kenrokuen Garden is a must-see this time of year. Wander the grounds during the day to appreciate the rich reds of the changing leaves but make sure you return at night, to see the trees illuminated and sparkling against the lake.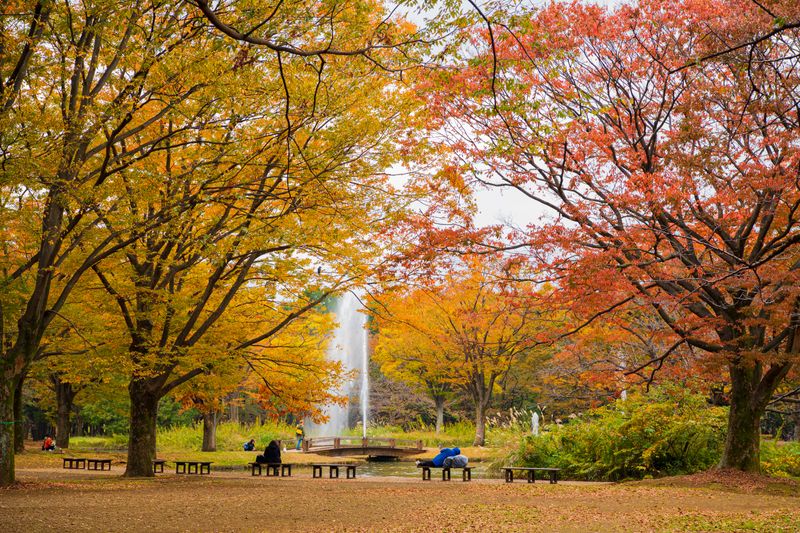 Tokyo
You won't have to look hard to find foliage in Tokyo. The city's countless parks are ideal for picnics or long strolls through the fallen leaves. Shinjuku Gyoen National Garden – once part of a feudal lord's property in Edo-era Japan – is a stunning sight in autumn, thanks to the contrast of autumn leaves against city skyscrapers. Yoyogi Park is also a stand-out, with red maples and bright yellow ginkgo trees practically illuminating their surroundings.
Best food to eat during autumn in Japan
Seasonal produce is the key to Japanese food. In autumn, meals typically incorporate cool-climate ingredients like mushrooms and sweet potatoes. Soups and grilled foods are common this time of year – particularly as temperatures start to dip towards December.
Autumn is also the best time to eat rice, as it marks the start of the Japanese rice harvest season. Shinmai translates to 'new rice' and refers to the first crop of rice harvested for the year. The grains are said to be more plump and flavoursome during this time. The designation of shinmai is serious business; the Japanese Ministry of Agriculture, Forestry and Fisheries strictly governs which rice can be labelled and sold as shinmai.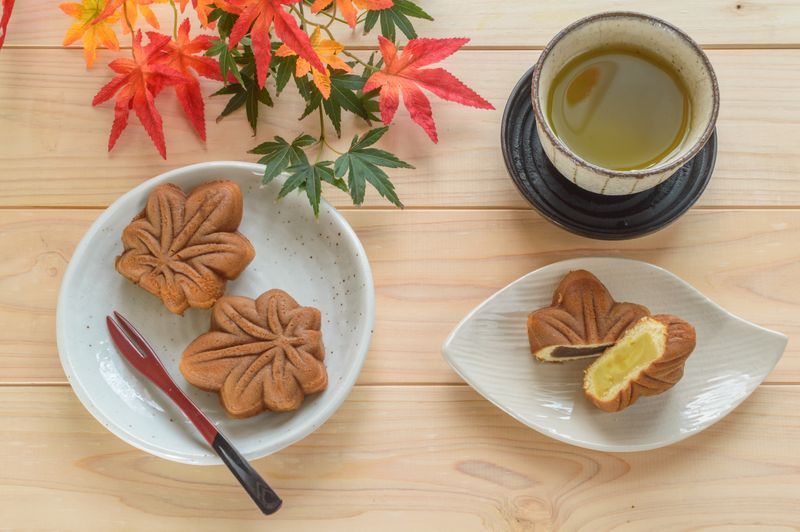 Once you've had your fill of savoury carbs, it's time for the sweet. Maple-shaped cakes called momiji manju are the perfect seasonal snack if you're in the Hiroshima area. These wagashi (traditional sweets) are commonly filled with red-bean paste and sold hot from street vendors.
Get there: Several of our best-selling Japan deals have autumn dates available to book now, in a range of styles from independent tours to fully guided small groups. Browse Japan tours below or give us a call – we'd love to help you fall in love with Japan in autumn.