Egypt isn't known for its cuisine – but it should be
Food is a gateway into a country's culture and history; it's a way for travellers to get to know a place beyond the touristic facade and connect with local people. So for a country as old and storied as Egypt, it should come as no surprise that its cuisine is cherished. Outside of its north African borders though, you'd be hard-pressed to find many Egyptian restaurants. Its food – rich and aromatic – isn't well-known in the west.


Egyptian food borrows from both the Mediterranean and the Middle East, with spices like cumin, dried chilli and coriander seeds featuring heavily. Plenty of grains, carbs and legumes are also thrown in for good measure, creating filling meals packed with flavour.


Here, 5 foods to try in Egypt.
Koshari
A hearty mix of lentils, pasta, rice, chickpeas, fried onions and tomato sauce, this fascinating meal is Egypt's national dish and a tasty one at that. While koshari contains many competing flavours, the ingredients work in harmony and its textural variety is a joy for the palate – from the crunch of onion to the chewy pasta, tied together with chilli sauce and da'a (garlic and vinegar) added to taste before digging in.


Despite its icon status in Egypt, the origins of koshari are murky. Some say it evolved from the ancient Arab dish mujaddara – a lentil and rice pilaf – while others suggest it was brought to India by the British and comes from the Hindu word khichri (mixture), with pasta added later by Italian communities living in Egypt.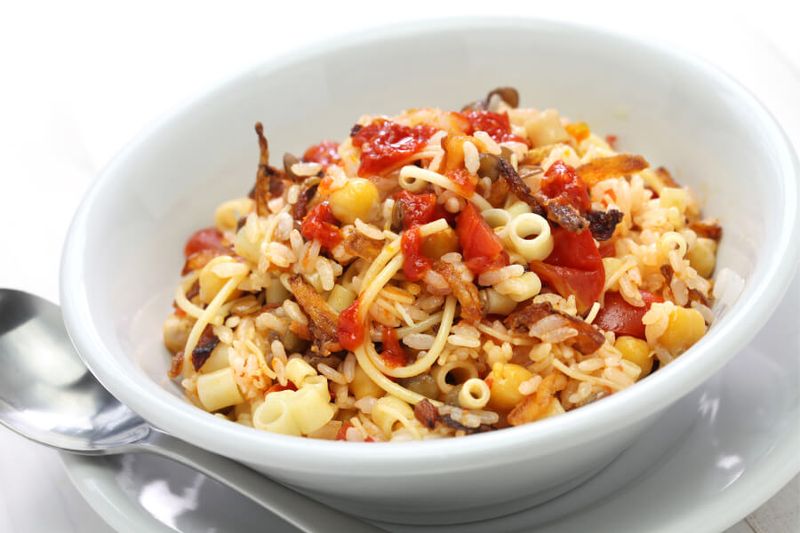 Where to try: No visit to Egypt is complete without trying koshari, so it's a good thing the dish is available almost everywhere. There are even restaurant chains dedicated to it. Head to either Abou Tarek or Koshary El-Tahrir for the best renditions. Vegetarian safe and usually vegan, too!
Aish Baladi
Carbohydrate-phobes beware: the Egyptian diet is full of delicious flatbreads and rice. In ancient Egypt, bread was much more than a side – it represented prosperity and hope. It's a food that united rich and poor, featuring in almost every meal. Even today, thousands of years later, the growing of wheat is still thought to bring good fortune to Egyptian farmers.


The most popular Egyptian bread is aish baladi – a fluffy flatbread reminiscent of pita. This traditional side is made from whole grains like barley and wheat, topped with cracked wheat bran and baked in a hot oven. Its light texture and hollow inside makes it a perfect carriage for falafel and ideal for mopping up sauce.


Where to try: One of the most ubiquitous foods in Egypt, aish baladi can be found in practically every restaurant and food stall.
Ta'ameya
A Middle Eastern favourite, ta'ameya is the Egyptian version of falafel, made with fava beans rather than the usual chickpeas. The true origins of the falafel are hotly disputed but many believe the Egyptian version was the first. Ta'ameya's are made similarly to regular falafel, with crushed fava beans mixed into a paste, flavoured with herbs and spices, rolled in sesame seeds and deep-fried. Once cooked, they're typically stuffed into a pita pocket and topped with fresh or pickled veg and tahini.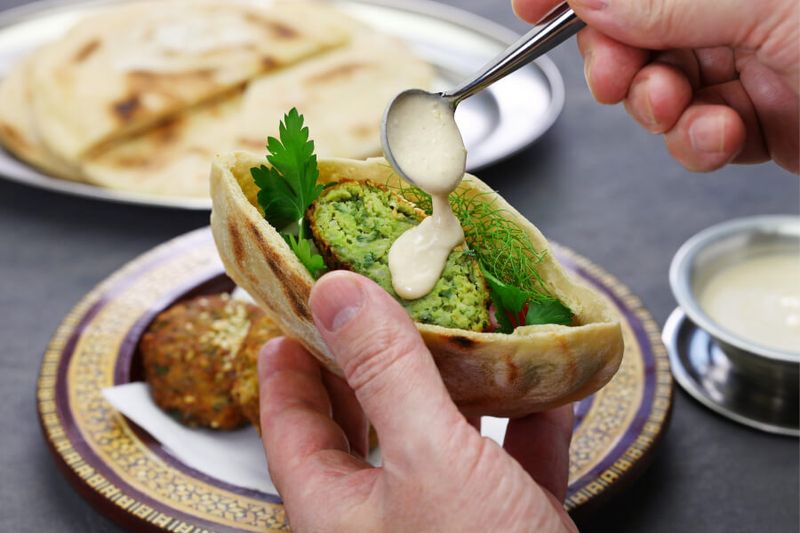 Aside from colouring the falafels green (with the help of herbs), the use of fava beans gives the fritters light and moist texture that chickpea falafels often lack.


Where to try: Good ta'ameya can be found in every Egyptian city. If you're up for some takeaway, chat with your guide or visit a restaurant with a big line of locals, but for a delicious dine-in experience, head to Felfela in downtown Cairo.
Shawarma
This meaty dish isn't native to Egypt, but it has long been a favourite among both locals and visitors. Said to have Ottoman roots, the humble Egyptian shawarma sees meat – usually chicken, beef or lamb – seasoned and stacked on a vertical spit, then slow-roasted. After cooking for many hours, the meat is sliced off in strips and packed into pita bread or a roll. It's then topped with veg and your choice of condiments, from hommus to tahini or mint sauce. The perfect portable lunch.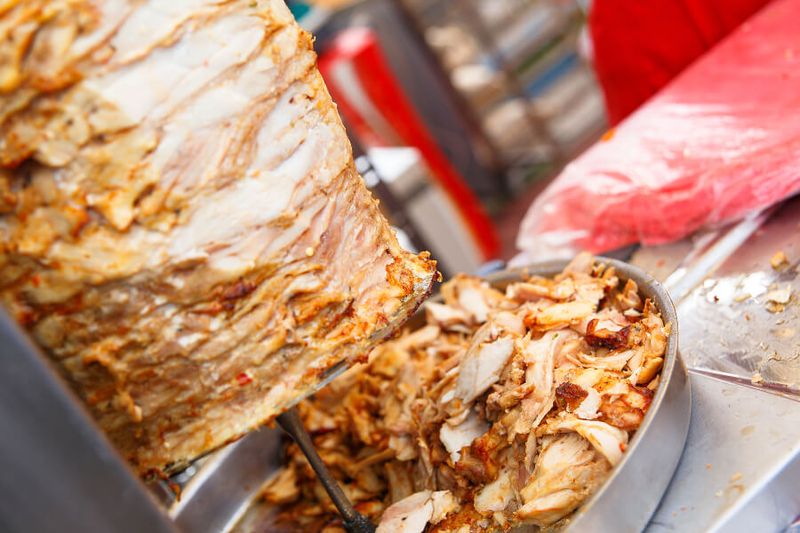 Try it at: Abou Heidar (13 Ibrahim El Laqqany Street, Cairo) is a Cairo institution, serving up tasty shawarmas for decades. Just be prepared to wait, as the place is often bustling. Pair your order with a fresh mango juice.
Ful Mudammas
Ful Mudammas is an aromatic stew thought to date back to Pharaonic Egypt. In this hearty vegetarian dish, fava beans are soaked, cooked and seasoned with garlic, cumin, lemon and olive oil or tahini. Modern iterations are simmered in a tomato sauce and contain herbs like parsley. Scoop it up with fresh aish baladi and top with – you guessed it – tahini.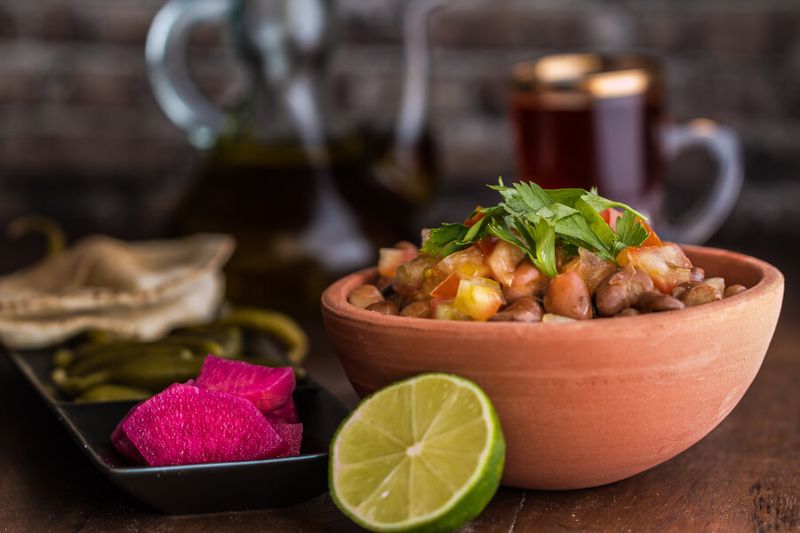 Traditionally, the dish is a breakfast favourite but it can be eaten throughout the day. It's especially popular during Ramadan, when Muslims fast during daylight hours, thanks to its filling nature.


Try it at: For a modern take on Ful, head to one of Zooba's six Egyptian locations.