Linda shares her experiences on her first solo trip our 9 Day Incredible Egypt and Nile cruise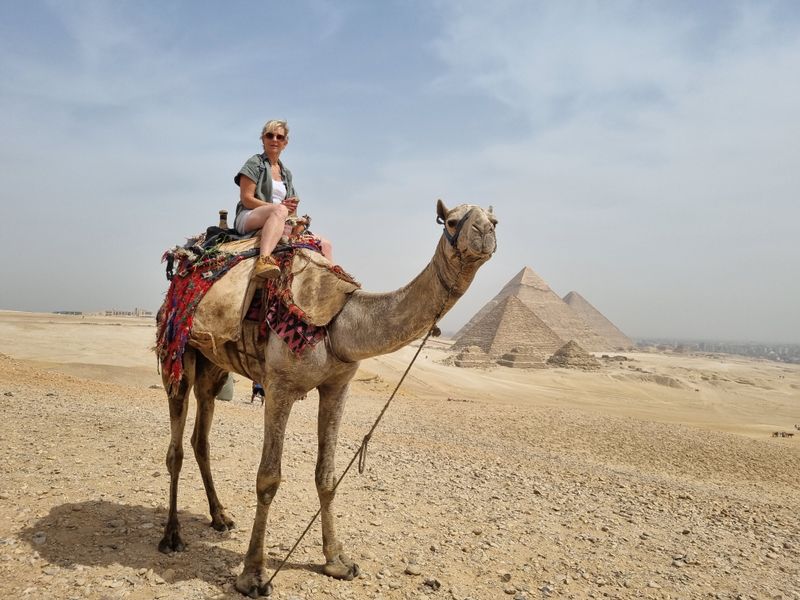 What prompted you to book your tour?
Egypt has been number one on my bucket list, I have wanted to go since I was young. I had already been on two previous tours with Inspiring Vacations so I was confident to travel to Egypt with them.
Did your expectations meet reality?
Yes, it was amazing.
Any surprises?
I think the surprise was that the places were so much more than you could ever imagine.
What were the highlights of this tour for you?
Everyday had a highlight; I was in awe at everything I saw—my neck hurt from looking up at everything all the time! Rania, our tour guide, was lovely and full of knowledge. She was helpful with buying souvenirs and arranging extra things for travellers. I loved the pyramids, Luxor temples, Aswan was lovely. The felucca ride was great and relaxing. Valley of the Kings is unbelievable, and the camel ride around the pyramids (which was arranged for a few of us) was amazing and the Hyatt Hotel was beautiful.
Did you do any optional tours? If yes, which ones and would you recommend them?
The Luxor Temple was amazing and great to see at night. Agilkia Island, where the Temple of Isis sits, was beautiful and the boat ride over was relaxing.
What do you say to those pondering whether or not to book this tour/destination?
Just do it, you won't regret it!
Any travel tips?
Water is always on the bus, but take snacks as morning tea and afternoon is not really a thing, and sometimes lunch can be late due to staying at an attraction you're reluctant to leave! Maybe take an umbrella as some places don't provide a lot of shade and have small notes for paid toilets in some areas. Do everything you can.
Love the sound of Linda's experience? Click here for more information on our tours to Egypt.