While there's plenty to see and buy all over South Korea, Seoul remains the heart of all things shopping
South Korea's busy shopping scene is not for the faint-hearted – there's something tempting to get wherever you go, so budget your won accordingly. Seoul is the country's ultimate shopping destination, which is the focus of this guide, but Korean handicrafts, traditional souvenirs, and other quirky keepsakes can be found all over the peninsula. Thanks to Korean culture's obsession with 'cuteness,' it's easy to bring home things for kids and grandkids – this means plenty of affordable little tchotchkes at discount shops like Lotte Mart (a discount chain which sells everything), as well as street markets. Anticipating the needs of gung-ho shoppers, many Korean train stations have 4-hour electronic lockers, which means you don't have to lug your things around all day. A few quirks to keep in mind: not all shops will allow you to try on clothes, and sometimes, shoes only come in one size.
Keep in mind that Korean taxes are on the high side, but as visitors, you can ask for tax refund slips (don't forget to bring your passport and flight information with you) that will help you when you eventually depart at the airport. There are also set sale periods throughout the year which are listed on the Korea Tourism Organisation's website.
Beauty world
Korean beauty rituals and products have taken the world by storm, so it's only natural that one should check out the source of all things K-beauty. The most popular neighbourhood in Seoul for cosmetics and skincare is undoubtedly Myeongdeong. Many of South Korea's most popular cosmetic brands live here, including Innisfree, Etude House, Olive Young, and Nature Republic, and there are usually promotions and specials to make their products even more appealing. Myeongdeong is also a great place to try out free beauty samples and swatch colours to your heart's content. Face masks are some of the most popular items here, so don't leave South Korea without at least one. If you're not in Seoul, don't fret - beauty culture has become so widespread that it's relatively easy to find an Innisfree or Olive Young outlet in a city near you.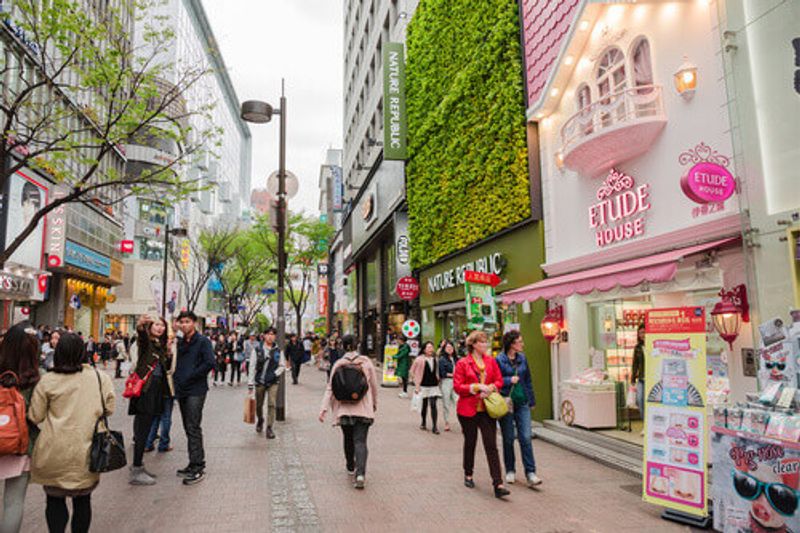 Textiles
Fabric and textiles – popularly used to make hanboks and other traditional outfits – can be sourced all over the country, from Busan's Busanjin Market to Sinpo Market in Incheon. But if you want the ultimate choice, head to Seoul. Textiles and bulk fabric can be found at sprawling markets like Namdaemun and Dongdaemun – the latter is especially popular for wholesale buyers and fashion junkies looking for a good bargain. Dongdaemun, which transcends the definition of a 'market' because of its sheer scale and variety (it even contains malls) and doesn't close until 5 am, which means you can pop by whenever you want. Namdaemun has been around in various forms as a trade center since the 1400s, evolving into a vital cultural and historical landmark. It has loads of hanboks (customary Korean outfits), which make excellent keepsakes. You can even buy contact lenses here, although we don't recommend it.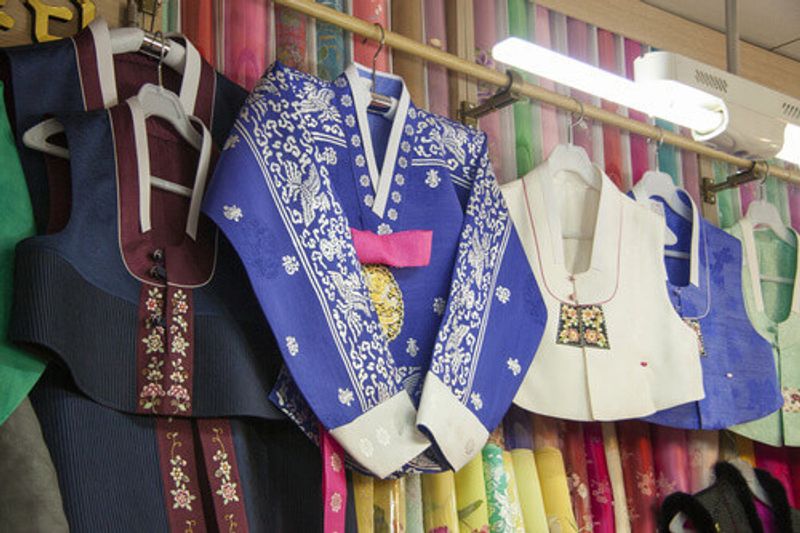 Clothes
Modern Korean fashion is heavily inspired by hallyu or Korean wave – its dominant pop culture that has brought us everything from soap operas to perfectly in-sync boy bands. This usually involves a mix of streetwear and high-end fashion labels, which has garnered coverage in fashion bibles like Vogue and W magazine. While Seoul is definitely the country's style mecca, you can find cute K-fashion at even cuter prices in cities like Busan, Incheon, and Gwangju.
Seoul-based fashionistas will feel right at home along Garosugil in Sinsa-dong, with elegant boutiques and international high street labels. This is also is where you'll find a hidden treasure trove of cutting-edge Korean designers and artsy independent shops. If you're lucky, you might even spot a K-celebrity along its shady, gingko-tree lined streets.
For threads on the less expensive side, try Ewa Women's University Shopping Street, which is popular amongst (you guessed it) fashion-forward, often cute-centric students who don't want to break the bank – don't worry, there are things for men, too. There's also vibrant Hongdae, along Hongik University Street, which is great for people-watching and getting inspiration from edgy students – there's even a weekly Sunday market.
In Daegu, Dongseongno Shopping District is a must-visit spot, as it mirrors the hustle and bustle of Seoul's Myeongdeong. If you didn't find what you wanted in Seoul, you'll certainly find it in this downtown fashion hub, from beauty products to jewellery, clothes, and accessories.
Electronics
Some of Korea's most popular buys are electronics, which is no surprise, as you're in the land of Samsung and LG. If you're a fan of gadgets and new devices, head to Seoul's Yongsan Electronics Market in Seoul – a wonderland for new electronic toys of all shapes and sizes. There will be a fair amount of haggling involved, so it's best to do some research ahead of time.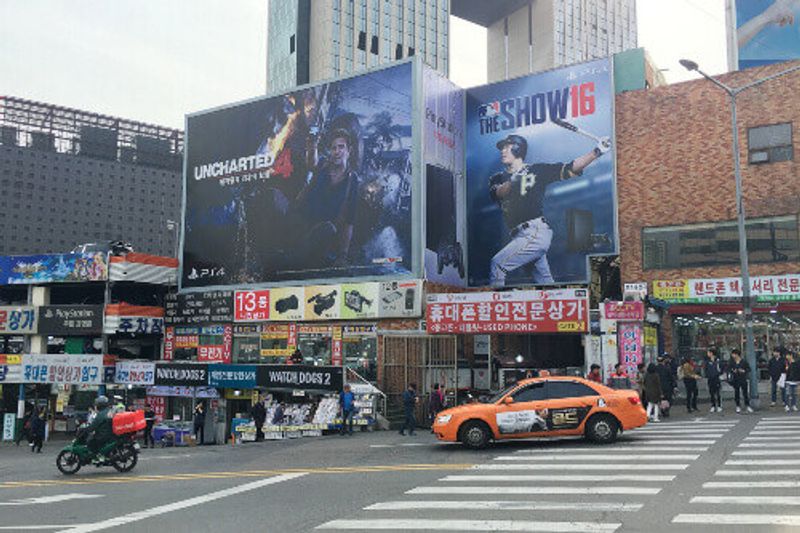 Arts and crafts
Korean ceramics are a beautifully unique (if rather fragile) souvenir to bring home, especially its unique celadon pottery. Other types of handicrafts are small paper items like dolls, wooden tal masks, as well as ceremonial boxes. Hanji is special Korean paper, often made of the paper mulberry or dak tree. It is one of the country's oldest artforms and endures in its souvenir products today.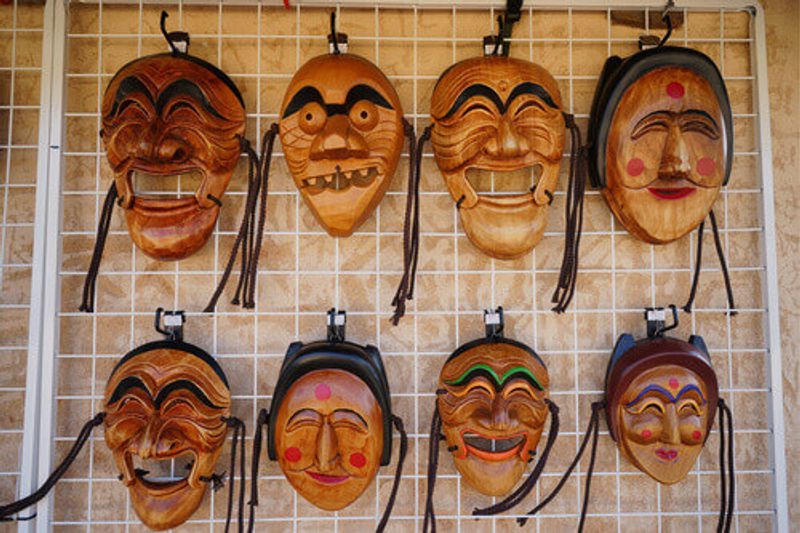 In Seoul, Insa-dong is a great spot to check out traditional crafts, especially hanboks, ceramics, wooden collectibles, and hanji. Gwangjang Market – located around the Dongdaemun area – is another good spot for these types of souvenirs, and also specialises in wedding items. Gwangjang is also considered more of a flea market, so you're more likely to find a few non-Korean oddities amongst its vintage wares. Antique lovers should head to Dapsimni Antiques Market, which is filled with shops that both sell and repair unique antiques – wander around decades-old vases, furniture, stoneware, and other fascinating pieces for sale, and perhaps pick up some less-known information about Korean history and culture.
Samcheongdong has trendy modern shops as well as the Bukchon Hanok Village, a collection of traditional Korean houses, which makes it a great place to kill two birds with one stone. Sandwiched between two Joseon-era palaces, the tourism generated by this 600-year-old village has encouraged traditional crafts shops to spring up around the area.