Eat your heart out in South Korea with our handy first-time foodie guide
Korean cuisine has become a mainstay in many major cities around the world, paving the way for fusion flavour combinations (like the rise of Korean-Mexican food in the US), and bustling cultural enclaves that serve up fragrant bowls of bibimbap (mixed rice with veg) or glistening mountains of patbingsu (shaved ice). There is also, of course, the runaway success of Korean barbecue, which has become an experience in itself; another iconic member of the Korean food family is the ubiquitous kimchi – if you're not a fan of strong, sour flavours, this might not be for you.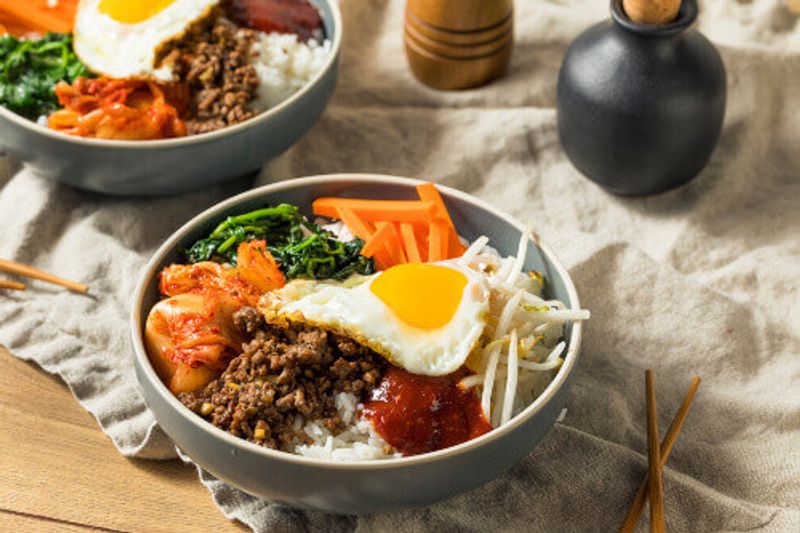 One common feature at many (if not all) Korean meals is banchan – bottomless small side dishes that magically appear on your table – popular types of banchan include Korean favourites like kimchi, beancurd, beansprouts, apple and potato salad, and pajeori (green onion salad). Not all of the banchan are meant to be eaten alone – some, like lettuce leaves (for wrapping meats), sauces, and garnishes are meant to go with your main meal, and you can always ask for more. If you're in the mood to indulge, try a hanjeongsik – a multi-course meal where lots of dishes and countless banchan come out together. Unsurprisingly, hanjeongsik was traditionally prepared for royal banquets. Proper Korean table manners include avoiding blowing one's nose at the table, as well as waiting for the eldest person at the table to start the meal.
Just follow your nose (or stomach) and try a bit of everything that comes your way – there's something for everyone whether it be in a restaurant, a café, a neighbourhood street food stall, or at a pojangmacha, which is sort of like a late-night street food tent for drinking soju along with your snacks. Snacks that are served with alcohol are called anju, and can vary from mixed nuts to spicy seafood and fried chicken gizzards (or really, anything you feel like eating with your drink) – having anju is supposed to enhance the drinking experience.
Korean barbecue
This is a must-try experience for a quintessential showcase of Korean flavours, especially for carnivores. Korean barbecue involves tending to your food at your table on your own grill, though this can vary – some restaurants have servers that attentively slice and turn your meat over for you, or a setup where a chef cooks your order in front of you on the main grill. Diners order a range of raw meats in different cuts, which can be marinated or unmarinated, and arrive in quick order.
Common options are bulgogi (sweet, marinated meats), galbi (short ribs), and various types of pork belly. Servers will pop in throughout the meal to make sure things are going smoothly – sometimes they'll replace your grill – it only takes seconds for them to deftly slide your food onto a new portable grill surface – so you don't keep cooking on blackened residue. Some restaurants are all-you-can-eat, which means helping yourself to a veritable smorgasbord of food options, buffet-style, including noodles, rice, and cooked side dishes.
Korean street food
Street food is the backbone of any Korean eating experience, as there are so many opportunities to try new snacks when you're on the go. It's also a great way to meet locals and see what people are eating – usually while standing. Staples include tteokbokki (cylinder-shapes rice cakes doused in spicy red sauce), odeng (fishcakes), hotteok (sweet pancakes), pajeon (savoury scallion pancakes), and gimbap (or kimbap, Korean sushi). Mandu (dumplings) are also a fiercely popular street snack, which comes in endless variations with different sauces and garnishes. There are even Korean-style hot dogs, which western visitors might find to be wildly more inventive than the average hot dog.
For more adventurous eaters, there's plenty to try, including popular snacks involving octopus and squid, soondae (or sundae, blood sausage), and more; when in doubt, one can always rely on the eternal presence of Korean fried chicken, loads of ice-cream, soft-serves, and sweet snacks. Street food also comes at street food prices, so that even travellers on a strict budget can get a full range of what Korean cuisine has to offer.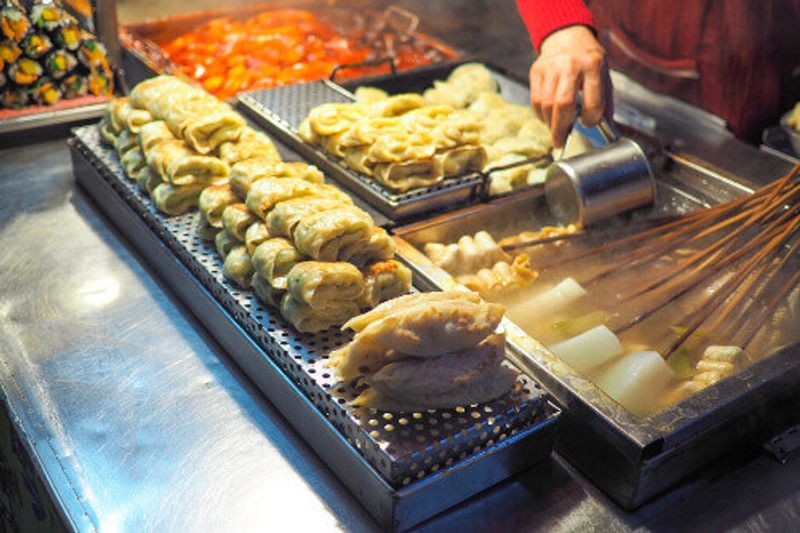 We had a quick chat with Jeonghee Hwang, a Korean translator and expat living in Singapore, about some of her favourite things to eat.
Tell us a bit about where you are from and what the food is like in your hometown?
I'm from Suwon, in the Gyeonggi-do province. Suwon is famous for Korean barbecue (galbi) and Korean fried chicken (tongdak).
What were some of your favourite foods to eat when you were growing up in Korea?
When I was growing up my favourite food was tteokbokki (rice cakes), gimbap (Korean sushi), jajiangmyeon (Chinese-influenced noodles), and fried chicken.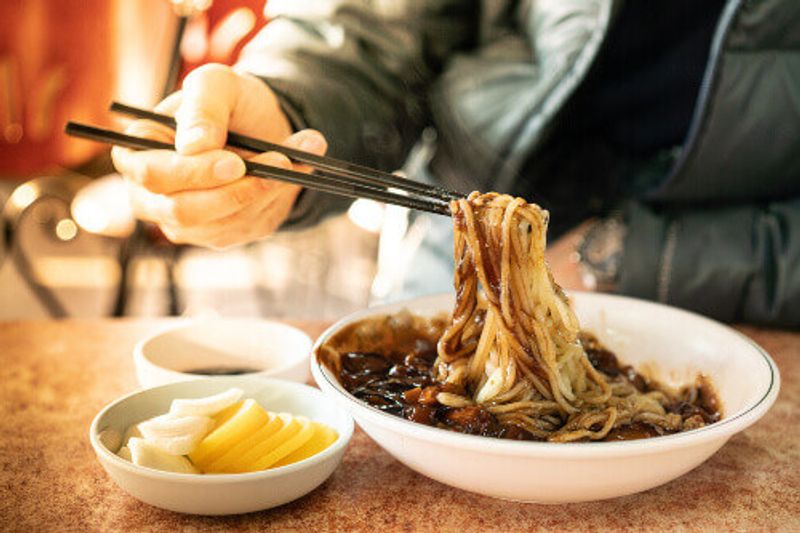 What are some Korean foods that you can't get outside of Korea?
I think all kinds of food you can get outside of Korea. Maybe soondae (blood sausage), or sunji guk? (Sunji guk is a type of "hangover soup" that includes congealed oxblood or pig's blood sausage).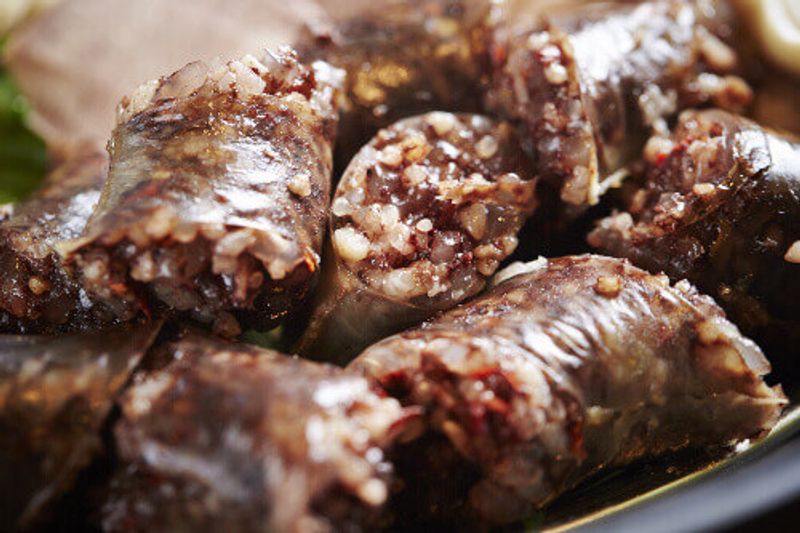 Do you miss any foods from Korea, that you cannot find [in Singapore]?
Yes, it's gop chang (intestines/offal). I can't find Korean-style gop chang here, and other Korean friends say so, too.
#
What do you think makes Korean street food special? What are some of your favourite street food snacks?
These days, macarons are very trendy in Korea. Korean-style macarons are not too sweet, and they look good. Korean macaron Instagrammers to check out are @somsombakery and @milky_olly.
Is it difficult to be vegetarian in Korea?
If vegetarians try to eat Korean soup like selungtang (seolleongtang or ox-bone broth soup) or many tangs (or guks, otherwise known as soups) it will be difficult, because it is made from meat. But these days, vegetarian restaurants are increasing, so I think it is getting easier.
Where are some of your favourite places to eat around Seoul/Gyeonggi?
Here are a couple of recommendations for Suwon:
Gabo Jeong Dubeonjjae Story for Korean barbecue
7, Maeyeong-ro345beon-Gil, Suwon, Gyeonggi-do, South Korea; +82 31-206-2838
Jinmi Tongdak for fried chicken
117-1 Namsu-dong, Paldal-gu, Suwon, Gyeonggi-do, South Korea; +82 31-255-3401