The team at Travel Alaska share their recommendations for first-time visitors to the 49th state
With sweeping mountain ranges, soaring peaks, and wildlife galore, Alaska is practically a highlight reel of nature's greatest hits. The US state bordering Canadian Yukon has an impressive set of stats to support its status as one of the most awe-inspiring destinations in the world. It's home to dozens of volcanoes and volcanic calderas, over 3,000 rivers, three million lakes, more than half of the world's glaciers and 17 of the highest peaks in the United States. Needless to say, if you're looking for a place to connect with nature, whether on foot or by plane, Alaska is the place for you.
We spoke to Travel Alaska, the official state of Alaska tourism office, to find out their top tips and recommendations for first-time travellers to Alaska.
A snapshot of Alaskan history and geography
Geographically speaking, Alaska is blessed. Its location in the far north-west of North America makes it a crucial gateway to the Arctic; it's also bordered by the Beaufort Sea in the north, the Gulf of Alaska and the Pacific Ocean in the south, and the Bering Strait and Sea in the west, home to some of the world's most prized catches, from king crab to chinook salmon. The state is also naturally rich in resources, such as petroleum, gold and natural gas.
Although Alaska has been a part of the United States since it was sold by Russia in 1867, and a designated state since 1959, its history stretches back millennia. Alaska is made up of five groups of Alaska Natives from different regions of the state: Inupiaq, Athabascan, Yup'ik and Cup'ik, Alutiq and Eyak, Haida and Tsimshian cultures dominated Alaska for thousands of years and make up about 15% of the state's population today.
The best way to learn about the rich heritage and traditions of Alaska's indigenous people is by visiting one of the state's museums, such as the Anchorage Museum or the Alaska Native Heritage Centre.
National parks
Alaska is home to 15 parks, preserves, monuments and national historical parks, covering an astounding 54 million acres of Alaska land. This works out to over 60% of all land managed by the National Park Service nationwide. Within the confines of its protected land, rich biodiversity thrives. Animals big and small, from grizzly bears, to beavers and bison frequent these parts of the state, in addition to its most famous residents: elk, moose and caribou.
Time spent in one of the parks will give visitors access to the best of the state, with opportunities to view glaciers, mountains and look for wildlife. Some of the state's must-see attractions are located in these parts, such as Glacier Bay National Park and Denali National Park and Preserve.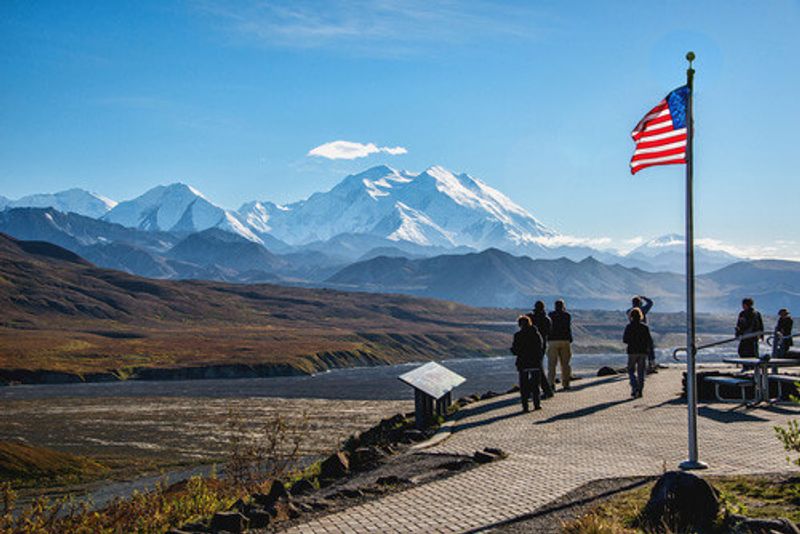 Climate
Numerous myths surround Alaskan weather. Many believe the state is permanently frosty when in reality, Alaska's climate varies substantially from region to region, and each season offers something different to travellers.
Head north and expect bitter temperatures, thanks to its subarctic climate, high latitude and air masses that travel across the Bering Strait from Siberia. Venture a little further south to interior Alaska and the climate varies dramatically between seasons. Summer (June to September) is relatively mild, but visit in winter (December to March) and you'll need a good set of thermals – Alaska's lowest temperatures are continually recorded in this region, with the US record of -62 degrees celsius taken at Prospect Creek in 1971.
During the summer, temperatures tend to fluctuate between 15 – 27 degrees Celsius and feature long days of sunlight, perfect for exploring. Travel Alaska says it's becoming a year-round destination, as visitors book winter trips to see the Northern Lights. Hikers and wildlife enthusiasts may opt for summer travel but visiting between January and late-March is best for snow sports, traditional dog mushing and to catch the magnificent views of the Aurora Borealis.
Hot tip: no matter when you're planning a visit to capital Juneau, be sure to pack a raincoat. The southern capital city experiences precipitation on average, 222 days a year.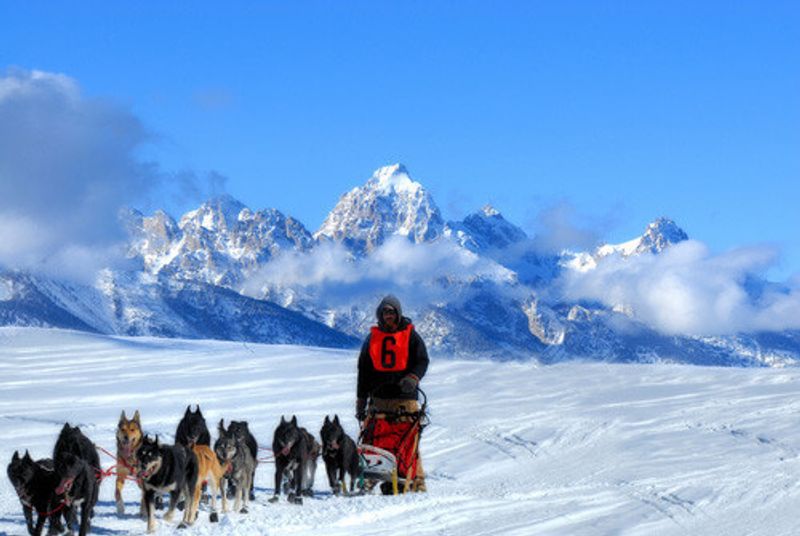 Northern Lights
One major factor driving winter tourism to the 49th state is the northern lights. Predominantly seen near the north pole, this natural phenomenon lights up the sky when charged particles from the sun collide with gaseous particles in the earth's atmosphere.
The Aurora Borealis can be seen across Alaska, depending on weather conditions. It is best to get away from city lights and to an area with unobstructed views of the sky, says Travel Alaska.
Fairbanks is one town that fits this bill. It's considered by many to be the best place in the state for aurora spotting, thanks to its location under the aurora oval.
If visitors spend three nights looking for the aurora in Fairbanks and surrounding areas in interior Alaska, they have a 90% chance of seeing the lights, recommends Travel Alaska.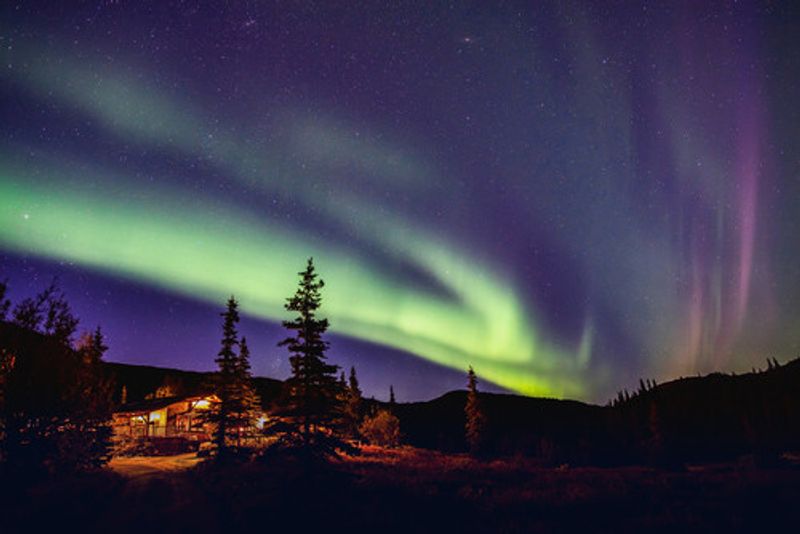 Cuisine
Typical Alaskan cuisine centres around traditional recipes and local produce. If Alaskan's can catch it or forage for it, there's a good chance it will be on menus across the state. Many bars and saloons across the state offer hearty meals made from the farm-raised game like venison, but to sample Alaska Native dishes, you may need to befriend some locals.
Alaska's most popular ingredient is undoubtedly seafood, sourced from the many bodies of water surrounding the state. A few of its most popular species are salmon, trout, halibut and crab.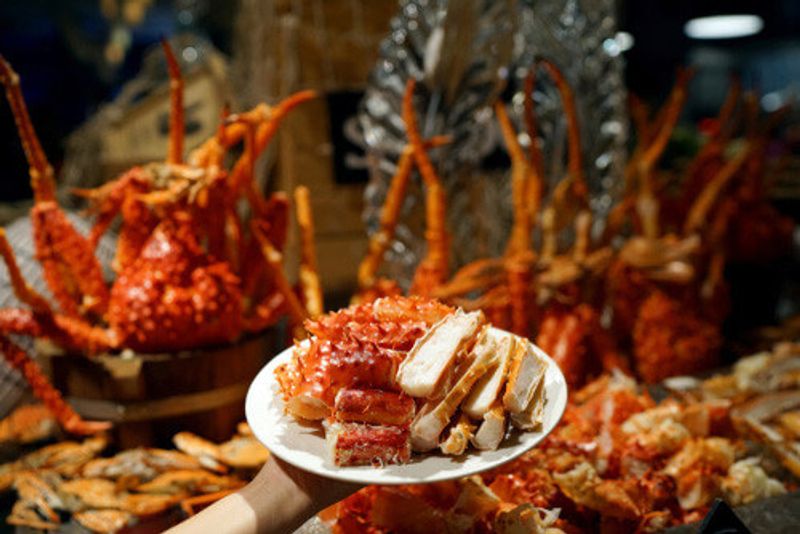 Transport
Travelling across Alaska is unlike other destinations. While much of the state is connected by the usual road and rail, many of its wildlife hotspots are remote, so the easiest (and often only) way to visit is by bush or float plane. Anchorage is home to the world's busiest seaplane base, averaging 800 takeoffs and landings every day, culminating in roughly 90,000 total between late spring and early autumn.
These light aircrafts are a fascinating experience of their own, offering panoramic views of the Alaskan landscape as they efficiently transport people from city to wilderness. Travel Alaskarecommends taking a flightseeing trip to watch bears fish for salmon on remote rivers.
Another great way to get around Alaska is by boat. Whether you're eager to cruise a fjord, ferry between ports or kayak to a glacier, there are plenty of options available. If you're lucky, you might spot some marine life along the way.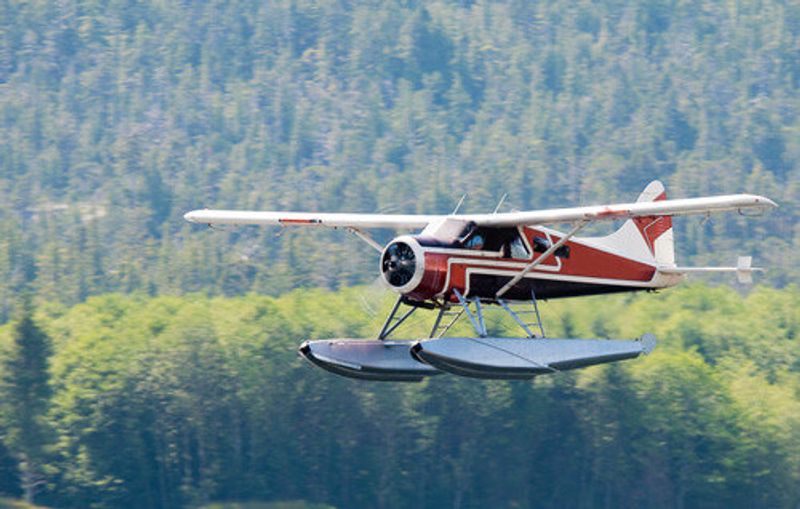 Wildlife
Alaska's pristine landscape and low population density create optimal conditions for flora and fauna, and boy do they thrive. The state is home to all manner of wildlife, from marine creatures to ferocious carnivores, migratory birds and dozens of land-based mammals, making it a veritable paradise for animal lovers.
The sprawling national parks act as wildlife sanctuaries, allowing animals to roam free in their native territories as nature intended. To spot Alaska's big five – moose, grizzly bears, caribou, grey wolves and Dall sheep – make a beeline for Denali National Park and Preserve. For humpback and blue whales, jump on a southern coastal cruise during the summer, or take a boat trip through Kenai Fjords National Park, where you may also see harbour seals and sea lions.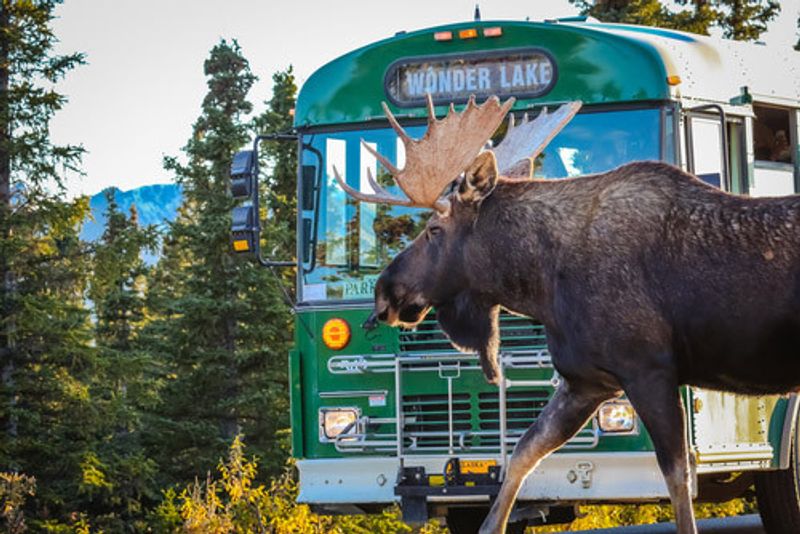 Eager to start planning your Alaskan holiday? Request your free Alaska vacation planner from TravelAlaska.com