Lush lowland forests to its huge icy peak, Denali is a must-see
With Denali, the name says it all. Meaning 'tall one' in the language of the local Koyukon people, the mountain is North America's highest and the surrounding park is the US's largest. During Russia's stewardship of Alaska, Denali was known as 'Bolshaya Gora' or 'Big Mountain' a literal translation of the Koyukon.


In the late 1800s, the peak was briefly known as Densmore's Mountain after a gold prospector reached its foot; in 1896, another – no doubt green-eyed - miner proposed it be called Mount McKinley after the then candidate and later 25th US president, William McKinley, in a naked act of political toadyism. And that it stayed, even after Alaskan officials asked for it to be changed back to Denali in 1975, as the move was blocked by politicians with links to McKinley.


In 2015, President Obama changed the name back just before visiting the state, garnering accusations of political grandstanding from the pro-McKinley camp. The surrounding national park was first conceived back in 1906, but it took a decade of political wrangling before it became a reality in 1917. In the 1970s it was deemed to be an international biosphere reserve and a National Monument and in 1980 President Jimmy Carter tripled the park's size in one of his last acts in power.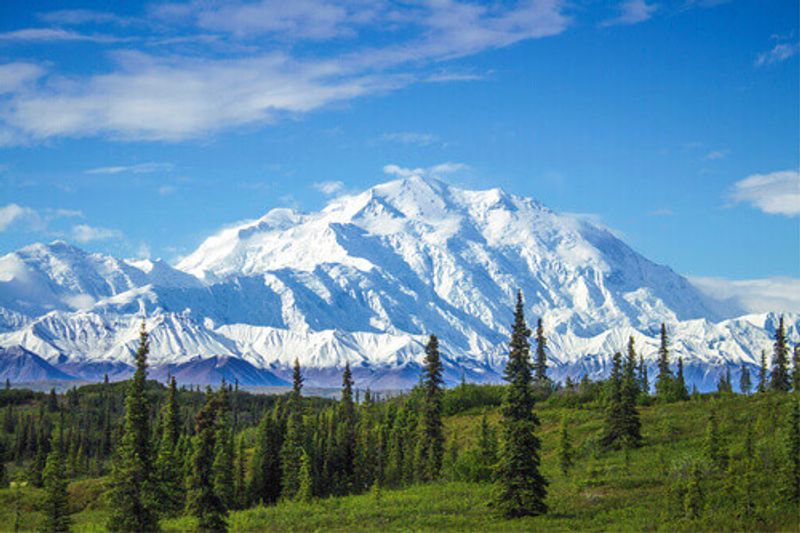 Aside from the park's stunning natural beauty; it is the sheer breadth of its natural charms that makes it so special. Its 19,000 km2 of wilderness boasts everything from lowland meadows and taiga forest, to high alpine tundra and huge mountains, all of which is roamed by giant moose and caribou, herds of Dall sheep, hares and a mixed bag of small animals doing their utmost to avoid being spotted by huge grizzlies, packs of wolves, lynx, foxes and some pretty adept birds of prey, some of the 160 species of birds to be spotted.


If you like your animals a bit tamer and able to sit on command, visit the kennels where the park rangers keep their sled dogs. It is located three miles inside the park gates, but be warned they will be out working almost all of winter. As Denali is just 240 kms south of the Arctic Circle, the middle of winter brings almost permanent dark, briefly broken up by a short dusk-like day.


The flip side is that come summer, it is daylight for nearly two weeks either side of the June 21 Summer Solstice, save or around three-and-a-bit hours of twilight, so nab that eye mask from the airplane. The slight upside of Alaska's almost endless winter nights is that it does increase your chances of seeing the Northern Lights – the colourful patterns created when solar winds hit the earth's magnetic field. The best time to see them is from mid-September until April, although the peak is said to be in March; however, the best place to see them is between 65-70o, a couple of degrees north of Denali's latitude.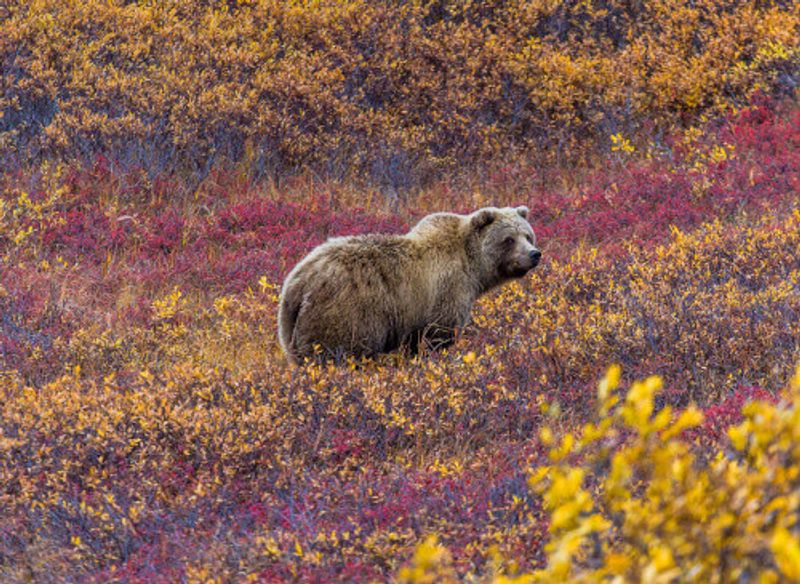 Off the trail, hiking is the norm in this park, although visitors are advised to keep within their abilities as more people are harmed by falls than tangling with the local wildlife. As well as a series of self-guided hikes, park rangers lead discovery hikes as well as give regular wildlife lectures at either the Murie Science & Learning Center or at one of the campgrounds.


The park has just one 145 km long road, dotted with campgrounds and visitor centres all served by bus services, with private vehicles restricted from passing the Savage River trailhead, at the 25 km mark. The transport options run from ranger-narrated tour buses to simple and free transit services. Such is its size and the lack of other nearby peaks blocking it, the mountain itself can be seen from as far away as 15 km into the trail. Like the rest of the Alaska Range, Denali has been forced upwards by the movement of the Pacific Plate underneath the North American Plate, a process which also gives rise to deep earthquakes along the Aleutian Islands, which string out towards Russia's wild east coast.