Sri Lankan dance is a universe of different styles, costumes, and instruments, all with traditional roots and rituals
Kandy is Sri Lanka's ancient cultural capital, and one of the most popular activities here is to take in a Cultural Show. These shows are dazzling displays of the country's rich cultural heritage, weaving in folktales and legends with epic costumes, dancing and music (mostly percussive). These are the kind of richly ornate performances that also happen at weddings, which are undertaken with a powerful solemnity.
Cultural shows can also have slightly wilder elements (that definitely won't be at a Sinhalese wedding) like fire-eating or hot coal-walking. It's usually a first-come-first-served seating situation, so wherever you go, try and show up early.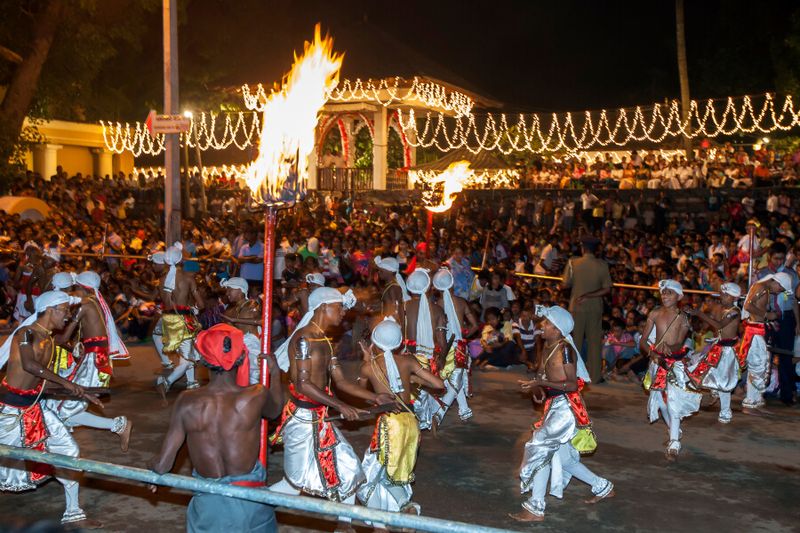 The world of Sri Lankan dance is full of different styles, influences, and rituals: there's Sabaragamuwa dancing, masked Ruhunu dancing, cleansing Ves dancing, and Udekki dancing, to name a few. The Udekki dance is especially challenging because of the level of expertise required to play the udekki drum.


The 'low country' dances or Pahatha Rata Natum are usually 'devil dances' to chase away evil and sickness, and often involves wearing masks. Much of Sri Lankan dance traditions are influenced by the indigenous Vedda culture – the Veddas are an extremely endangered, nearly extinct community on the island that predated Indian exploration. Music is usually simple and rhythmic.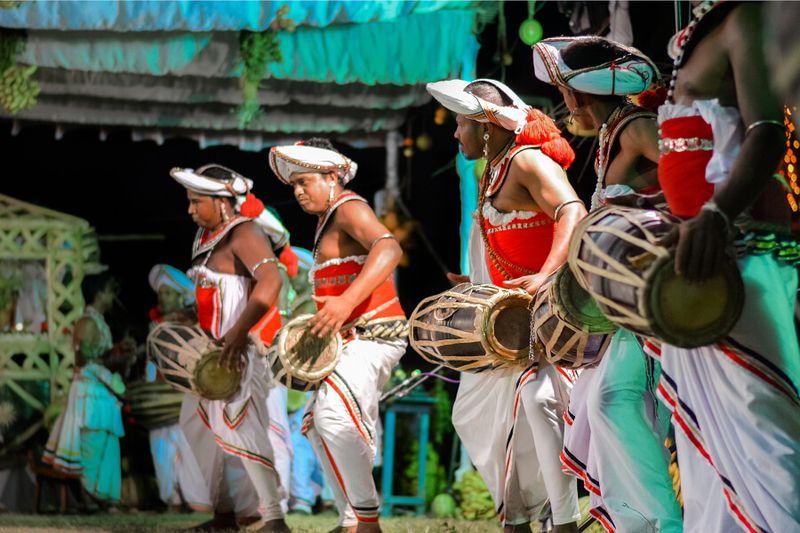 Traditionally, dancers were men, but thankfully we're in a different century now where women are allowed to train. However, given that progress is slow, and that dance tradition is based on centuries-old rituals and practises, women have had to adapt male costumes for their own use. Historically, Sri Lankan dance also has caste elements, which have become less significant in the modern age; this is partly due to the fact that traditional moves have influenced other forms of dance choreography, such as ballet.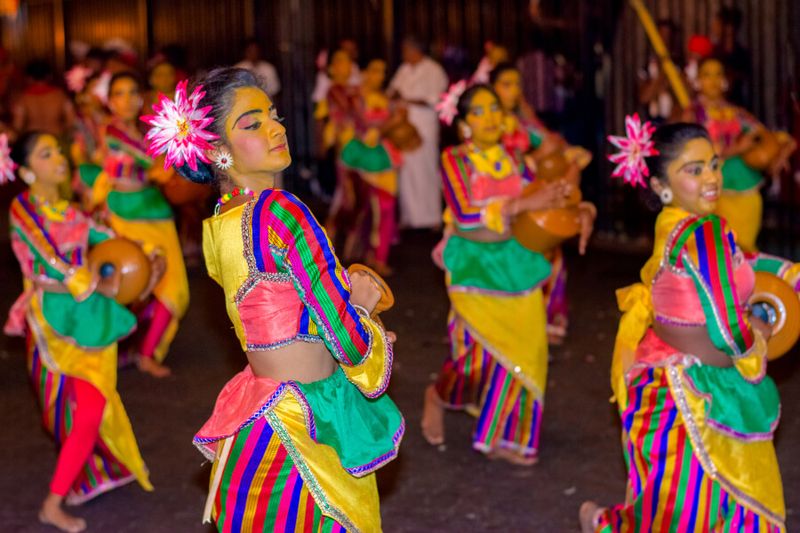 Kandyan dance
Of course, one can catch cultural shows in Colombo and other places around the country, but since Kandy is the old royal capital, there's something extra special about Kandyan cultural shows, especially its classical dance. There are regional variations in instruments and dancing, from the type of drums used and how they're played, to different dance styles and costumes. The Kandyan school of classical Sri Lankan dance is called the Uda Rata Natum, native to the hill country, and is performed to rhythmic percussion. Within Kandyan dance are a host of different dance forms, which draw from Sri Lankan tradition and folktales, and often include animal symbolism.
The most well-known Kandyan dance is probably the Kohomba Kankariya, a lengthy night-time performance said to be derived from an ancient healing ritual named after the god, Kohomba. The Kohomba Kankariya originally helped to heal King Panduwasdeva, afflicted by a curse disguised as an illness.


There are several meanings to the dance, including blessing a household or community, and to repel evil. Given its overnight timing, there are often elements of comedy and pageantry mixed into the performance, to make sure the audience is still awake.