While many visitors flock to Fuji 5th Station, the best views of Japan's iconic mountain are from a distance
Mount Fuji (Fuji-san) is Japan's most recognisable sight. It appears proudly on the 1,000 yen note and is said to be the most climbed mountain in the world, with over 200,000 people reaching its summit every year.
Visibility of Mount Fuji is notoriously erratic: summer casts a haze over the mountain and rain shrouds it in cloud, so although the chances of spotting it are better in colder months, clear sightings are never guaranteed.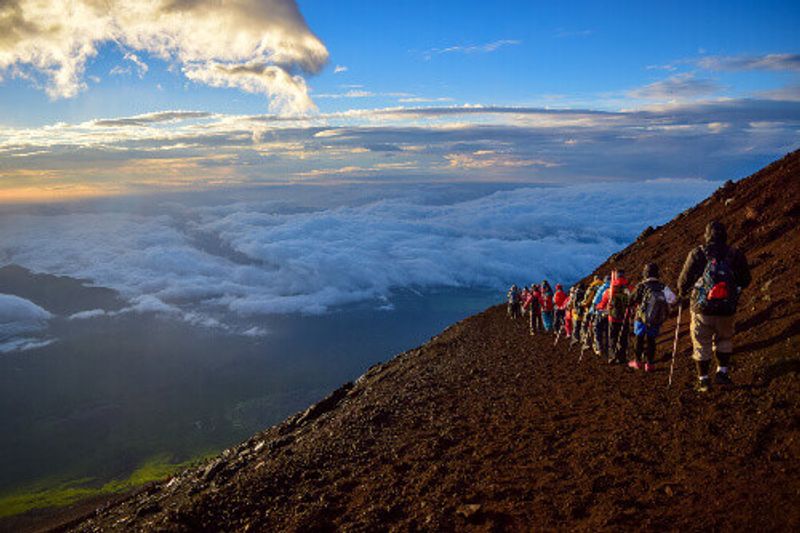 For those wanting to get a closer view of the mountain, Fuji 5th Station is your best bet, as is the surrounding Fuji Five Lakes region.
Looking for that postcard-perfect shot of Fuji-san? Here, our recommendations.
Although you may not have heard of Arakura Sengen, this scenic spot located in the Yamanashi prefecture is known locally as one of the best places to view Mount Fuji. Tackle the 398 steps to the top and you'll be rewarded with panoramic views of Fujiyoshida city and the mountain. The five-storey Chureito Pagoda is the most recognisable monument on the hillside and features in many of the country's most iconic photographs beside Mount Fuji.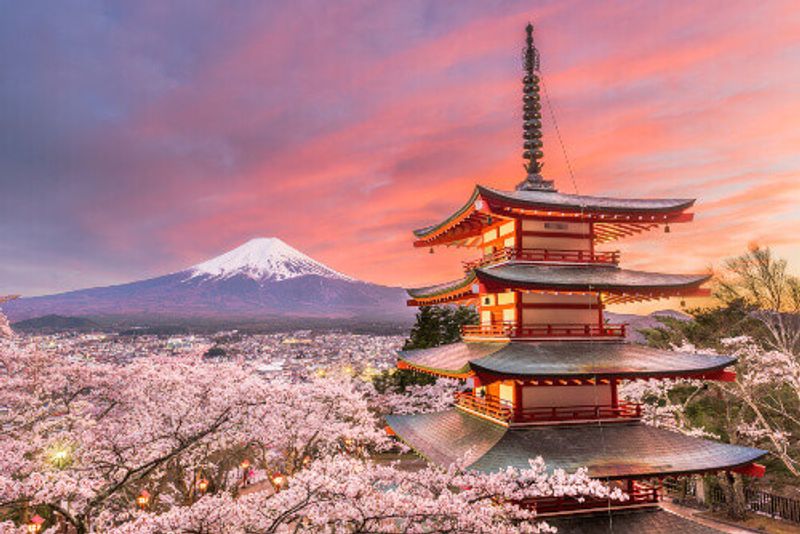 Arakura Sengen Park is an exceptionally seasonal spot, so visiting is a pleasure year round. Visit in winter to see barren trees and snowy surrounds, in summer for lush greenery, in autumn for bright, crimson leaves and in spring when hundreds of breathtaking cherry trees dust the landscape in pink sakura (cherry blossom) petals.
EXPLORE OUR INSPIRING JAPAN SMALL GROUP TOURS HERE
Just off the Kanagawa coast sits a tiny island with spectacular views of Mount Fuji. Enoshima may be small, but it's popular thanks to its proximity to Tokyo (around one hour from Shinjuku station). It's also home to a handful of sacred shrines and beautiful beaches, so well worth a visit. For the best views of Fuji-san, head to Katase Nishihama beach where the mountain looms on the horizon, flanked by sand and sea.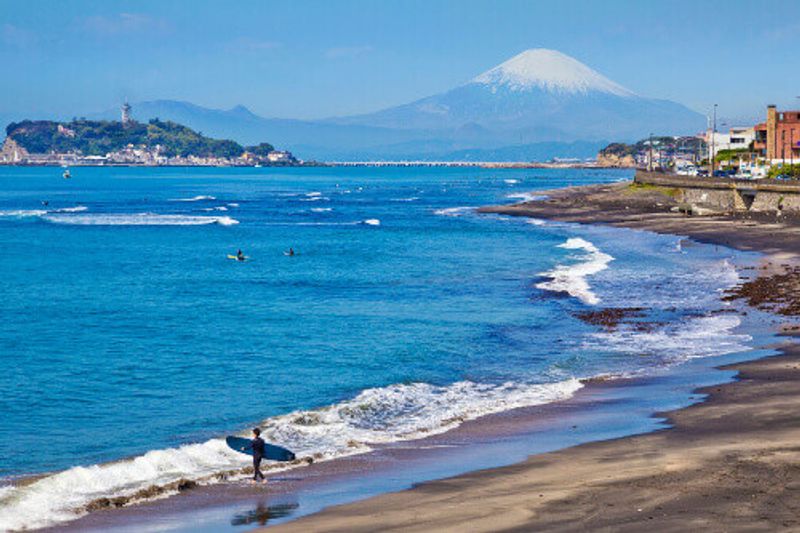 If you've been dazzled by photos of Mount Fuji reflecting off a glassy lake, or seen Japan's most famous artwork collection 36 Views of Mount Fuji by Katsushika Hokusai, there's a good chance you're familiar with Lake Kawaguchi. The second largest, yet most developed of the Fuji Five Lakes, Kawaguchi offers breathtaking views of the mountain due to its proximity, as well as traditional onsens (hot springs) and plenty of restaurants serving the local specialty hoto (thick noodles in miso-based soup). Pay a visit to Oishi Park to enjoy the manicured gardens and Mount Fuji views.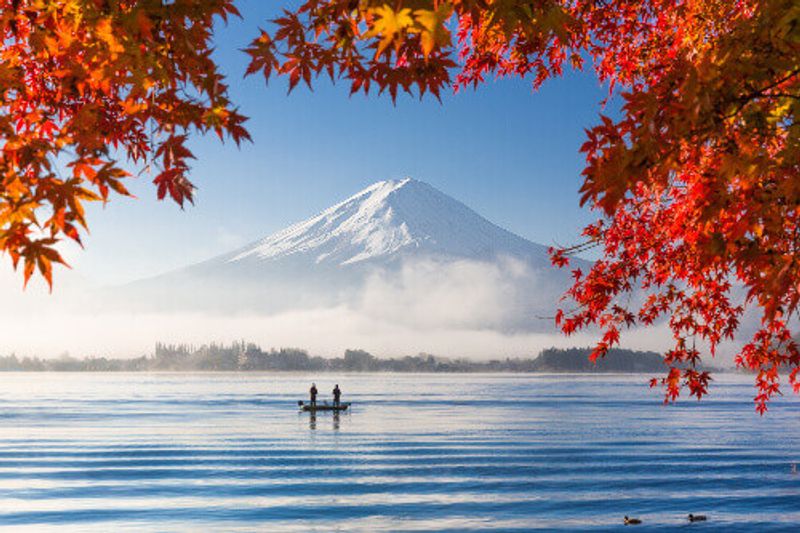 Stunning Lake Ashinoko (or Lake Ashi) sits at the heart of the Hakone region, just 100 km from Tokyo. Hop aboard an old-style pirate ship and take a scenic cruise down the lake, passing by submerged torii gates and numerous traditional buildings nestled into the surrounding shore. The lake was formed thousands of years ago when Mount Hakone erupted and on a clear day, provides stellar views of Fuji-san as it pokes out between two peaks. For the best chance of an unobstructed view, take an early-morning departure and visit later in the year when temperatures are cool.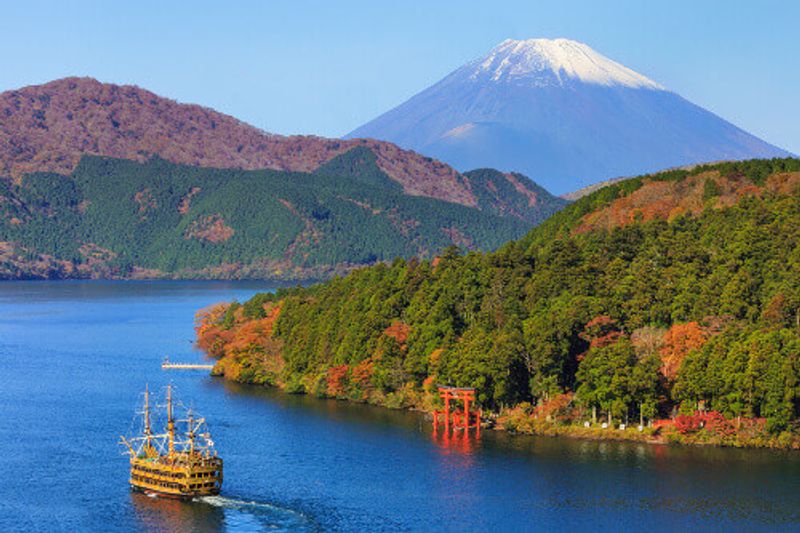 The boats run from one end of the Lake Ashi, to the other, before passengers usually swap boats for the return journey. The ship back to the main port will slow next to the iconic red torii gate and if you're blessed with good weather, you can get the perfect shot of Mount Fuji beside it.