The Germans do Christmas better than anyone else – which is unsurprising since they pretty much invented it. Here, a rundown of the best Christmas markets Germany has to offer
Germany pretty much invented Christmas as we know it today. It was the Germans who started the Christmas tree tradition and then decorated them with glass blown baubles and candles. Red cabbage and roast goose? Gingerbread men? Yes, that's all from Germany, too. Silent Night? It's actually Stille Nacht.
Lapland might be the home of Santa but there is nowhere more Christmassy than a German market square in December.
Nearly every town and city in the country will open up their wooden stalls and deck the streets with fairy lights in preparation for their Christmas market. A tall tree will be erected, the scent of bubbling gluhwein– a sweet, spiced, hot red wine – will waft through the air and a beautiful smattering of snow will dust the roofs, creating a fairy tale atmosphere of Christmas that is unbeatable.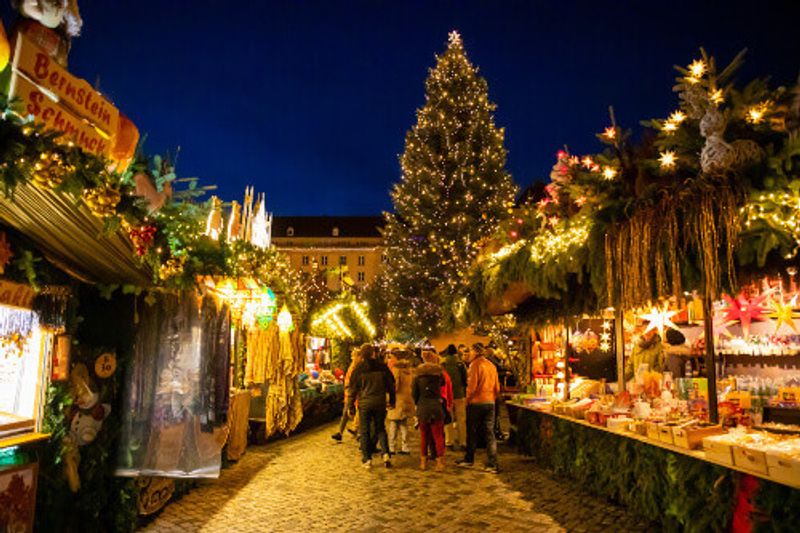 Arriving at a German Christmas market is like stepping into a Disney Christmas movie – for all the right reasons. Its authenticity is accentuated by the gothic churches and baroque architecture that punctuates so many of Germany's town squares – yellow lights, glowing from within – as warmly wrapped up locals catch up over a warm brew and shop for handmade Christmas gifts.
Here, a selection of some of our favourite German Christmas markets.
Best for…tradition
Marktplatz, Stuttgart
The southern town of Stuttgart is the epitome of Christmas. Narrow cobbled streets that wind their way through beautiful baroque buildings. The Old Castle and an imposing brightly lit church both look over the market place where this sprawling market is held each year.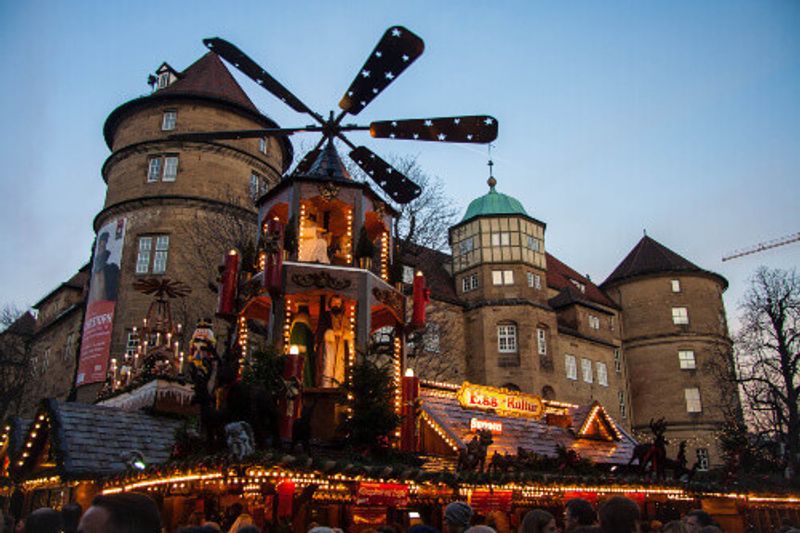 The Wintertraum Markt – as it is called – sits in front of the Old Castle but the market actually spreads over five smaller squares and the streets that join them making it easy to get lost in a Christmassy world. An ice skating rink is hidden in the centre of the market among the many wooden stalls that sell a variety of handmade gifts such as carved wooden toys and lebkuchen – gingerbread biscuits shaped into hearts and with romantic messages iced onto them.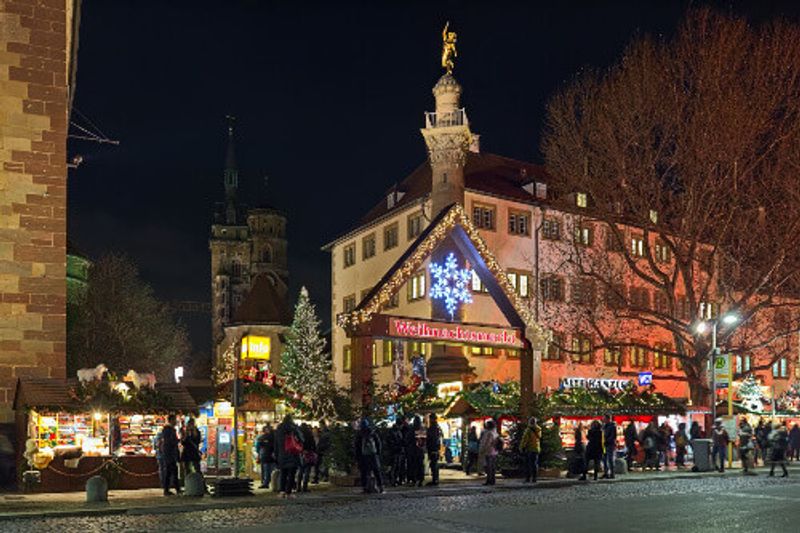 Best for…classiness
Gendarmenmarkt, Berlin
Like many large cities, Berlin has quite literally dozens of Christmas markets dotted across the city, each with its own style and feel. But our favourite has to be the Gendarmenmarkt for the sheer beauty of it surroundings.
The market sits in a square surrounded by two tall cathedrals and Berlin's Konzerthaus. The concert hall is in itself worth a visit at Christmas, often wrapped up in a bow, or decked with holly and trees it adds sophistication that makes it stand apart from the others. The white tented stalls here emit a warming glow and provide an elegance that fit its environment as performers and musicians entertain visitors.
Best for…off the beaten track
Weihnachtsmarkt, Leipzig
Leipzig is one of Germany's best-kept secrets. This former East Germany industrial town doesn't attract too many visitors but Germans flock here for its beautiful architecture, city centre canals and blossoming arts scene. The city's Christmas market is held in the central market square beside the impressive 16th century Rathaus (Old Town Hall) that runs the length of the square.
Hundreds of stalls are set up with a stage at one end where Father Christmas often makes an appearance. Like most German Christmas markets, Leipzig Christmas market sells gluhwein in a specially designed mug that usually requires a €3 (A$4.80) deposit (the mugs make beautiful souvenirs).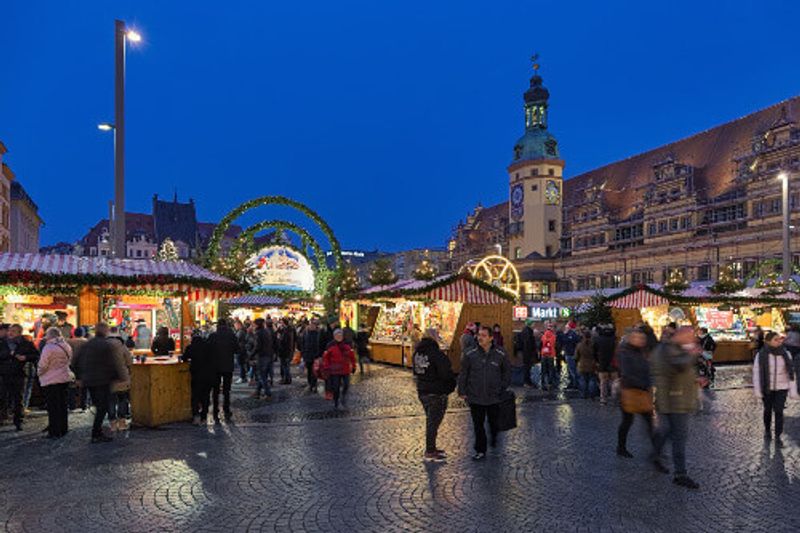 Best for…waterfront romance
Lakeside Market, Constance
The town of Constance sits on a vast lake bordering Switzerland and every Christmas the harbour comes alive with wooden huts selling raclette cheese and mugs of steaming gluhwein. The mountainous backdrop over the water makes for a stunning vista and the buildings of the old town is one of the most fully preserved in Germany thanks to quick thinking residents who kept the lights on during WWII air raids, misleading the Allied bombers into thinking the town was in Switzerland.
Best for…history buffs
Christkindlesmarkt, Nürnberg
Arguably the most famous Christmas market in the world Christkindlesmarkt is also one of the oldest. A Christmas market in some form has been at the Hauptmarkt – the city's central square - for over 450 years. The magical 14th century Gothic Nurenberg Cathedral is the centrepiece of the square and a wonderfully decorated tree stands facing it. Between the two, stalls sell deliciously roasted meats, rich hot chocolate drinks and intricately worked gifts.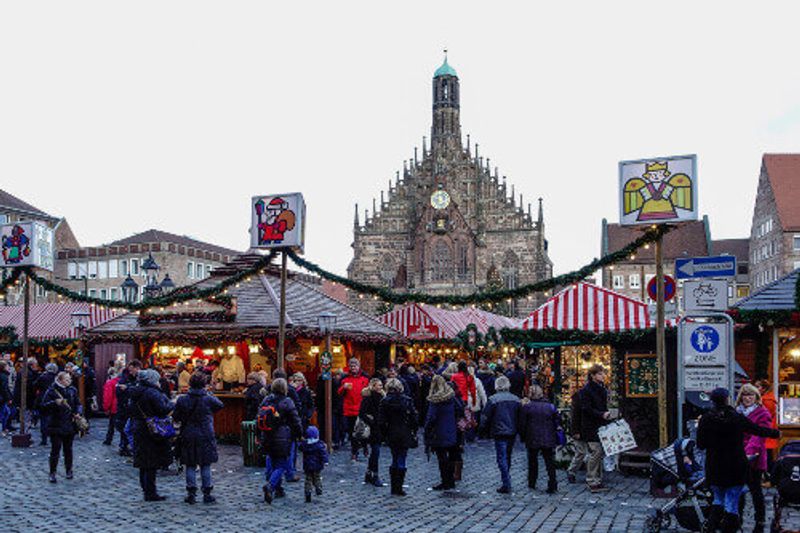 The market is named after Christkind - a holy cherub who has been a symbol of the market for decades. The Christkind is played by a local child, dressed in white and gold who is paraded through the market to officially open the event. At the parade, the Christkind recites a traditional poem watched by all the town. A great honour to be picked as the Christkind, the child will return several times to the market to wave to the crowds giving 'hope, warmth and joy,' to the children of the city.
Best for… a long chatty evening
Weihnachtsmarkt, Hamburg
Like so many of Germany's Christmas market, Hamburg's Weihnachtsmarkt is also held in the main market square in front of the town hall. A huge tree marks its entrance which is beside some of the many canals and waterways that run through this coastal town. Traditional wooden stalls with bright red roofs are decked with thousands of fairy lights creating a magical feel, and every evening Santa "flies" over the market in his sleigh calling out to children and dropping off gifts on his route.
Hamburg's Christmas market is much smaller than other more sprawling markets giving it a cosy intimate feel that allows visitors to enjoy an evening standing around a barrel drinking and talking, rather than rushing around shopping.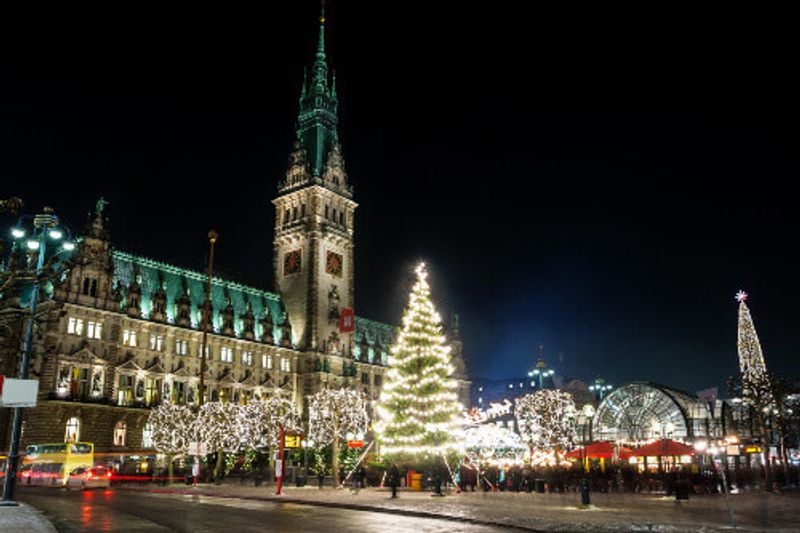 Best for…serious shoppers
Striezelmarkt, Dresden
Dresden's Striezelmarkt was first held on the Monday before Christmas in 1434, making it one of the oldest Christmas markets in the world. The beautiful old buildings that surround the town square, lit up with lights and decorated with holly and firs add to its romantic feel.
It is named after Strüzel the old word for Stollen a type of light airy fruit cake that is traditionally eaten at Christmas in Germany. Many people here buy nutcrackers carved and painted as red soldiers from Tchaikovsky's ballet of the same name. Also unique to Dresden's Striezelmarkt is the sale of Pflaumentoffel. Made of prunes, the 'plum devils,' are created to look like chimney sweeps, dressed in black, with top hat and brush.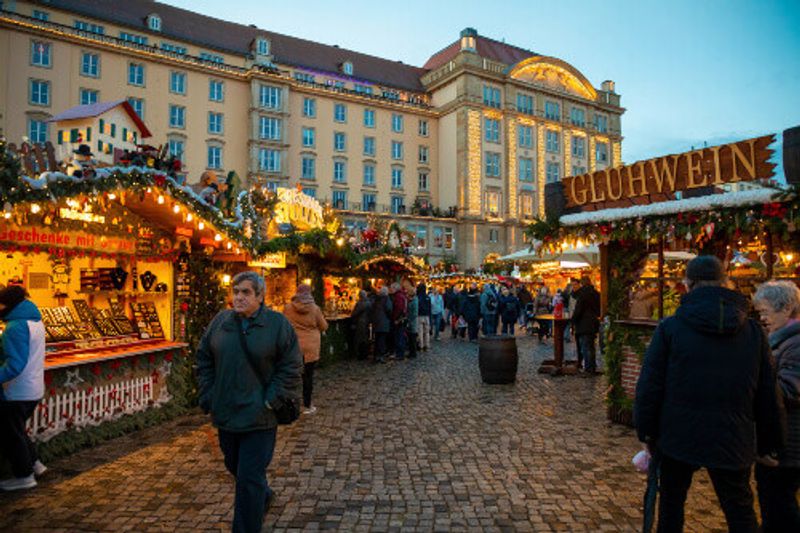 Best for…feeling like a time-traveller
Weihnachtsmarkt, Rothenburg ob der Tauber
This Bavarian town has hardly changed in centuries and what makes the Christmas market so appealing here is the buildings that surround it. The houses and buildings here look like they are ready to eat, with gingerbread roofs and thick icing walls and a light dusting of snowy icing sugar they are real-life versions of the gingerbread houses seen in so many shop windows. The local residents really get into the Christmas mood decorating their doors and windows making the whole town one Christmas exhibition.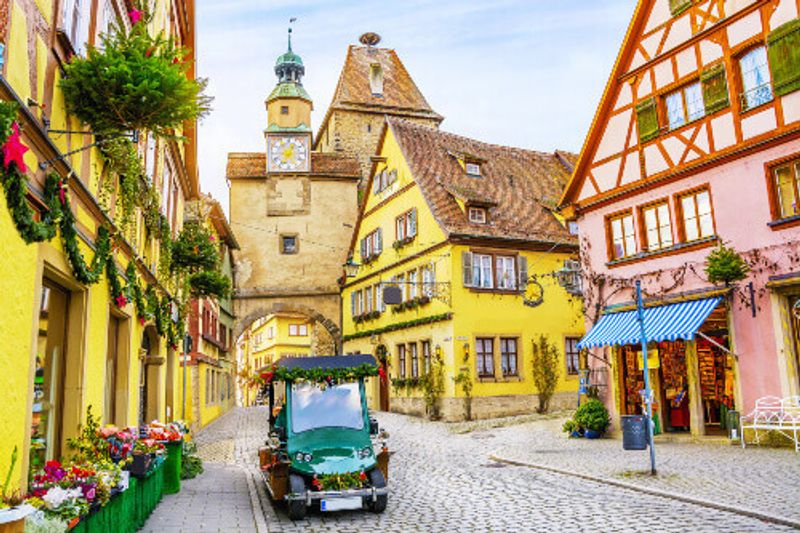 Best for…shutterbugs
Heidelberg Christmas Market
The old town of Heidelberg draw visitors all year round, who come for the cobbled streets and medieval buildings that sit below the ruins of the 13th century Heidelberg castle.
At Christmas, the castle is lit up and five market squares fill up with wooden shacks brightly illuminated with fairy lights and swinging bulbs. The comparatively peaceful market has to be one of the most romantic in the land. Visitors can go skating at 'Christmas on Ice' – an ice rink beneath the castle and surrounded by trees – a once in a lifetime experience that will be impossible to find anywhere else on earth.