Vive la France! One of the world's most popular travel destinations for good reason. But, when is the best time to go?
France has some of the most iconic sights, cultures and tastes in the world and thanks to its climate, it's more or less a year-round destination. Travellers visit in all seasons to marvel at the grand cities, explore the galleries, relax on the Riviera and enjoy the gastronomy.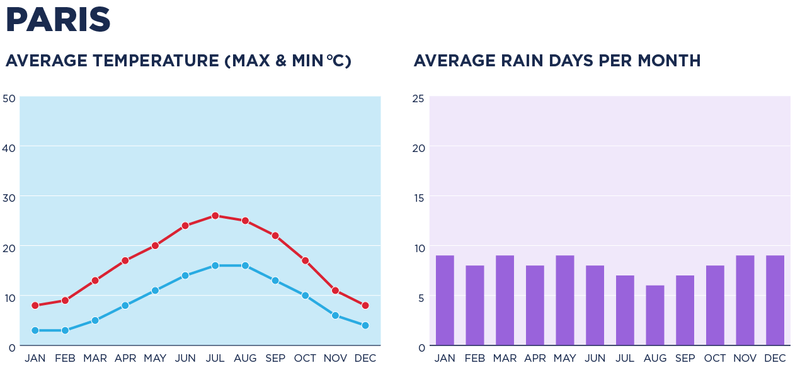 Summer is the busiest time of year in France. Temperatures are at their warmest, everyone lives and dines al fresco, and the days are long. The capital Paris shines in the summer sunlight, too; perfect for picnics on the Eiffel Tower grass. Expect average temperatures in the mid-twenties during this time.
Lyon's 2000-year history is a treat to explore in 27-degree summer temperatures, while 26 degrees is ideal for sipping Chablis in Burgundy's Beaune. Down south on the Mediterranean Coast, Marseille basks in the high-twenties.
Many festivals are celebrated in summer including Bastille Day, so be prepared for music, parties and fireworks.
Autumn is a beautiful time around the country, with smaller crowds and warm days. In September, the countryside stuns in hues of red and gold, and grape harvesting begins in the wine regions.
Burgundy and the surrounding wine region sparkles in the autumn; spend your days exploring its world-famous vineyards in mild temperatures around 16 degrees celsius.
Lyon's grand attractions on the banks of the Rhone and Saone rivers are comfortable in Autumn, with temperatures that average around 17 degrees. It's also one of the most ideal times to explore Paris, without the summer crowds or the high heat.
Winter may cool the country down, but lower temperatures shouldn't be a deterrent. All across France, Christmas markets spring up, crowds thin, and restaurants remain lively in the cities. There's also many indoor attractions to visit, from the Louvre to the Musée d'Orsay. Paris and Lyon average around 6 degrees celsius during the day, Marseille cools down to around 10 degrees, and in the north-east wine region, it's around 5 degrees during the day.
Spring is considered one of the best times to visit France. In March, the country comes in to bloom, the cities aren't too busy and the temperatures start climbing. Paris and Lyon warm up to around 15 degrees celsius on average, Burgundy is a degree or two warmer, and down on the coast, Marseille heads towards the twenties.
Culture, castles and culinary delights are all on the table in France, no matter what time of year you visit.
When will you go?
Where else do you want to visit?