A city once inhabited by revered Egyptians and Romans, Alexandria truly was the playground of ancient royalty
The city of Alexandria has a rich history dating back to the early Hellenistic period. Founded in 332 BC by Alexander the Great, the northwestern city is nestled into the Mediterranean coast and is the second largest in Egypt. The cities inception came about to create a link between Greece and the Nile Valley and only a century after its foundation, it had grown to become the largest in the world. As the centre of commerce between Europe, Arabia and India, Alexandria was a melting pot of culture, early politics and Hellenistic learning. It continued to evolve over the centuries, transitioning to Roman rule until its eventual surrender to Arab forces in 641 AD.
The Ptolemaic dynasty commissioned many significant constructions, such as the Lighthouse of Alexandria, an ancient wonder of the world and the grand Library of Alexandria, one of the most significant centres of scholarship in ancient times. Sadly, history was not kind to Alexandria. The lighthouse was destroyed by three earthquakes, while the library was burned down by Julius Cesar in the war for Roman control. In 2002, the Bibliotheca Alexandrina was opened to the public as a modern reimagining of the ancient structure. Today, it serves as a cultural hub and functioning library, hosting many public events and attracting tourists from across the globe.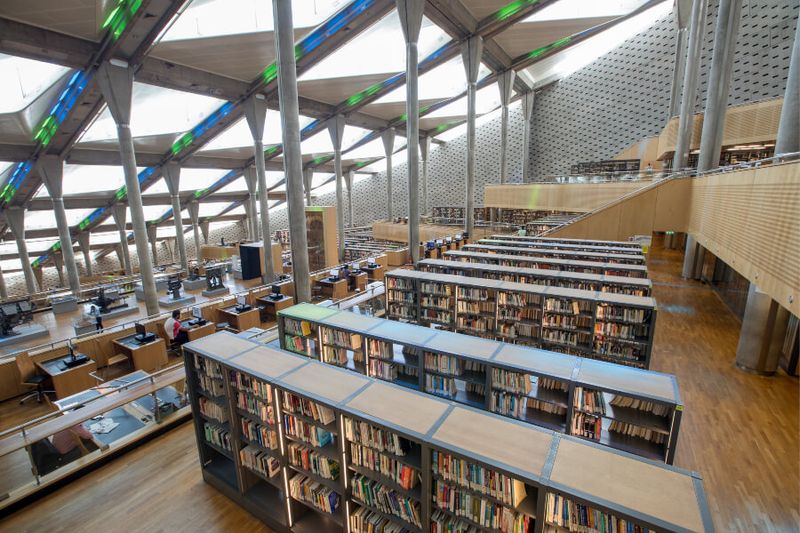 Alexandria was also home to one of the most powerful women in ancient history – Cleopatra. As the last pharaoh of Egypt, Cleopatra famously formed connections with Romans such as Julius Cesar and Mark Antony to protect her rule. Today, buildings she once inhabited such as the royal palace lie underwater after they were destroyed by tidal waves and earthquakes. Researchers have, however, discovered relics of the queen and her ancestors, all of which are on display across the city alongside other Greco-Roman ruins.


With its laid-back atmosphere, modern Alexandria is a welcome contrast to its bustling brother, Cairo. The star attraction of the city is undoubtedly its 19 km stretch of pristine coastline or 'corniche', dotted with cafes and sun loungers.
East of Alexandria lies the largest known Roman burial site in Egypt. Uncovered by accident in the early 20th century, the catacombs – known as Kom El Shoqafa or the mound of shards in Arabic – date back to the 1st or 2nd century AD. Experts believe that the site began as a private tomb and was later transformed into a public cemetery, with many chambers and winding corridors leading deep underground. As Alexandria was a crucible city with influences from Greece, Rome and of course, ancient Egypt, the crypts feature a fascinating combination of all three cultures. In one burial chamber, you'll find several sarcophagi embellished with engravings of Gods from Greek Mythology such as Medusa and the Egyptian God, Anubis, wearing a Roman dress.