The most diverse region of China is a stunning glimpse of minority life
Yunnan – China's south-west province – borders the Tibetan region and the countries of Vietnam, Laos and Myanmar. In many ways it has more in common with these South East Asian countries than it does the rest of China.
The people of Yunnan are made up of a number of minority people who speak their own language, have their own belief systems and wear their own traditional dress. 25 of China's 56 minority groups live in Yunnan. These include the Dai people in Xishuangbanna bordering Laos who hold a popular annual Water Splashing Festival; the shamanistic Yi people who tend to live in remote mountain regions; the Wa people of Indo Burma as well as the many Tibetan minority groups who live in the more western regions of Yunnan.
Food in Yunnan features a lot more wild herbs, mushrooms and tropical fruits than elsewhere in China, using sweet chilli flavours more recognisable in Thai or Vietnamese cuisine. Although by no means the largest of China's provinces it is the most diverse when it comes to its geography and environment. Wet, tropical jungle dominates the south, tea plantations such as the famous Pu'er are found in the east, and the snow-capped Himalayan mountains border the north and west of the province.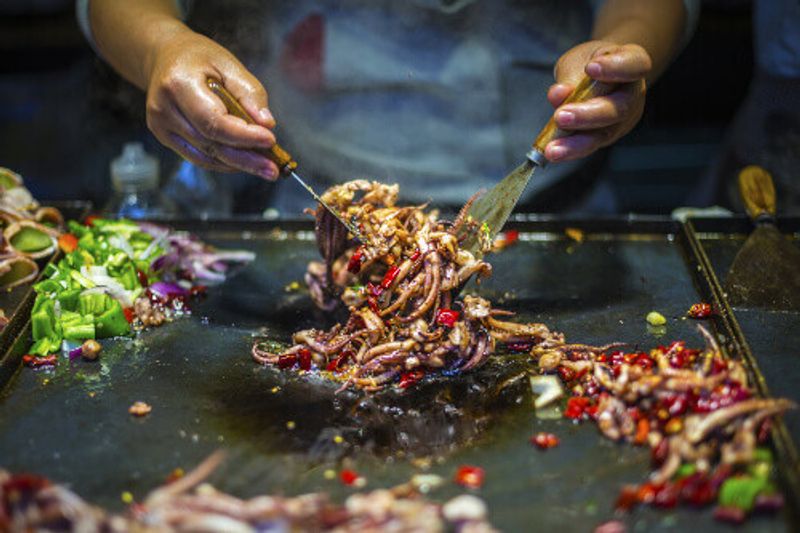 Until relatively recently, the remote towns and villages of Yunnan were rarely visited by all but the hardiest of tourists but China's boom in infrastructure has led to a rise in the number of new roads and airports, making once hard to get to places easily accessible. This has led to a rise in domestic tourism and peak holiday weeks can be hellish as millions of domestic tourists fly into these former paradises to "get away from it all".
But for those with a bit of time and desire it's easy to get off the beaten track, discover remote villages, hike snow-capped mountains and stumble upon settlements populated by minority tribes.
Most visitors to the region follow a south to north route starting in the provincial capital of Kunming. Just outside of this large city is the Stone Forest, a series of huge natural limestone formations that look just like trees in a forest.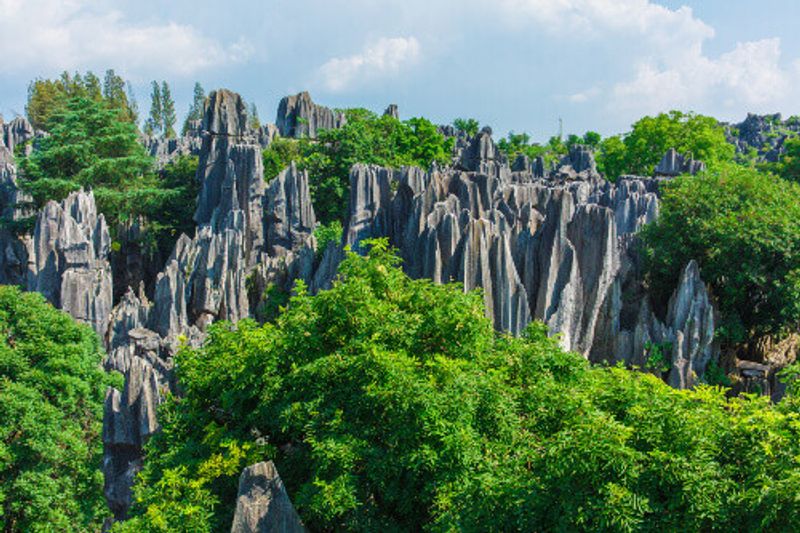 Heading north from Kunming, the first major town on the trail is Dali found on the shores of the vast Erhai Lake. This stunning old town is an architectural gem with shallow streams cascading through stone streets. Nearby villages such as Xizhou provide a glimpse of how the area looked before mass tourism arrived.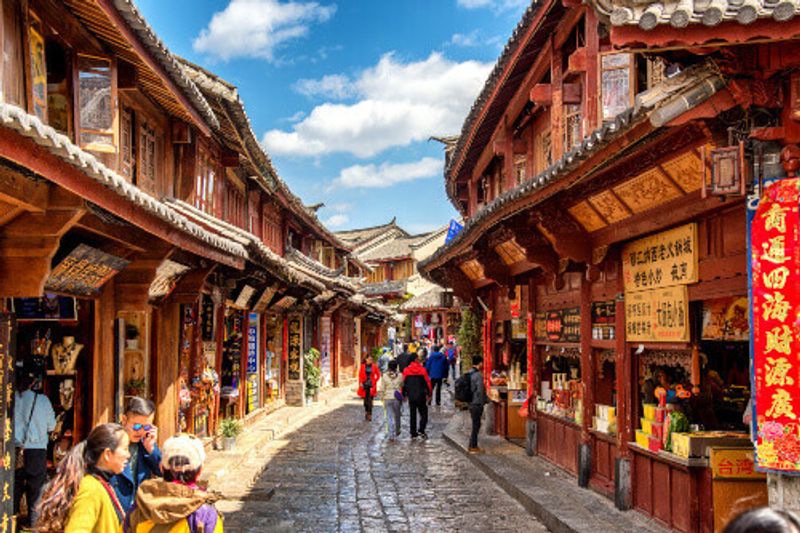 Continuing north is Lijiang where the colourfully dressed Naxi people have been cultivating these lands for centuries. This high-altitude town is surrounded by snow-capped mountains including the famous Jade Dragon Snow Mountain, which dominates the skyline.
Further north and past Snow Mountain, is the awe-inspiring and terrifying Tiger Leaping Gorge, where the angry Yangtze River roars through the 2,000-metre deep gorge.
There are two routes north – most take the newly built highway but for those brave enough, the river route winds its way along perilous mountaintop tracks, to the White Water Terraces – a magical land of limestone terraces that look like they have been carved from marble thanks to the calcium deposits they run through.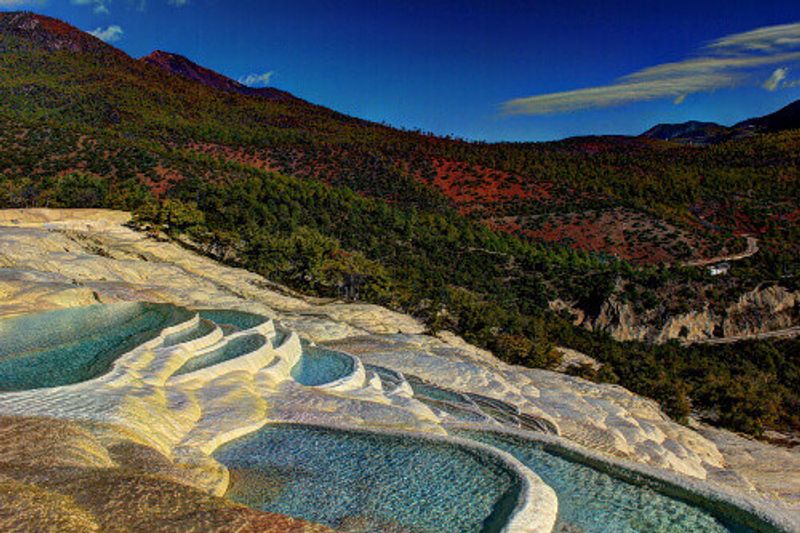 The final destination on the route is Shangri-la. High up in the Himalayas where snow may well fall even in summer, this town was once known as Zhongdian before it was officially named Shangri-la after James Hilton's book Lost Horizon. Shangri-la was a mythical place of untold natural beauty locked away from other civilisations high up in the Himalayas. And it is understandable to see why this ancient Tibetan town could be regarded as Shangri-la.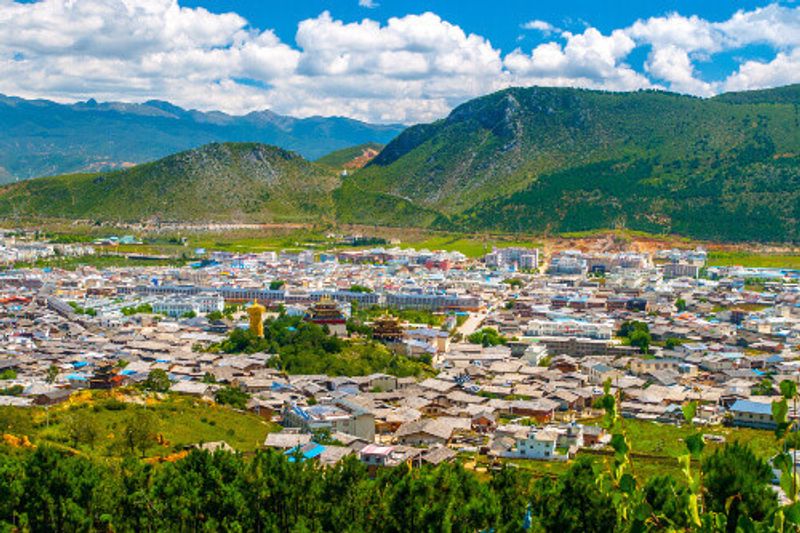 Songzanlin Monastery at an incredibly 3,300 metres altitude is the main attraction here. It rivals the famous Potala Palace in Tibet's Lhasa for size and importance. Hundreds of monks live and train here and they can be seen both at play and at prayer dressed in their dark red robes.
A fire in 2014 destroyed most of the old town of Shangri-la but the wooden structures draped in Tibetan Prayer flags that have replaced them keep have kept an authentic feel to this ancient town.