A Chinese idyll of paddy fields, flowing rivers and karst mountains
The region around Guilin is arguably one of the most beautiful of all in this continent-sized country. It is centred around the Li River which snakes through lush green woodland, fertilising the patchwork paddy fields that lie beneath tall, stark karst mountains.
For centuries artists, poets and painters have come to Li River for inspiration and to document the unrivalled natural beauty. The traditional form of Chinese ink painting that are so often seen on scrolls, old and new, are called shanshui – meaning mountain and water. For it is the tall mountains and flowing water that are the subject of traditional paintings and it is here along the Li River that has inspired the most famous of these artworks. This region is so famous for its beauty that it even features on China's 20 RMB banknote.
The Li River flows past the large city of Guilin and 90 kms later joins the Yulong River at the smaller town of Yangshuo. It is from here that many visitors base themselves for a few days. The Li River is very much the life blood of the region and boats large and small take guests along here. Most choose to take a slow trip following the current on a bamboo raft which are ubiquitous to the region. In evenings, fisherman sail out on small row boats or rafts and use their pet cormorant birds to help them find their catch.
It is because of the limestone rock that is prevalent to the area that has enabled these unique karst mountains to mushroom up from the otherwise flat landscape. As well as stunning rock formations such as Elephant Trunk Hill near Guilin, and Moon Hill in Yangshuo, this soft rock has also created another natural phenomenon. All throughout the region are deep winding caves – many with rivers flowing through them. Boat tours or climbing tours (for the more adventurous) weave through these underground labyrinths, where lights illuminate the stalagmites and stalactites that pierce through the rock.
Back above ground, the best way to get around is by bike (available from any hotel for a small fee). Winding through the dusty tracks that link small villages together, gives visitors a glimpse of life on the paddy fields. Water buffalo pull ploughs through the wet fields as villagers in wide-brimmed hats bend down to plant row upon row of rice.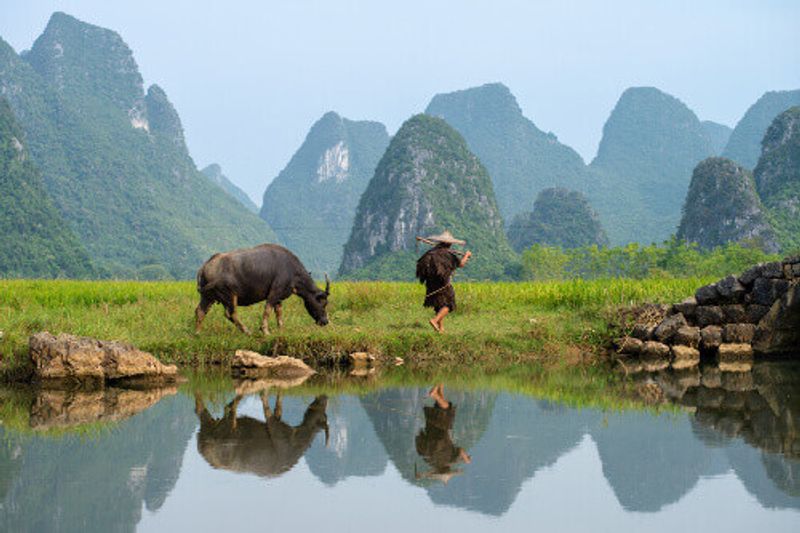 If days are spent exploring the villages, hiking mountains or going caving, the nights can be just as enjoyable. Yangshuo's West Street was once a relaxing hub for backpackers looking for their banana pancake fix or just to sit back with a cool Liquan beer. Today it has become a mecca for domestic tourists and all that comes with it. Thumping music, fast food restaurants and hawkers selling tat.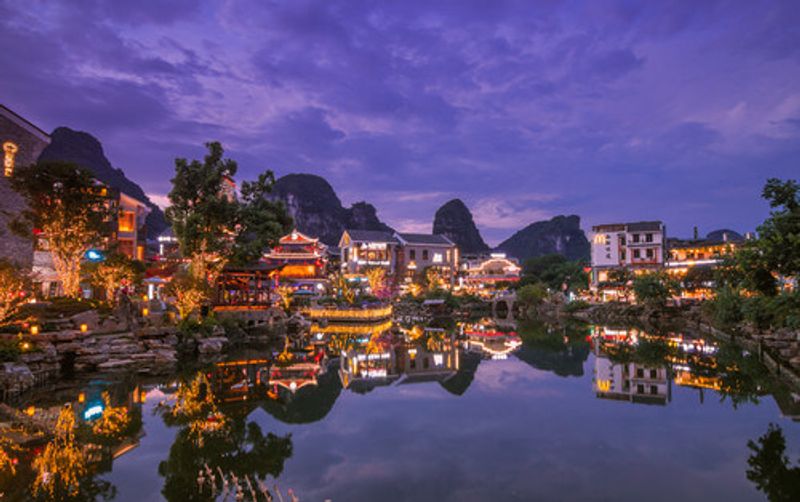 Instead, head to one of the nicer out of town hotels or restaurants such as the brand new Alila luxury hotel built in a former sugar Mill or the more back-packer friendly Luna Café with sunset views over Moon Hill.