Think a trip to Southern Africa is all about driving around in a Jeep looking for wildlife? These unbelievable experiences will make you think again.
Southern Africa is a diverse region, offering thrilling wildlife encounters set against spectacular landscapes. While game drives are the highlight of many itineraries, there's plenty of other unforgettable activities on offer, too.
1. On the water: Okavango Delta, Botswana
The locals say the Okavango is best viewed from the water, so swap an open-topped safari vehicle in favour of an afternoon boat cruise or paddle in a mokoro (traditional dugout canoe) on the Chobe River. From the water, you'll spot big and small game alike: Chobe National Park is currently home to some 120,000 elephants who love to frolic at the water's edge as well as sizeable herds of buffalo, antelope, wildebeest and much more. Paddling along silently in a makoro means you don't alert game to your presence – keep an eye out for hippos that are known to quietly emerge from the water to observe as you cruise past.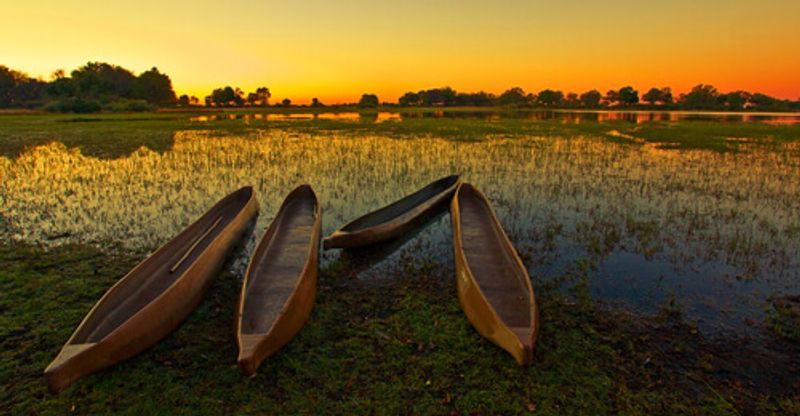 2. Hot air ballooning: Okavango Delta, Botswana
Witness dawn break across one of the world's most magnificent vistas, the Okavango Delta in Chobe National Park, from the sky. See the water shimmer in the morning light and keep your eyes out for all kinds of wildlife – the near-silent nature of hot air ballooning means game isn't easily alerted to your presence. An expert pilot leads adventures and will also point out significant landmarks, wildlife, trees and more. On landing, a crew who have been tracking your journey will greet you with Champagne and morning nibbles.


3. Bush walks: all of Southern Africa
Game drives are an integral part of any safari. However, a guided bush walk allows you to truly soak up the sights, sounds and smells of the bush. Led by qualified rangers and often accompanied by a professional tracker, walks allow visitors to get up close and personal with bugs, spiders, plants and trees. Learn how to read spoor (animal footprints) and discover plants that have medicinal properties. Walking through the African bush, not knowing which beady eyes are watching you go by, is an experience second to none.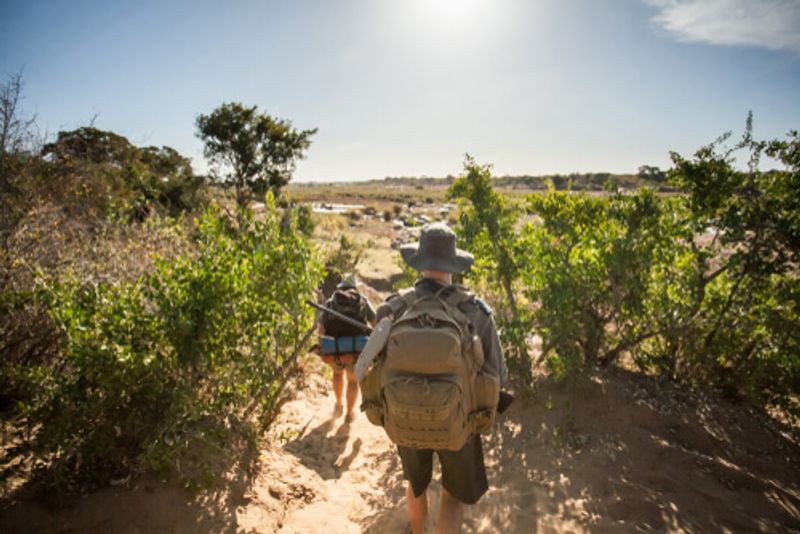 4. Bungees and boats: Victoria Falls, Zimbabwe; Livingstone, Zambia
Zimbabwe borders Botswana and many safari itineraries take in both countries. The Victoria Falls is one of the natural wonders of the world which also forms the natural border between Zimbabwe and Zambia – on one side is the town of Victoria Falls, on the other is Livingstone. It's easy to access the Falls from either town: take a stroll along the wooden walkways and be wowed by the thundering water as you're shrouded in the watery mist. The area is also an adventure playground with the world's most scenic bungee jump – a 111 m plunge from the Victoria Falls Bridge, and thrilling white water rafting expeditions. Alternatively, experience a scenic evening Zambezi River boat trip or a helicopter flip over the Falls to witness 'the smoke that thunders' from the sky.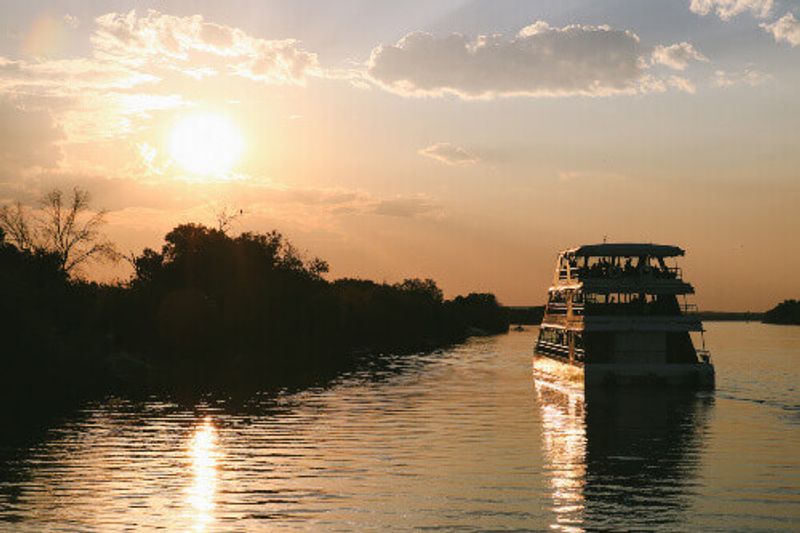 5. Discover endangered species: Hwange National Park, Zimbabwe
David Attenborough's 2018 TV series Dynasties features incredible footage of African wild dogs, the so-called painted wolves. These lithe and smart dogs are among the most efficient hunters in Africa but they're also extremely endangered with fewer than 7,000 left in all of Africa. At the Painted Dog Conservation Centre in the Hwange National Park, you'll discover more about these magnificent creatures. If you're lucky, you might catch a glimpse of adorable puppies – get ready to say "awww."