Australia's Top End, from the capital Darwin, across to Kakadu National Park and down to the Katherine area, is a land of unspoiled natural beauty waiting to be explored
Australia's Northern Territory (NT) is simply enormous. While it may look modest on a map, the NT is almost six times the size of the United Kingdom, and were it considered an independent country, it would be the 20th largest! Traverse this monster section of Australia and you'll cross from a tropical climate to dry, semi-arid desert. Along the way, you'll pass through countless towns, sacred Aboriginal land, and thousands of kilometres of red terra firma.


The Northern Territory's relative remoteness also allows it a degree of exclusivity – only those who journey across Australia can experience its beauty. In other parts of the world, places as stunning as Kakadu National Park would be flooded with tourists, but in the NT, they're peaceful havens where visitors can connect with nature and bask in the serenity.


Here, 6 different ways to explore Australia's Top End.
On a Boat
Life in the Top End revolves around water. Its capital is bound by it, dozens of lakes and rivers wind through it and one of the territory's most spiritual spots, Arnhem Land, is known for its spectacular coastline. What better way to take in the NT's best sights than by boat?


Those seeking an adrenaline rush should take a boat trip down the Adelaide River. While its surrounds paint a pretty picture, the river's inhabitants are anything but. The Adelaide River is infamous for its high concentration of saltwater crocodiles – the world's largest living reptiles – as well as smaller freshwater crocs, flying foxes and bull sharks. Adelaide River Cruises are a family-run tour company in the NT passionate about the local wildlife. Hop on one of their Jumping Crocodile Cruises and get up-close with the ancient creatures as they leap from the water for food.


If close wildlife encounters aren't your idea of fun, head out on Darwin Harbour for a sunset cruise, complete with dinner and champagne. Sail Darwin has you covered on all fronts, with their 50ft luxury catamaran and seasonal tapas-style menu.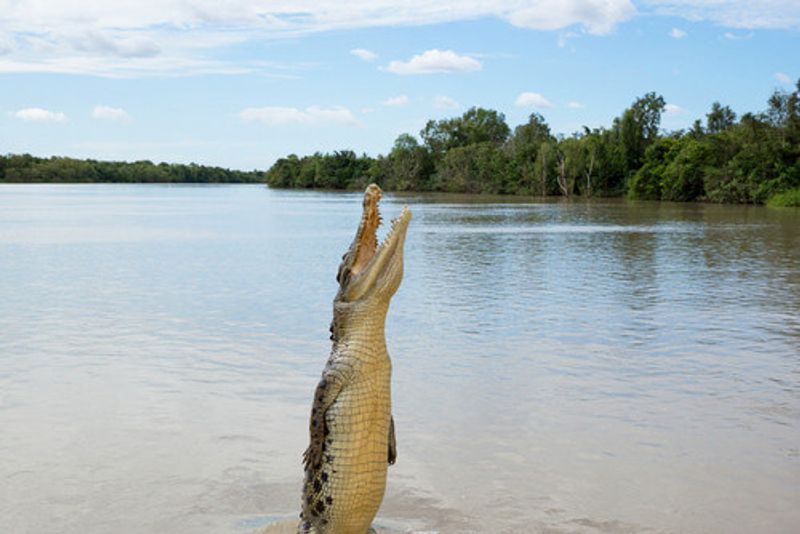 By Train
When it comes to epic train journeys, few compare to the mighty Ghan, which runs a staggering 2979 km from Adelaide, through the rugged MacDonnell Ranges and lush Katherine area to Darwin. Named for the first Afghan cameleers that came to Australia in the 19th century, this treasured train has a fascinating history. It was used to transport army servicemen in World War II and later, to move supplies through the outback to build crucial infrastructure. In 2019, The Ghan is celebrating 90 years of operation and a ride on the luxury locomotive is still as spectacular as ever.


Zigzagging through the centre of the continent, The Ghan showcases remote Australian landscapes otherwise inaccessible to most travellers. From the supreme comfort of your private cabin or in one of three dining carriages, enjoy the colours of the Australian outback whiz by, from dusty ochres to native greens, set against a vibrant blue sky.


By Helicopter
Some of the NT's most remarkable landscapes are far too grand to appreciate from the ground; places like Nitmiluk (Katherine Gorge) and the Kings Canyon should be admired from above. A helicopter ride provides panoramic views of the Northern Territory and natural sights otherwise unreachable by road or rail, as well as aerial perspectives of well-known attractions like Uluru.


Prepare to be blown away by the immensity of nature as you take in some of Australia's most beautiful landscapes.


For sky-high views of Nitmiluk and other NT highlights, jump on one of HeliSpirit's helicopter tours, ranging from 8-45 minutes, or consider a scenic trip over Uluru and Kata Tjuta with Ayers Rock Helicopters. Keen fishermen and wannabe anglers can even book a day of heli-fishing with Remote Adventures NT and visit secret fishing spots brimming with the Territory's greatest catches, from barramundi to mangrove jack.


By Swimming
One of the best ways to cool down in the Top End is with a dip, and while you can swim at a few of Darwin's patrolled beaches, there's always a lingering risk of crocodiles. But what the NT lacks in the reptile-free coastline, it certainly makes up for in pristine watering holes. Wander through the Territory's remote bushland and you may come across one of these hidden gems, where rocky terrain gives way to thundering falls and water sparkles turquoise against the red rock. Natural swimming pools like Jim Jim Falls and Gunlom contrast spectacularly against the NT's otherworldly landscape and are a sublime way to relax on your Top End adventure.


Most watering holes are open to the public, however, a guided tour is advisable to ensure the spot you choose is safe for swimming and croc-free. Litchfield National Park is full of idyllic swimming holes; explore with Offroad Dreaming to see highlights like Wangi Falls and hear about the region's history along the way.


If you do decide to go it alone, obey signage and stick to designated crocodile-free areas.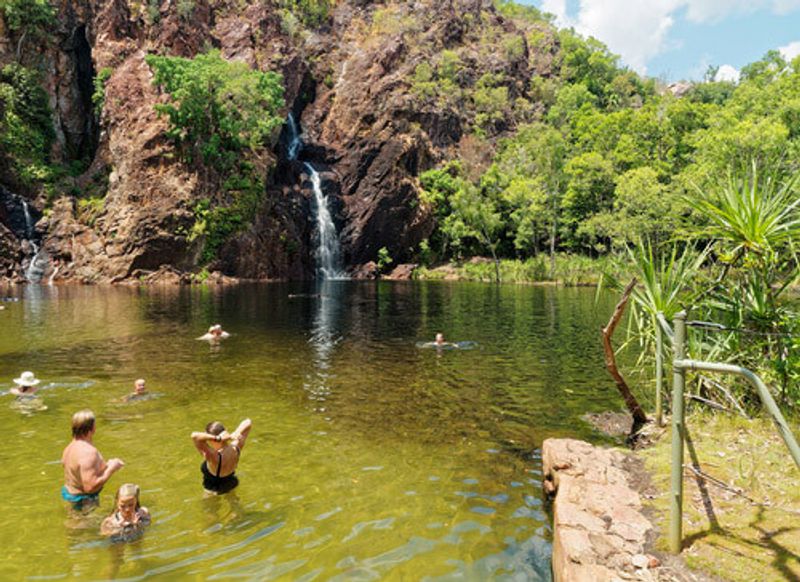 On Foot
Pack your hiking boots, because the Top End is bursting with bushwalking trails and as any nature lover will agree, there's no better way to get to know a landscape than to explore it on foot. The NT is the Australian outback at its most unspoiled; take a leisurely stroll through a national park, or head deeper into the dense desert scrub on a longer hike. Wherever you go, you're bound to discover a few of nature's greatest hits.


The NT's most famous walking route is undoubtedly the trail around Uluru. Running for around 10km, this loop is much more than a close encounter with the sacred site. Engage a local guide or tour with a group like SEIT Outback Australia to learn about the history and significance of the area, listen to Dreamtime stories and stop at stunning photo spots along the way. Those with a high level of fitness should consider tackling one of the world's great bushwalks: the Larapinta Trail. Whether you choose to hike on your own or on a guided tour, be respectful of the land, and mindful of your behaviour along the way.