Once known as Serendib, Sri Lanka is a cultural microcosm for those seeking a balance of history, adventure, and of course, food
Sri Lanka is a South Asian jewel waiting to be explored and having fully opened up to tourism in 2009 – after a decades-long civil war – there's plenty to be discovered: unspoiled beach destinations, nature reserves, sweet surfing spots, world heritage sites, and of course, majestic tea plantations. The island's compact size makes Sri Lanka an ideal destination for a self-contained vacation, especially for travellers who enjoy a bit of adventure.
It is impossible to understand Sri Lanka's growth and history without touching on what is arguably its most famous export: Ceylon tea. The Sri Lankan highlands' cool climate has helped it blossom into the world's fourth-largest tea producing country. Tea is an integral part of the local culture and economy, employing over a million Sri Lankans and shaping the country's distinctive landscape. The massive growth of tea also led to expansive improvements to the country's infrastructure, which means a robust network of roads and trains.


In terms of accessibility, it's pretty easy to get around, especially if you have a budget to hire a private car, which can be arranged through most hotels; for those on a budget, the Sri Lankan train system is also a wonderfully scenic way to explore the countryside and meet its people. If you're feeling particularly adventurous, check out some local startups that allow you to drive your own tuk-tuk.


While India and Sri Lanka share some cultural similarities, it is a disservice to describe Sri Lanka as "India lite" – it is a world unto itself and deserves the spotlight after decades of internal strife between the Sinhalese and Tamil minority. As Sri Lanka is still relatively new to the onset of modern tourism, it is important to have a basic grasp of local culture and etiquette before heading over.
Sri Lanka 101: things to know
Currency
The official currency of Sri Lanka is the Sri Lankan Rupee (LKR); one Australian Dollar equals roughly 120 Sri Lankan Rupees. Generally, the Sri Lankan government advises that up to LKR20,000 can be brought into the country, and any amount of foreign currency, however, amounts exceeding USD$15,000 must be declared upon arrival. You may wish to purchase some Sri Lankan Rupees prior to your departure, or take foreign currency in cash to convert upon arrival. Rupees can also be withdrawn from ATMs in Sri Lanka, however, this method is likely to incur fees.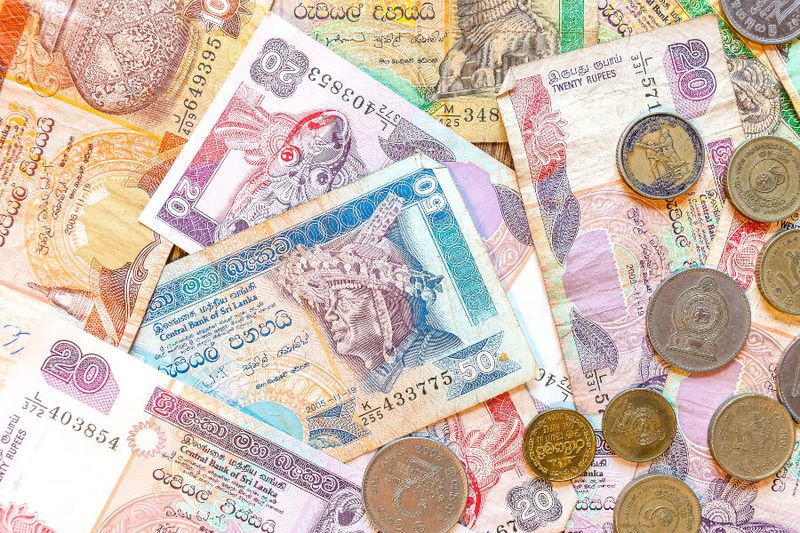 Renting a car
This is one way to sidestep the stress of bargaining with tuk-tuk drivers, but driving in Sri Lanka is quite different from what you're used to at home. Terrain is varied – there are lots of steep hills around areas like Ella, which require careful driving; buses can be quite aggressive, so don't try to compete with them on the road. Road quality also varies from place to place. If you get beeped at, this is usually because the other driver wants you to know that they're overtaking you. A good plan is to hire a driver for your first few days, so you can observe local road etiquette. Another tip is to download an offline map of your planned route, so you don't have to worry about internet/data availability while getting around.
Hiring a driver
This is one of the most popular ways for tourists to explore the island, and many will engage a driver for the entire duration of their stay. Engaging a driver in Sri Lanka can be tricky, as lowball quotes may involve an unexpected stop (or three) at a friend's shop or restaurant to make up for the lost revenue. Before finalising the rate, inquire about the car's condition and registration information – it is not considered rude to ask for photos of the vehicle. A reasonable day rate hovers between AU$69-97. Keep an eye on the metre, too.
Pack layers
Sri Lanka is a land of several climates, ranging from the cool climes of tea-covered hills to warm sandy beaches. Most hotels have either free or reasonably-priced laundry services, which is good news for those who have trouble packing light. Bring reliable walking socks and a rain jacket, as well as appropriately modest attire to visit religious sites, which brings us to our next point…
Be respectful at holy sites
It is considered highly disrespectful to show your back to Buddha iconography, so be aware of your position when you're taking snaps. Wear appropriate clothing, too – no shorts or bare shoulders. If you're visiting a Hindu temple (kovil), men may be asked to remove their shirts. If you are not comfortable being topless, you can opt to wear an angavastram, which is a draped cloth worn over the shoulders, or an unstitched garment. You should also remove footwear wherever appropriate. If in doubt, always ask.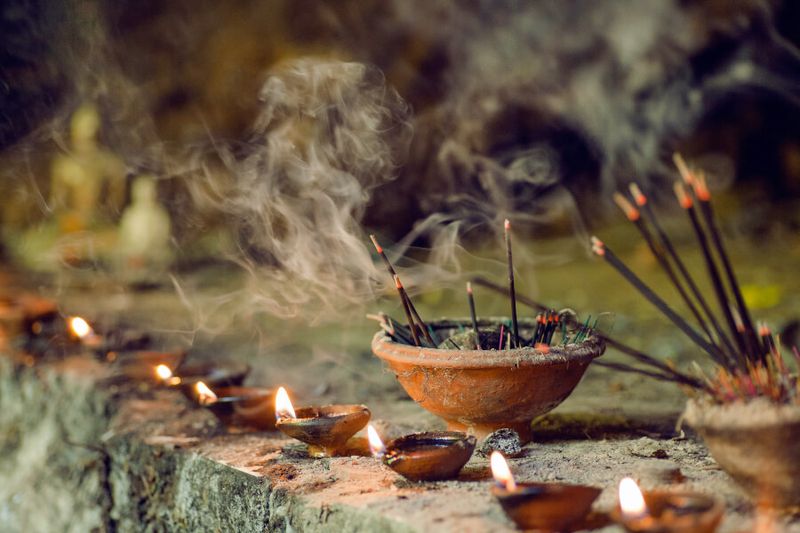 Snack attacks
When in Rome, do as the Romans do: it is far more rewarding to stick to local food. Roti and hoppers (thin, rice-flour crepes shaped like bowls, which can be filled with eggs, meat, and chutney or sambol) are popular favourites that can be eaten on-the-go at local kades (food stalls). Coconut milk is a mainstay in many curry recipes. Mangosteens are also a local favourite, so dig in if you're a fan of the 'queen of fruits' – jackfruit also appears in many savoury dishes.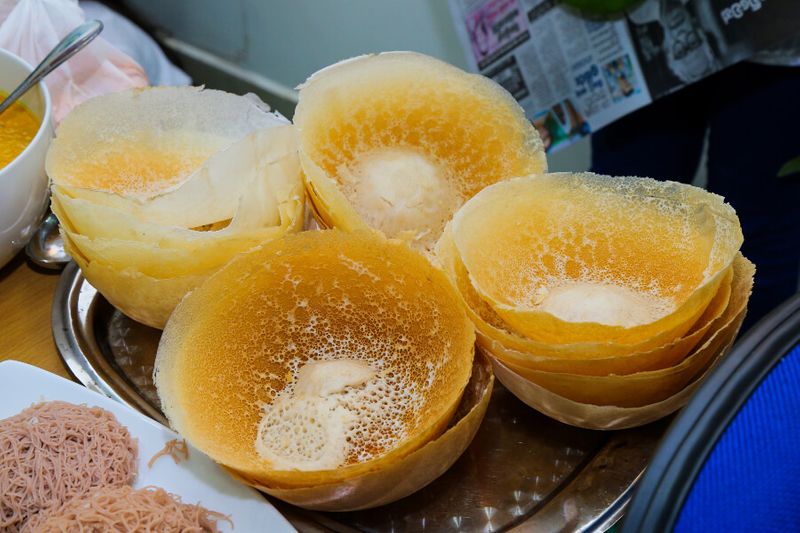 Beach etiquette
Be sure to pack a cover-up when you're travelling to and from the beach, as while bikinis are fine on the sand, many Sri Lankans are conservative about skimpy outfits away from the beach.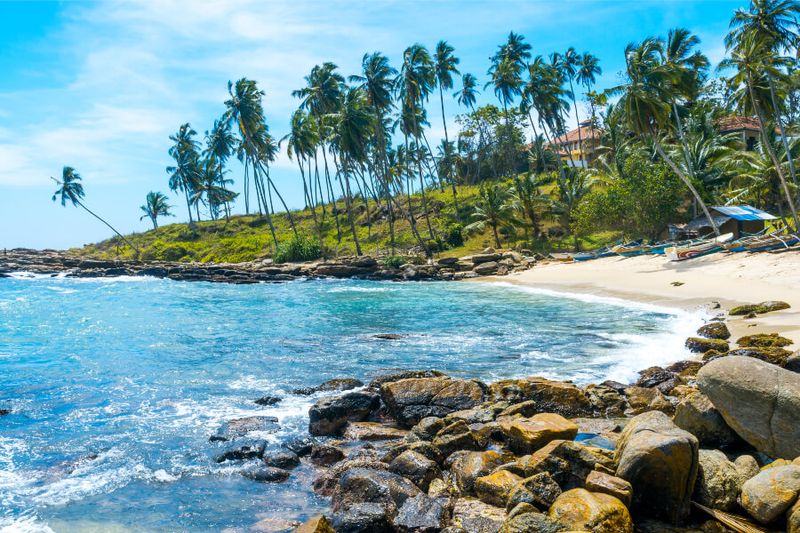 Plan ahead
Depending on your interests (whether it be temple-hopping, scuba diving, or visiting its nature reserves), be aware of the major monsoon/rainy seasons: October to January, and May to July. The best time for surfing is from November to April.
Muslim hotels
Heads up: these are actually halal restaurants and not hotels.
Boutique hotels
Go small when you're looking for accommodations – since the civil war hampered much big development, there are lots of delightful, design-friendly places to stay. Sri Lanka is home to one of Asian architecture's giants, Jeffrey Bawa, and a little research on Bawa yields a wealth of luxury spots to stay along the island's western coast. 'Boutique' is not necessarily synonymous with 'expensive' – one can definitely find affordable mid-range hotels and villas along the beach.
Local drinking habits
Sri Lanka has a jolly drinking culture – try the local coconut arrack with ginger beer – but be aware that every full moon is a booze-free public holiday.


Overall, a well-planned trip to Sri Lanka is a self-contained gift – people are warm and friendly, the lingua franca is English, prices are reasonable (although, as always, tourists may want to do some diplomatic bargaining for souvenirs) and there is plenty to see and do. Ultimately, be mindful of religious iconography and local customs, which may be a bit more conservative than what you're used to.