Four must-visit places in Colombo for the Sri Lankan adventurer
Fort
This entire neighbourhood – once the site of a literal fort – is like a living museum of colonial architecture from bygone days of both British and Dutch rule. Simply referred to as 'Fort,' this is where Colombo does most of its business. Amid the hustle and bustle of new buildings are well-preserved historical structures like the Old Colombo Dutch Hospital, the distinguished Cargills and Millers building, as well as various remains of the original fort rebuilt by the Dutch hundreds of years ago.


There's also the old Clocktower building that used to be a lighthouse in the mid-1800s, as well as Beira Lake, where visitors can rent swan boats. The Fort is also home to the Sambodhi Chaithya, a magnificent white stupa built atop an arch (aspiring visitors: prepare for a lot of stairs).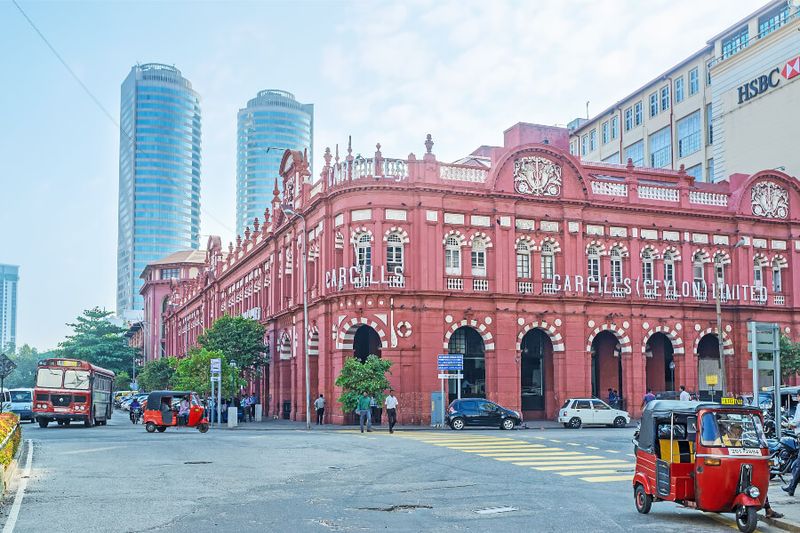 Pettah
Venturing through the bazaar at Pettah means entering a vibrant new world of controlled chaos. Not only are there the famous Pettah markets, but a number of prominent religious buildings like Wolvendaal Church and the red-and-white striped Jami Ul-Alfar Mosque. There's also the Khan Clocktower at its main entrance. The markets themselves could easily take up an entire day, as one can get well distracted by the swathes of jewellery, gold, textiles, ayurvedic herbs, fresh produce, electronics, toys, and other handicrafts on display. Don't forget to bargain.
Viharamahadevi Park
Take in the peaceful greenery of Colombo's oldest tree-lined park, which once used to be a cricket ground. Named after an ancient queen, the park is also home to significant Sri Lankan monuments, including a stately golden Buddha, the Cenotaph War Memorial (for those lost in both world wars), and the Colombo Public Library. History buffs will be thrilled to get up close and personal with one of the park's most famous residents – a BAC Jet Provost plane that was used by the Royal Air Force until 1993. The park is also a quick walk away from the National Museum. If you're lucky, you might even catch a snake charmer doing his thing along the park's paths.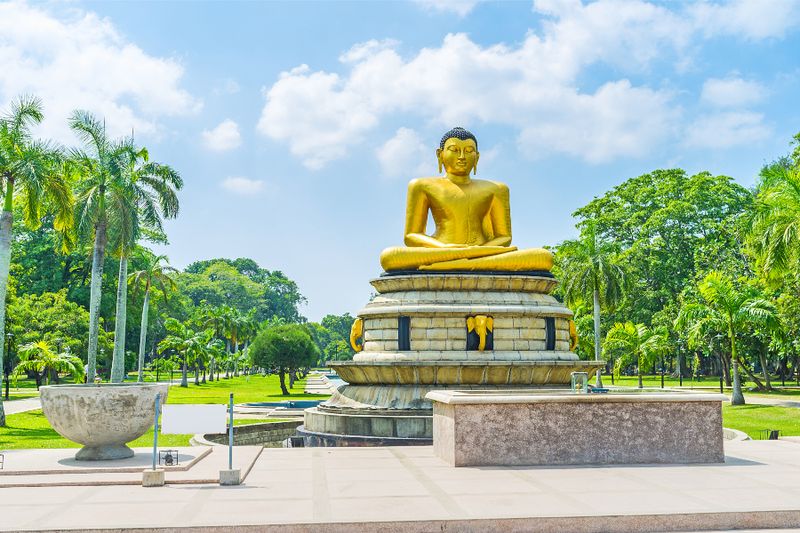 Galle Face Green
Galle Face Green is one of the most famous landmarks in the city – a long oceanside park in Colombo where many residents hang out with their families. There are always people out and about – flying kites, playing cricket or soccer, grabbing a snack from street vendors, or having an impromptu picnic. Take a stroll and end up at the Galle Face Hotel, one of Colombo's colonial grand dames, whose past guests include luminaries like writer Arthur C. Clarke, actress Carrie Fisher, astronaut Yuri Gagarin, a number of international royals, and iconic politicians like Indira Gandhi and Richard Nixon. Built in the late 19th century, the hotel's stately façade could almost be a scene from a Wes Anderson movie. Take afternoon tea at the hotel's Verandah restaurant and imagine who could have sat and sipped in that very seat, decades before.