Vibrant Spain offers so much more than tapas and inclusive resorts
If you have limited time in España, or you're after a hit-list of places to see, here are 52 things to do in Spain.
1. Marvel at the Palacio Real de Madrid
The jewel in Madrid's architectural crown is its 18th-century Royal Palace. This lavish, baroque building is comprised of over 3,000 rooms including an armoury and royal chapel, and looks out over a sprawling courtyard. Inside, the palace is decorated with elaborate ceiling frescoes, sculptures and touches of gold.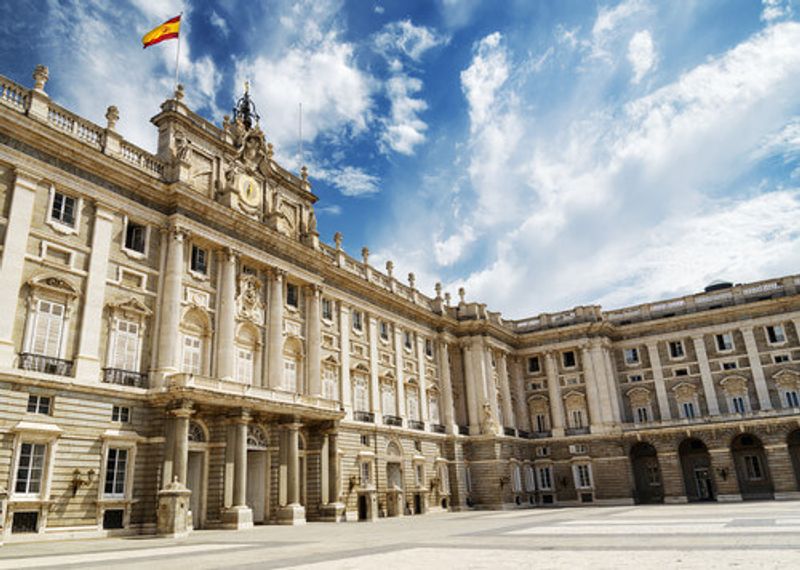 2. Get cultured at the Museo Guggenheim (Bilbao)
In 1997, the Basque city of Bilbao welcomed its own branch of the famous Guggenheim Museum. The waterfront gallery is packed full of modern and contemporary paintings and sculptures, but the biggest artwork is the building itself. Designed by Canadian-American architect Frank Gehry, the Museo Guggenheim features undulating curves of titanium that gleam in the Spanish sun.
3. Discover the magnificent Alhambra (Granada)
Granada's sprawling Alhambra is an Andalusian show-stopper. The fortress is an homage to the region's Moorish history and a must-see on any trip to southern Spain. Go early in the morning to purchase admission at the door, or ditch the queues and pre-book your entry up to four months in advance.
4. Attend a fútbol match at Camp Nou (Barcelona)
If Spain worships soccer like a religion, then Camp Nou is their Mecca. Visit the home of FC Barcelona and watch a match with tens of thousands of fans, screaming and chanting for their team. It's one sporting experience you'll never forget.
5. Picnic in Parque del Buen Retiro (Madrid)
Madrid has an impressive 44.85% green land and more than 40 parks within its urban limits, but few are as beautiful as Parque del Buen Retiro (Retiro Park). This 300-acre park in the centre of the city boasts over 15,000 trees, many sculptures, manicured gardens and one of Madrid's most spectacular buildings: Palacio de Cristal. Hire a boat and row down the estanque (pond) for the best views of the palace and surrounds.
6. Pass around a porrón
A porrón isn't your regular wine jug. This traditional Catalonian contraption resembles a cross between a wine decanter and a watering can, with a long spout that tapers to a tiny opening. While in Catalonia, watch a master lift the porrón higher and higher, pouring the wine into their mouths continuously without spilling a drop, or give it a go yourself. Just don't wear white.
7. See a show at the Teatro Español (Madrid)
The Teatro Español is a lovely 16th century theatre in Spain's vivacious capital, Madrid. In medieval times, the theatre was open-air and played host to many literary events, but several fires destroyed the original construction. Book ahead to catch a show, or tour the spectacular theatre.
8. Tour Gaudí's masterpieces
Anyone who's been or is planning a visit to Barcelona knows of Antoni Gaudí. The famous architect and master of Modernisme (Catalan Modernism) left his distinctive mark across the Catalonian capital, and no visit to the city is complete without seeing his work. Larger projects like Parc Güell offer guided tours, but many of the street-side designs like Casa Batlló are easy to explore alone.
9. Take a Flamenco class in Seville
The southern city of Seville has long been known for its flamenco. This intriguing style of dance, with intricate movements and clapping, was popularised in western Andalusia towards the late 18th century and has continued evolving. Test your moves at a beginners class, or sit back and watch the professionals.
10. Sample the local drop in Rioja
If you consider yourself a budding sommelier, you might be familiar with Rioja. This region of northern Spain is wine country, with rolling vineyards as far as the eye can see, and plenty of delicious food to complement the local vino (wine). Some wineries are by appointment only, so organise your Rioja itinerary in advance to avoid disappointment.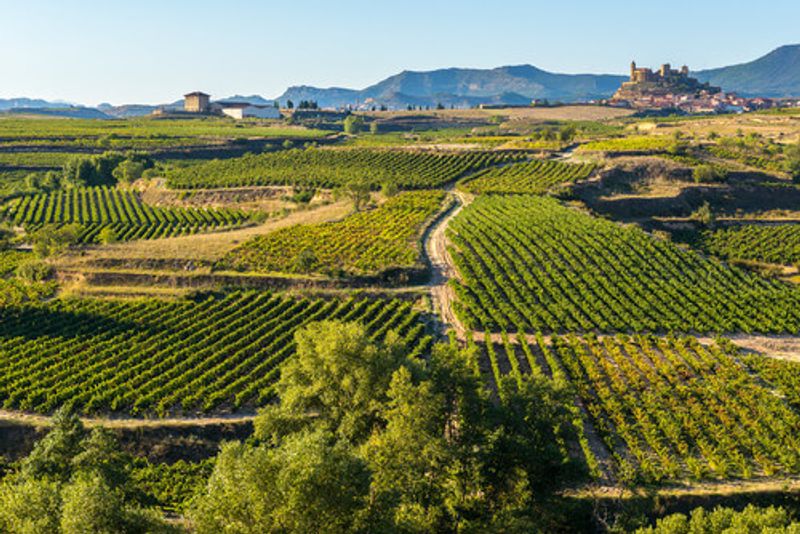 11. Relax on the beaches of Menorca
The smaller sibling of tourist-favourite Mallorca, the Balearic island of Menorca is home to equally spectacular beaches, sans the heaving Mallorca crowds. If you're dreaming of impossibly blue water and white sandy coves, Menorca is the place for you. Son Bau is the island's longest beach and has plenty of facilities, including water sports, but if you prefer somewhere more secluded, head to Cala Macarelleta or local-favourite Cala Trebaluger.
12. Feast on pintxos at Bar Sport (San Sebastian)
As the food capital of Spain, San Sebastian isn't short of dining options, but local hotspot Bar Sport is a great place to start. Tucked into the old town, this pintxos (finger-food served with a skewer) bar serves up tasty bites like foie plantxan (foie gras) and pimientos (peppers), all at very reasonable prices.
13. Photograph Spain's blue city, Júzcar
Júzcar isn't your average Spanish town. This once-sleepy village shot to fame after being painted bright blue as a publicity stunt by Sony Pictures, for the 2011 release of The Smurfs. While you won't find any official Smurf memorabilia anymore, Júzcar retains its vibrant colour and makes for a fascinating day trip.
14. Marvel at the replica Cave of Altamira (Cantabria)
Situated in the north of Spain, the Cave of Altamira is home to some of the finest prehistoric paintings in the world. This Paleolithic-era art is believed to date back over 20,000 years, but the site was closed to the public in 2002 when mold was found inside, presumably due to the constant flow of tourists. Now, five visitors a week are randomly selected to tour the caves, decked in protective suits. If you're not one of the lucky ones, explore the detailed replica at the Museo de Altamira.
15. Gawk at the Hanging Houses of Cuenca
In the UNESCO-listed town of Cuenca, a complex of multi-storey houses cling to the side of a vertical cliff. Las Casas Colgadas (the Hanging Houses) are a fascinating architectural feat, thought to have been originally constructed in the 15th century, and renovated over time. Admire the spectacle from the San Pablo Bridge.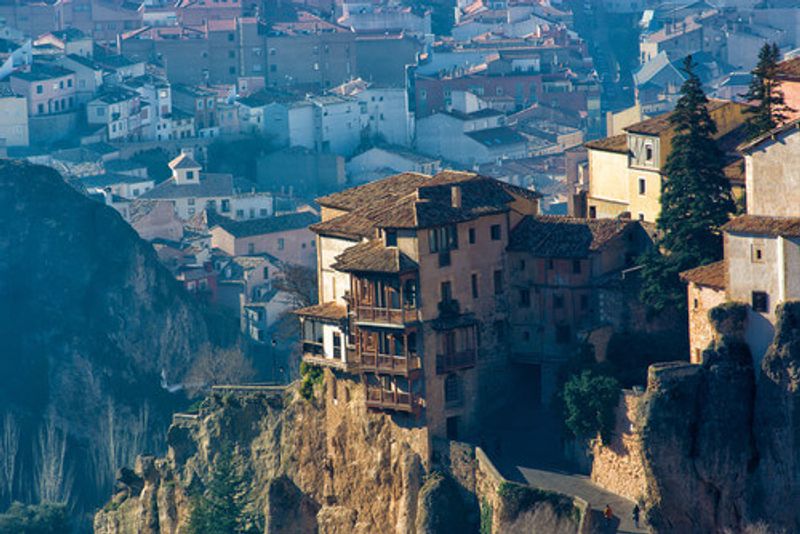 16. Explore iconic Santiago de Compostela
Santiago de Compostela is the historic capital of the autonomous Galicia region, and the final stop along the famous Camino de Santiago. Every year, hundreds of thousands of pilgrims arrive in the city after traversing much of the country on foot, as it's believed to be the final resting place of St James the Apostle. Whether you're religious or not, exploring this medieval town and its catedral (cathedral) is a delight.
17. Visit the chocolate museum in Barcelona
Here's one for the sweet tooths. Barcelona's petite Museu de la Xocolata takes visitors on a journey through the history of everyone's favourite sugary treat, with the help of elaborate chocolate sculptures. Even the admission 'ticket' is edible! Cap off your visit with a traditional hot chocolate from the café.
18. Head underwater at the Museo Atlántico (Lanzarote)
The Canary island of Lanzarote is home to Europe's only underwater museum and certainly one of the world's most impressive. The Museo Atlántico's life-sized sculptures are designed to address societal and environmental issues, and are made with neutral pH materials, plenty of nooks to accommodate local marine life. Don your flippers, because the Museo Atlantico's hundreds of sculptures are only accessible to divers and snorkelers.
19. Dine on world-class paella at Flor de Valencia
No trip to Spain is complete without indulging on moreish paella, and none are more authentic than Flor de Valencia. Visit this Valencian gem for a traditional Spanish feed, plenty of quality vino, and wonderful service.
20. Day-trip to Ávila
Just over 100 km from Madrid, the fortified city of Ávila is one of the most impressive medieval strongholds in Spain. Wander the imposing city walls and Romanesque churches by day, and marvel at the illuminated ramparts at night. This truly phenomenal place will transport you back thousands of years, and is well-worth detouring from the capital.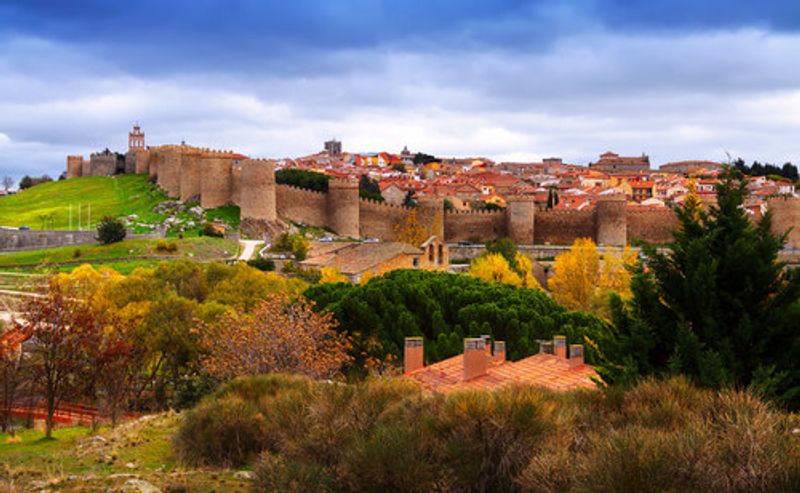 21. Experience the mind-bending Dalí Theatre-Museum (Figueres)
Salvador Dalí is undoubtedly one of the most celebrated artists of his time. A pioneer of the surrealist movement, Dalí created some of the world's most recognisable works, including The Persistence of Memory and The Temptation of St. Anthony. Visit the Dalí Theatre-Museum in his hometown of Figueres to learn more about the great artist and see some of his work.
22. Go on a cider tour in Asturias
Asturias is to cider what Rioja is to wine. This northern region of Spain has been producing sidra (cider) for thousands of years, thanks to its prized apple orchards and the wet conditions that nourish them. Unlike the cider you may be used to, Asturian sidra is often still and cloudy, made using the fruit's natural yeast, with no added sugar. The drinking process is also unusual; at a typical Sidería (cider house), the drink is poured at a height, creating bubbles.
23. Wander medieval Aínsa
The town of Aínsa couldn't possibly be more idyllic. Set against a Pyranean backdrop and bordering Ordesa National Park, this picturesque village is perfectly preserved, with cobbled streets, stone buildings and the remains of a hilltop chateau. Arrive early to avoid crowds, and climb the bell tower of Iglesia de Santa Maria for views across the town and beyond.
24. Take a stroll through the Generalife Gardens (Granada)
Adjacent to the Alhambra, Granada's Generalife Gardens are a series of well-manicured jardines (gardens) that once functioned as places of leisure for royalty, outside of the main palace. Wander the gardens and take in the Moorish exteriors, fit for a king.
25. Hike to the Cascada de Colores (La Palma)
The island of La Palma is a popular hiking destination, thanks to its stunning natural landscape, but those seeking a challenge should look no further than the Barranco de las Angustias. Along the regular route, take a detour across Dos Aguas and you'll come to the Cascada de Colores, a spectacular waterfall painted in swathes of green, yellow and orange. This colouration is due to both dissolved iron in the water, and algae. As it's a natural phenomenon, its appearance changes with the seasons.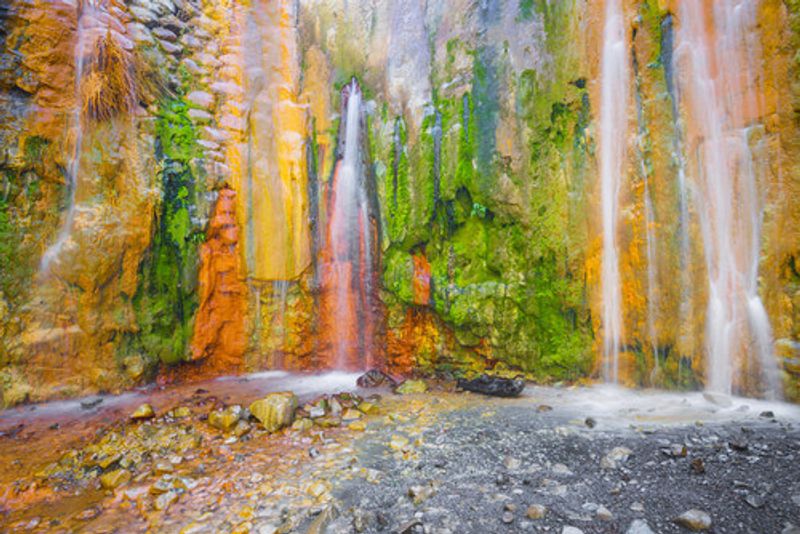 26. Take a detour to Ancient Egypt at Parque del Oeste (Madrid)
Explore Madrid's lush Parque del Oeste and you'll come across an unusual sight: an Egyptian temple. The Temple of Debod is a real ancient artefact, donated by the Egyptian government during the construction of the Aswan Dam. Upon its donation, the entire temple was dismantled and rebuilt in Madrid, in a garden specially designed to showcase it.
27. Hone your español skills at Agualivar Spanish School (Málaga)
Widely regarded as one of the best language schools in Spain, family-run Agualivar Spanish School will take your español skills from beginner to intermediate in no time. Far from a regular classroom, students at Agualivar are invited to stay on the premises during their studies, eating and interacting with teachers for a fully immersive experience.
28. Sip on traditional horchata in Valencia
Another Valencian favourite is horchata (pronounced or-cha-ta) – a drink made from chufas (tiger nuts). While the beverage looks milky and has a creamy texture, the Spanish rendition is entirely plant-based and vegan-friendly. It's also thought to help lower cholesterol, aid digestion and decrease bloating. Try it at one of the city's many Horchaterías, with a farton (Valencian sweet pastry).
29. Indulge in cheesecake from La Viña (San Sebastian)
La Viña is ranked a respectable 51 of 748 San Sebastian restaurants on Tripadvisor, but there's one dish on its menu that can't be beaten: the torta de queso (cheesecake). Their no-frills rendition of the beloved dessert is baked until golden, light and perfectly textured, with servings so large they cut them in two.
30. Visit the Pont del Diable (Tarragona)
El Pont del Diable, or Ferreres Aqueduct is an ancient bridge dating back to the Roman Empire. The aqueduct was originally built to supply water to the city of Tarragona (then known as Tarraco) and despite being an impressive sight, what remains today is just a segment of the former structure.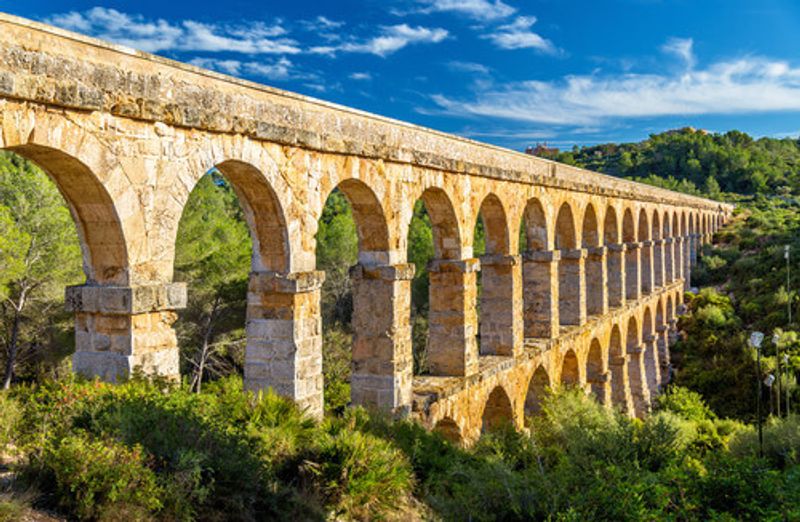 31. Send your senses wild at the Mercado de Vallehermoso (Madrid)
Madrid is full of fancy markets, teeming with tourists and commercial stalls, but Mercado de Vallehermoso isn't one of them. This modest market considers its merchants familia (family) and its entire ecosystem a community who share a love of gastronomy. Visit the market on an empty stomach to indulge in all kinds of food, from sushi to curry, or pick up fresh produce from the wide array of specialty stores.
32. Admire tiny works of art at the Museum of Miniatures and Microminiatures (Besalú)
Besalú's charming Museum of Miniatures and Microminiatures is dedicated to tiny art. The exhibits from around the world are labelled in several languages and arranged according to size, with the smallest exhibits visible through microscopes. You'll be blown away by the attention to detail in each piece, from doll-sized sculptures, to art inside the eye of a sewing needle.
33. Photograph Cervantes' windmills in Consuegra
The white windmills of Consuegra were made famous in Miguel de Cervantes' novel Don Quixote and still stand, over 400 years later.
34. Cycle through scenic Navarre
Whether you're a keen cyclist, or just like to stay active on holidays, a trip to Navarre is a great addition to any Spanish itinerary. This scenic part of northern Spain stretches to the Pyrenees and includes several spectacular towns like Olite and Puente la Reina. Jump on a bike to tackle the rolling hills and canyons the region has to offer.
35. Eat at the world's oldest restaurant in Madrid
If you're searching for memorable dining experiences, head to the world's oldest restaurant in Madrid. Guinness World Record holder Sobrino de Botin, was founded in 1725 and continues to imbue tradition into every dish. Hot tip: try the suckling pig.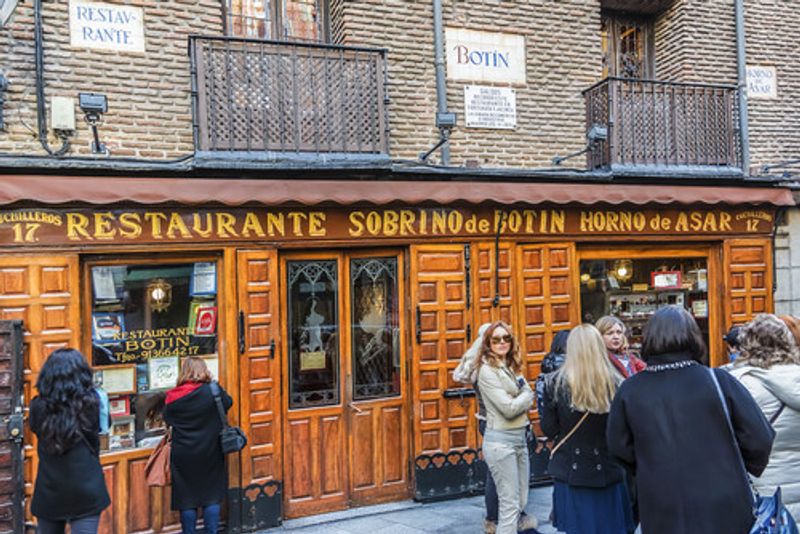 36. Enjoy a tipple of vermút rojo (red vermouth)
When in Spain, do as the Spaniards do. In the case of red vermouth, this means drinking it neat, rather than mixing it into a cocktail. Spanish vermút rojo is just as fragrant as you would imagine, infused with spices and botanicals, but often sweeter. On a hot summer day, order a glass over ice, with a dash of soda water and an orange wedge.
37. Relax on La Palma's black beaches
La Palma is a volcanic island, so its playas (beaches) aren't the typical, golden sort. Instead, its shores are black and its 'sand' is made of finely ground up lava. Playa Tazacorte is one of the most accessible, with plenty of amenities, but if you're willing to travel off the beaten track, Playa Nogales is a beautiful hidden gem.
38. Get inspired at Gaudi's masterpiece-in-progress La Sagrada Familia (Barcelona)
La Sagrada Familia is, without a doubt, one of Spain's most popular attractions and the moment you step foot inside, you'll see why. This one-of-a-kind basilica designed by Antoni Gaudí has been under construction for over 130 years, and is slated for completion in 2026. Grab an audio guide on the way in, but book your tickets online to avoid long queues.
39. Visit the Museo de las Brujas (Zugarramurdi)
Among Spain's stranger museums is the Museo de las Brujas. At the start of the 17th century, 11 women of the Zugarramurdi municipality were convicted of witchcraft, as part of the Inquisition. Tour this small museum to learn about the women and the myths that led to their sentence, before heading to the nearby Zugarramurdi Caves, where their pagan rituals were thought to have taken place.
40. Eat as much jamón (cured ham) as possible
Spanish jamón isn't something you put between two slices of cheap bread with cheese. This dry-cured, perfectly salty meat is ubiquitous through Spain, featuring on almost every menu. There are many varieties of jamón, but the most common are jamón serrano (meaning ham for the mountains, made of regular pig) and the more expensive jamón ibérico, made from rare, Iberian black pigs. Try it on its own, mixed into croquettas (croquettes), or served on crusty pan con tomate (tomato bread).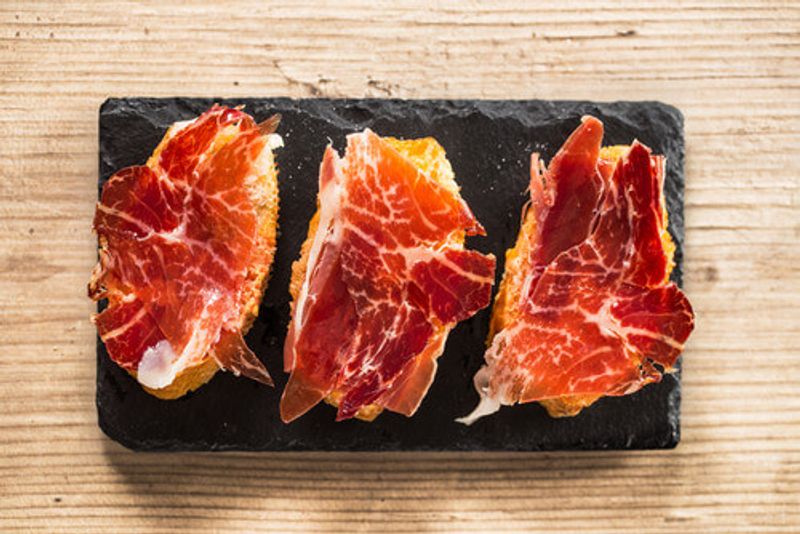 41. Tour the abandoned village of Escó
Escó is a practically deserted town in the province of Zaragoza. Set against a mountainous backdrop, the village was largely abandoned in the '60s after a nearby dam was built, which caused flooding. Today, just a handful of people reside in the little-known town; take a detour here to explore its ruins and you might just have the place to yourself.
42. Get lost inside the Cuevas de Artà (Mallorca)
Mallorca's Cuevas de Artà are a network of underground caves filled with towering stalagmites and stalactites. The natural labyrinth is now a popular attraction, but flick through the visitor book and you'll find famous names like Alexandre Dumas, Victor Hugo and Jules Verne.
43. Sample the delicious goods at Bar Néstor (San Sebastian)
Bar Néstor is one of San Sebastian's most popular restaurants for a reason. This local favourite serves just seven items, but the stars of the show are the txuleta steak, served rare and the tortilla de patata (potato tortilla) – possibly the only tortilla in the world with a daily waiting list.
44. Learn about a master at Museo Picasso (Málaga)
Pablo Picasso needs no introduction. Visit his home city of Málaga to tour the Museo Picasso, learn about the man behind the Cubist movement and view a fascinating collection of his work. Make sure to pick up a free audio guide on your way in.
45. See the holy Santa Cueva de Covadonga
The Santa Cueva de Covadonga is a chapel nestled into the side of a mountain, with a waterfall flowing beneath it. Part of a larger sanctuary, the holy cave is a popular pilgrimage spot and despite welcoming plenty of visitors, it's still a peaceful place of worship.
46. Stroll around Madrid's La Latina neighbourhood
One of Madrid's oldest barrios (neighbourhoods) is a local favourite. Explore La Latina's historic plazas by day and hop between its lively tapas bars at night. If you visit on a weekend, be sure to check out El Rastro – the largest weekly flea market in Spain.
47. Indulge in Catalan Calçots at Cal Ganxo (Valls)
Calçots are a type of green onion native to the Catalonia region, traditionally wrapped in newspaper and cooked over a fire. At Cal Ganxo, the calçots are cooked to perfection and served with a homemade secret sauce, followed by grilled meats and finished with a crema catalana.
48. Get to know white-washed Frigiliana
A quintessential moorish town in southern Spain, Frigiliana is postcard-perfect. Wander its winding, white-washed streets, past tapas bars and craft stores, and you'll soon see why it's considered one of the country's most beautiful villages.
49. Dine on food a la volcano at El Diablo (Lanzarote Island)
Situated in the stunning Timanfaya National Park, El Diablo restaurant uses an unconventional method to cook its food: volcanic heat. The restaurant has a custom grill, which sits across an opening in the ground; less than two metres below, lava bubbles away at over 400 degrees celsius. If you don't fancy a meal here, stop in for a coffee and stay for their volcano demonstration.
50. Hike one of the Sierra Nevada trails
The Sierra Nevada is a highlight of southern Spain and one of the best places to pull on the hiking boots. Choose a trail suitable for your fitness level and enjoy the rugged scenery as you traverse this wonderful part of the world. Hoya de la Mora-Veleta is one of the least demanding trails, and on a clear day, rewards hikers with views over Granada and the Mediterranean.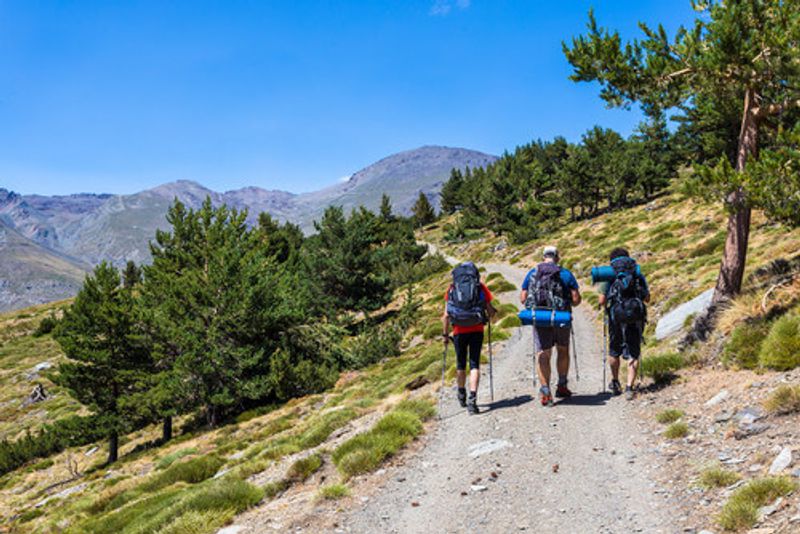 51. Tour the Prado Museum (Madrid)
If you're an art lover, visiting the Museo Nacional del Prado is a must. Featuring prominent work by artists like Velázquez, Goya and El Greco, among many others, this famous museum has one of the largest and most diverse art collections in the world. Set aside an afternoon to explore the museum, but prepare to tackle crowds.
52. Gorge yourself on churros at Chocolatería San Gines (Madrid)
Churros are synonymous with Spain, and Chocolatería San Gines dish up some of the best. This iconic churrería is a Madrid institution, serving delicious deep-fried dough and dark chocolate dipping sauce since 1894.