Also known as the Barrio Gotico, pay a visit to where the heart and soul of Barcelona lies
Old towns are where you go to experience a slice of local culture – while hopefully side-stepping inevitable tourist traps – thankfully, Barcelona's Gothic Quarter remains fairly authentic until today.
Dating back over 2,000 years, it remains one of the city's most charming neighbourhoods, thanks to its blend of hip cafes, historical sites and some legendary spots where luminaries like Ella Fitzgerald and Pablo Picasso once patronised during their heyday.
Located in the area between the bustling La Rambla and Via Laietana, its proximity to Barcelona's popular seafront sees it bustling at all times of the day, offering one and all, a little something to remember Barcelona by.
Here, some authentic gems to seek out on your Barcelona adventure.
Hang out where legends once lounged
Barcelona's thriving artist scene at the turn of the century saw many a famous author/poet/artist calling the Catalan city home. Till today, there's a number of establishments still standing that once served what was then an unknown name.
Opened in 1897, the Els Quatre Gats holds the honour of being the site of Pablo Picasso's first exhibition in 1899. Today, it's transformed into a lively restaurant serving tapas and cocktails, along with a side a dose of live music.
Over at Plaça Reial, in a cave-style basement, lies the legendary Jamboree. First opened in 1960, it has seen everyone from Ella Fitzgerald and Duke Ellington perform on its stage. While the establishment has changed hands over the years, it remains the spot to go to for a spot of jazz music – and if nothing else is worth a visit for to experience firsthand one of the main gateways that brought jazz music to Spain.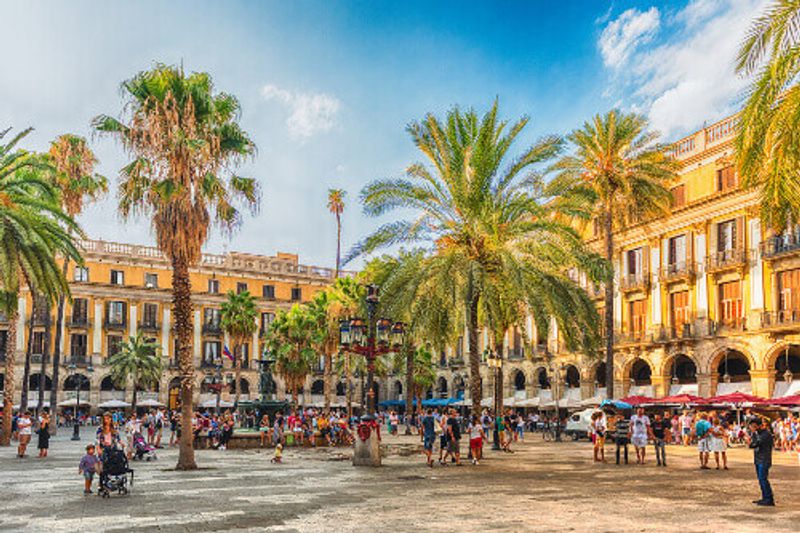 Sample Vermouth
This fortified herbaceous tasting wine takes some getting used to but when you do, you won't regret it. Said to be the drink amongst the working classes during the Spanish Civil War, it was popularly served then from the cask alongside local seafood dishes. Today, it's recommended you ask for the vermut casero (the eatery's house version) and a fail-safe recommendation is to navigate to the Passatge de la Pau, round the corner from Las Ramblas, and settle in for a mid-afternoon aperitif.
Explore the historical sites
For history buffs, a walking tour of the area's highlights is a must. The impressive Gothic Cathedral is not to be missed. Built over the course of the 13th to 15th century, the neo-gothic style cathedral with gargoyles is quite the sight to behold. Free entry is allowed from 8 am - 12.45 pm and 5.35 pm - 7.30 pm, otherwise a small donation is appreciated.
Easily spotted from La Rambla, the Church of Santa Maria del Pi built between 1319 and 1391 with a 54 m high tower is another eye-catching sight to take in. Built in a traditional Catalan Gothic style, with a single nave almost devoid of ornamentation, venture inside to admire the original baroque choir stalls dating back to 1771.
Don't leave without walking down to Placa del Rei, also known as the King's Square, a stunning example of the city's medieval roots. Here, make a beeline for the Great Hall with its round arches and the on-site Museum of History of Barcelona.
Admire Gaudi's first project
Being Barcelona, a Gaudi sighting is de riguer. While his work is scattered across the city, one of his earliest projects remains intact at the beautiful Placa Reial. Look for a set of street lamps erected in 1879, located on the side of the central fountain easily identified by its winged helmet and dragon detail.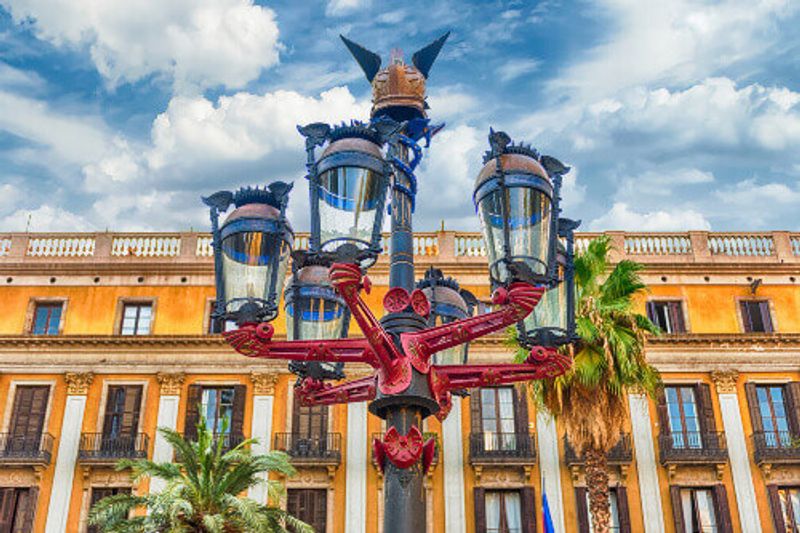 Catch a Sardana performance
A flamenco performance will likely be on your itinerary but this traditional Catalan folk dance is equally enthralling. Seen as a symbol of national unity and pride, it was said to be banned by Francisco Franco up till 1975. Today, the Sardana, a circular dance (and its numerous meticulous steps) is performed every Sunday between 11.15 am - 1 pm outside of the Cathedral on Pla de la Seu accompanied by an orchestra of 11 people (10 wind instruments and a single bass).