South Korea is home to some of the finest street food in the world, but where to begin?
No visit to South Korea is complete without making your way through its mind-boggling universe of street food, best experienced on an empty stomach at open-air markets. If you're new to Korean food, get ready to meet fermentation. Lots of typical street foods come in fermented sauces (namely gochujang) or with fermented sides. Many dishes come with kimchi, an ancient fermented veggie mix that is a signature part of Korean cuisine, with variations across secret family recipes.
If you're visiting a busy street market, chances are, there's going to be mouthwatering street food at your fingertips – seize the day and try a selection of different eats from different stalls. Lots of snacks come on skewers, so you can walk and eat at the same time, but we recommend taking a seat wherever possible, savouring your food, and having a sip of soju with fellow marketgoers. You can also get an eyeful of some of the more exotic snacks, like silkworm pupae and blood sausage (deceptively called sundae). Street food staples include odeng (fishcakes), twigim (battered vegetable snacks), plenty of eggy baked goods, and the absolutely unmissable Korean fried chicken.
Here's a tasty overview of some of the most popular things you'll find on the menu.
Korean pancakes
There is no shortage of both sweet and savoury pancakes, often with a hearty filling. Try the simple, flat, pajeon, which is an eggy pancake with scallions, or delicious hotteok, which are small sweet pancakes that come stuffed with various kinds of fillings (peanuts, honey, and cinnamon are just a few) – think of it as a Korean doughnut.
Mandu
Who doesn't love dumplings? Mandu are a delicious street food all across the country, and can be filled with mixtures of kimchi, meat, and vegetables. Mandu can be made via frying, steaming, or boiling, and have their roots in Mongolian cuisine hundreds of years ago.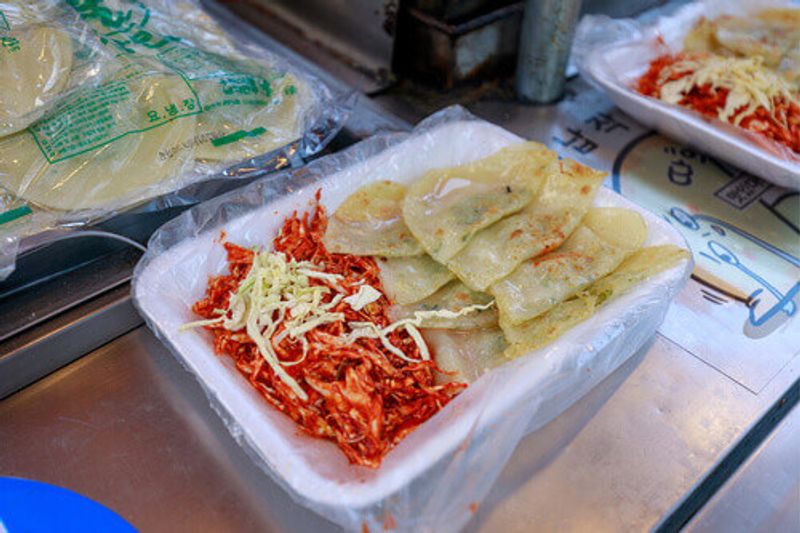 Bungeoppang
These golden fish-shaped dessert treats are wonderful when served fresh, with sweet fillings like red bean, custard, choux cream, chocolate, and other experimental flavours. It's a bit like a stuffed waffle, and despite its shape, contains no fish whatsoever. Flower-shaped variations are called gukhwappang.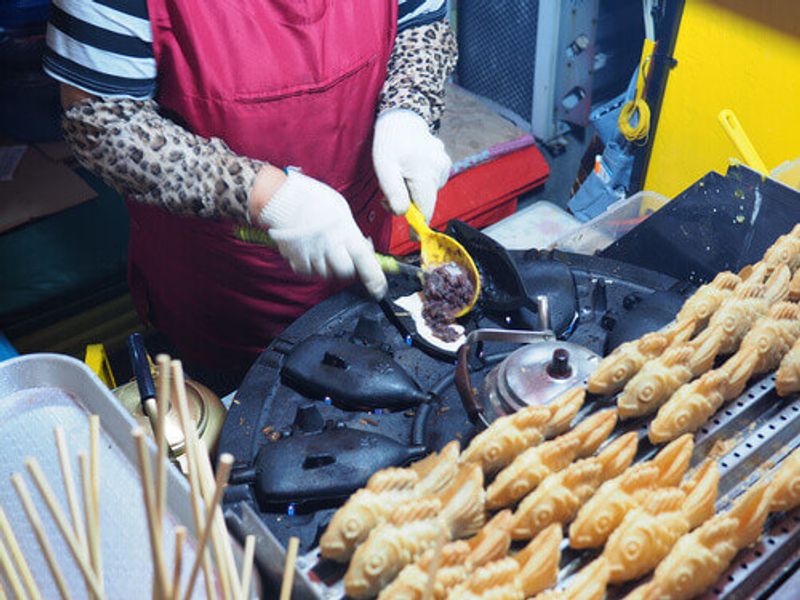 Gimbap or kimbap
Japan isn't the only culture with a sushi food tradition – Korean sushi, or gimbap, deserves its fair share of the spotlight. In true Korean style, gimbap usually comes with a bit of kimchi and pickled garnishes – there are often meat-free types filled with tofu and veggies. Mayak gimbap is an extra-famous specialty at Seoul's Gwangjang street market, which translates to 'narcotic gimbap' for its addictively snackable quality – this is a simple three-veggie gimbap served with an irresistible dipping sauce.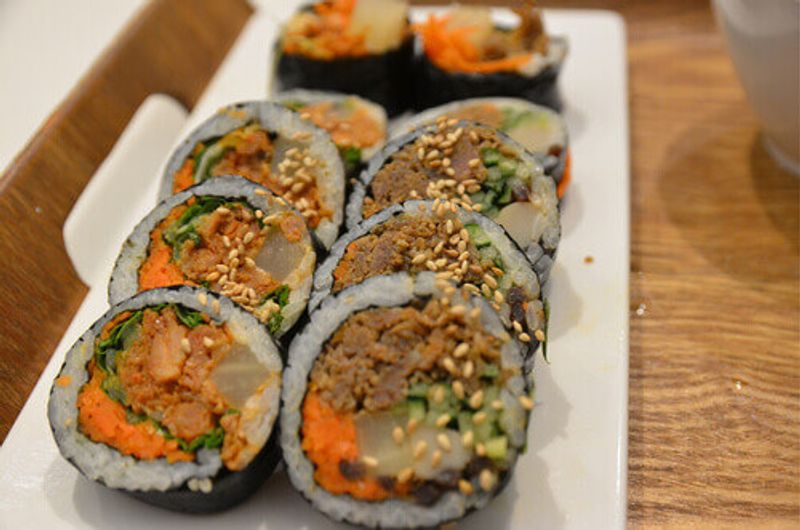 Tteokbokki (rice cakes)
These spicy, chewy rice treats have a royal heritage, but are now popular snacks for pretty much everyone. If you see these tube-shaped cakes speared onto a skewer, they're called tteokkochi. While you can absolutely snack on tteokbokki on their own, the actual rice cakes can be found in all kinds of Korean soups and stews.