Follow the five-day rotating market at one of Myanmar's most popular destinations
The second-biggest lake in Myanmar is a stunning landscape of tranquil water and stilted huts against the picturesque Shan Hills. It's also the home of many different tribes, including the Intha, Pa-O, and Danu peoples. Many come into Nyaung Shwe – the area's commercial hub – to do business in the busy markets, particularly the five-day rotating market that sells fresh produce.
Depending on when you visit, there might be some festivities or seasonal events going on – the Phaung Daw Oo Pagoda organises an annual festival in October, which involves an ornate golden barge with its five iconic buddhas on the lake. Of course, regardless of when you're visiting, having a normal boat ride on the lake is a must-do – most boatmen might wish to take you to a series of workshops as part of the 'ride', so it's best to discuss these options beforehand.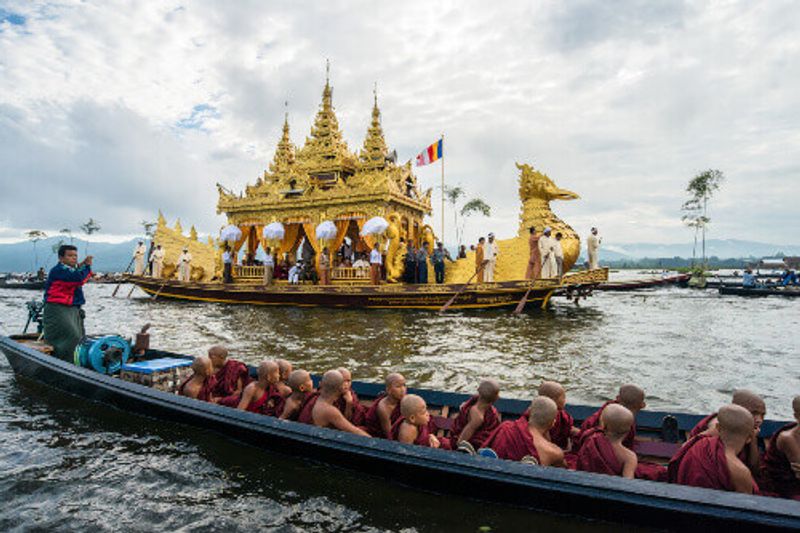 Things to do
Depending on your preferences, there's plenty to do for Inle Lake visitors – rent a bike and pedal your way through villages and the surrounding hills or check out the local tipple at the Red Mountain Winery. There are also hot springs accessible by bicycle, seasonal bird-watching (keep your eyes peeled for the rare jacana or lotus bird), and even stand-up paddle-boarding – you can even learn a challenging local variant that requires paddling with just one foot.
As mentioned earlier, the five-day market is one of the defining characteristics of the Inle Lake area – the market spends five days in each of the different 'host' locations around the lake, which truly showcases the best produce and handicrafts that each community has to offer. One of the most popular tourist activities is taking a Shan cooking class, which is a fantastic (and delicious) way to get up close and personal with the local culture. A quirky local cultural fixture near the main street is Aung's Marionette Puppet Show, which is around 30 minutes and features traditionally-made puppets that you can buy as unique souvenirs.
Visiting the villages
Each village around Inle is a centre for local crafts – Inpawkhon, for instance, is filled with local artisans working on textiles. Here, weavers (most, if not all of whom are women) painstakingly make everything from longhis (Burmese sarong) to the actual dyes used on the fabrics. It's also a great place to get the unique lotus fabric made from actual lotuses, which thrive in the Inle's shallow waters. Another popular craft here is the cheroot or Burmese cigar – these leaf-wrapped stogies aren't for the weak-hearted (or weak-lunged) and are made from honey, tamarind, star anise, rice flour, and banana. Another village is Thaung Thut village, which is a five-day market host, and home to beautiful white temples. Indein village is a remarkable place to visit for its striking collection of over 1,000 ancient stupas, also called the Nyaung Ohak pagoda ruins or 'stupa forest.' Observe the mystical devas and chinthe (guardian beings) carved into the ruins.