Jordan is a foodie paradise, so come prepared to fill up on local delicacies from fine dining to street food
Jordan is perfectly situated – geographically, culturally, and historically – to be a culinary melting pot of Mediterranean and Middle Eastern delights, with hints of Northern Africa and Persia. Given Jordan's multicultural demographics, its food culture has been richly shaped by immigrants who have made Jordan home, as well as ancient empires who once occupied modern Jordan (think Rome and the Ottomans). There is truly something for everyone within its expansive range of Levantine dishes, many of which feature flavours and ingredients used by other cultures in the region. Jordanian food also goes hand in hand with Jordanian hospitality, its lively culture of street food and eateries, and the welcoming desert culture of the Bedouin people.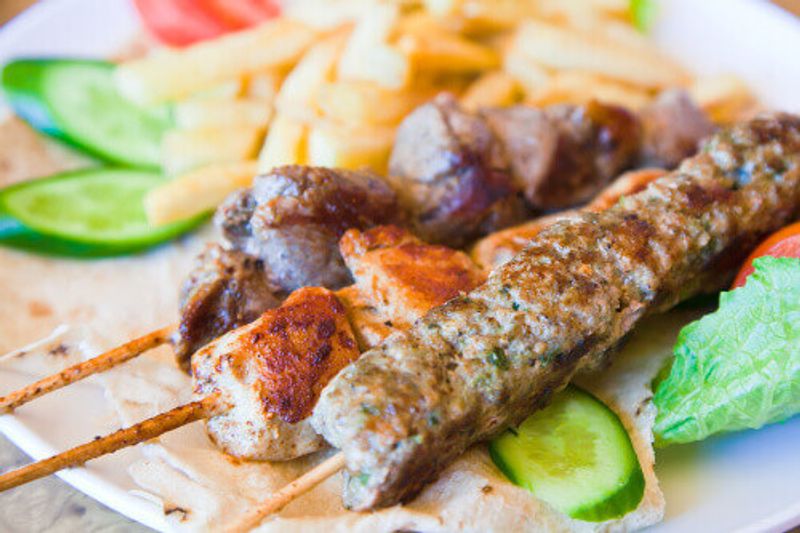 Popular ingredients include rice, lentils, all types of breads, yoghurts, olives, tahini (and sesame seeds in general), and dates. There's also an abundance of herbs used in cooking, like thyme, mint, and za'atar spices, a spice mix that varies across the region – depending on where you are, some blends might include sumac, oregano, sage, cumin or caraway seeds. The core meats in Jordanian food are usually lamb, poultry, goat, and beef.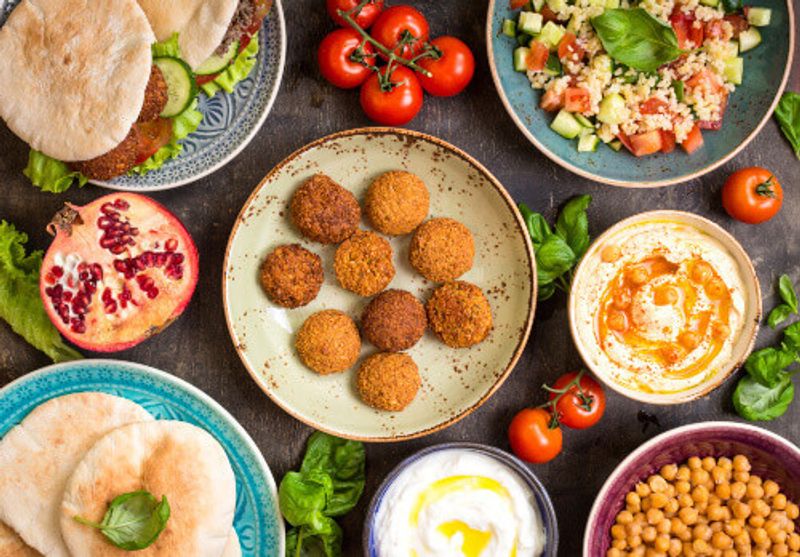 Jordanians also love their sweets, exemplified in their delicate, indulgent desserts: the syrupy-sweet knafeh, baklava, and warbat (custard pastry) and qatayef (sweet dumplings) that are consumed during Ramadan.
Don't forget to save space for tea – a staple in Jordanian culture – which can be found everywhere, along with rich Arabic and Turkish coffees. Black herbal teas are widespread and have different flavour options – regardless of what sort of tea you choose, expect lots of sugar. Arabic coffee is popular among Bedouins, as coffee is used as a symbol of hospitality and goodwill, as well as a celebratory drink. Strong Turkish coffee has a universal system of hand gestures to indicate desired sweetness – thumbs up for sweet, thumbs to the side for 'medium sweet' (still sweet by most standards), or thumbs down for no sugar.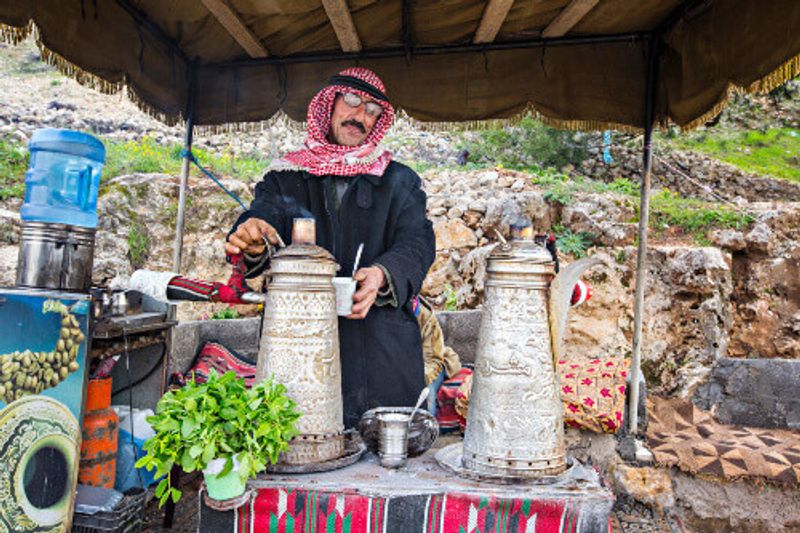 Mezze is widespread all over the country – small dishes akin to tapas that are shared by a group, which might include hummus and falafel, kibbeh (a fried wheat and mincemeat mixture), and pickled vegetables. Soups and salads are also a popular way to kick off a meal, with the latter featuring generous lashings of olive oil, lemon juice, onions, and spices.
Jordan's most distinctive dish is mansaf, best described as a rice and lamb casserole, although there are other memorably iconic dishes like moutabel (not to be confused with baba ghanoush), maqluba (an 'upside down' rice, vegetable, and meat casserole), and pizza-like manakeesh. If you're venturing out to Petra or Wadi Rum and staying in a desert camp, you might encounter the famous Bedouin zarb (barbecue), which involves slow-cooking meat and vegetables that are buried in an underground 'oven' with hot smouldering coals.
Of course, the best way to experience a country's food culture is through the eyes of a local – in this case, we turned to Amman-based food blogger, Dina Toukan, who runs TwoCanDine (check out her Instagram).
Toukan first thought about documenting her culinary adventures in 2013, while she was pursuing her master's degree in London – her friends and family were already turning to her for food advice, so starting a food blog of her own was a no-brainer. We asked her for a few pointers on the best eats in her home city.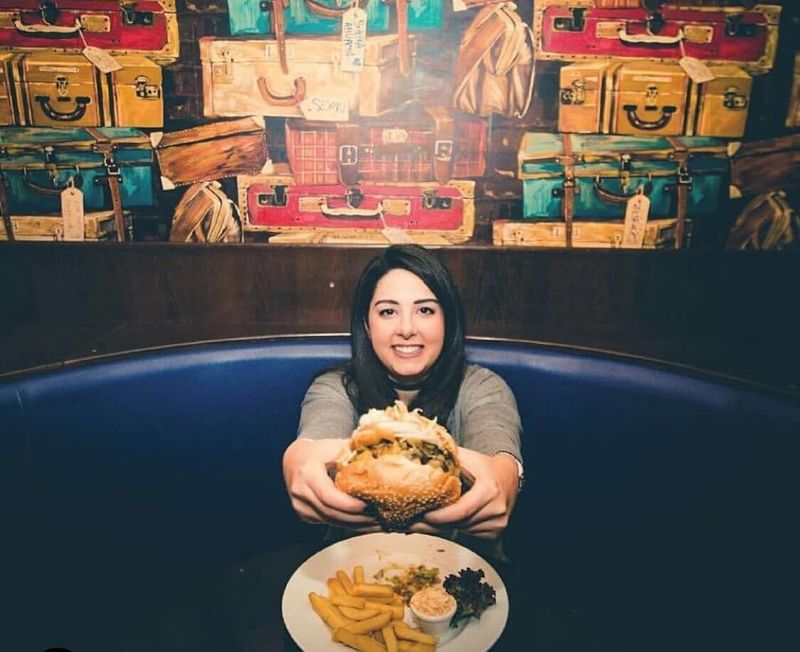 Why do you think food culture in Jordan is so special?
Because our food is a mix of different cuisines in one dish. For example, Sayadiyeh (fried fish and rice). It's popular in Aqaba but yet again there is the Lebanese Sayadiyeh that is also famous. Both taste distinctively delicious but each was cooked using a different methodology.
What would you say are Jordan's must-eat dishes?
Mansaf of course! It is made of lamb cooked in a sauce of fermented dried yogurt and served with rice. We usually have it as a big portion in family gatherings or special occasions, but now you can easily find restaurants that serve mansaf as a single plate for one. It's served usually on a big tray on a table where people gather around it while standing. Traditionally, mansaf should be eaten with the use of a person's right hand only while the left is behind the person's back. The hand is used to create balls of rice and then the ball is placed in the mouth through the use of three fingers.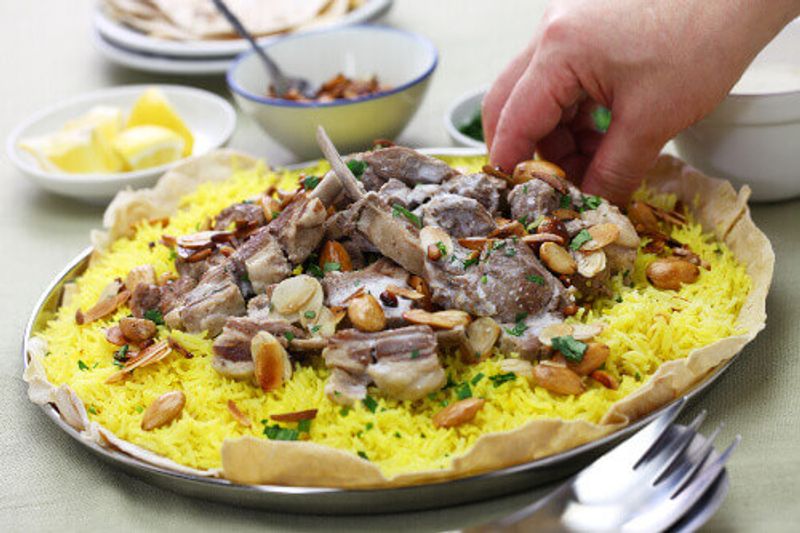 What's street food culture like in Amman?
Our most popular street food is hummus, foul (a fava bean dish, pronounced fool) and falafel. I bet you it's unanimously loved by Jordanians and you can literally find a kiosk in every neighbourhood serving these three famous items.
What are your favourite Jordanian foods?
I've recently tried rashouf – soup made of jameed (dried yoghurt also used in mansaf), lentils and local ghee. It's perfect for winter!
What are some of your favourite eateries in Amman?
If you're a first time visitor in Amman, I recommend going to Hashem in Downtown for falafel, hummus and foul followed by the best kunafa from Habiba (walking distance between both places). This is the ultimate experience for me.
Is it difficult to be vegan/vegetarian in Jordan?
Restaurants are becoming more aware of the health trends therefore trying their best to keep up with people's habits. Being vegetarian in Jordan is not as bad as you may think. Almost all restaurants have a vegetarian options. I'm guessing being vegan is the challenge!
Lots of travel guides talk about Hashem as the most famous restaurant in Amman – what are your thoughts?
Haha! Well you have my answer above! It's the first thing I would recommend a tourist to do. You know the whole downtown experience is a wonder by itself. It's not like any downtown you'll see in countries, ours has a special vibe. And to top that marvelous experience I'd recommend Hashem and Habiba.
What's the best way to find out about new restaurants in Jordan?
Through food bloggers' accounts of course! Our circle of local food bloggers won't fail you. Each one of us prefers dining in different places so that way you'll get a full circle of knowledge ranging from street food to fine dining.