Iran's capital city is jam packed with bazaars and restaurants, mosques and parks, and is home to some of the friendliest people you'll ever meet
Tucked beneath the snow-capped Alborz mountains, visitors are often surprised by how cosmopolitan Iran's capital is. The intelligent, culturally and politically engaged population are famously stylish and are also some of the friendliest people you'll meet. They are eager to engage in open-minded, intelligent conversations, while showing off their long culinary history and cultural past. Don't be shy if you're invited to join locals for a juicy kebab in this Muslim city that loves its food and shopping as much as its history.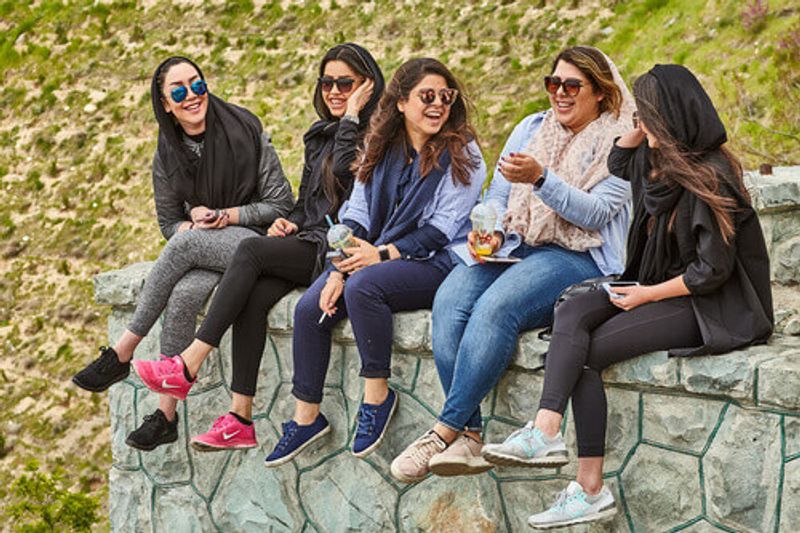 The first stop for any visitor to Tehran is the Grand Bazaar, known as Bazaar-e Bozorg. Thousands of covered shops can be found in a warren of labyrinthine alleyways in the centre of the city. Haggle for everything from carpets and gems, to fruits and silks like visitors have here for centuries. The noise, bustle and commotion takes a bit of getting used and there are dozens of excellent restaurants dotted around the Bazaar if a break is needed. The famous Moslem Restaurant (by the main entrance at Sabz-e Medyan, Panzdah-e Khordad) or Shamshiri meaning 'Of the Sword' are two excellent options to stop for tea or a koobideh kebab (lamb or beef mince or a combination of the two). On Fridays, the nearby Jomeh Bazaar holds an excellent antique market.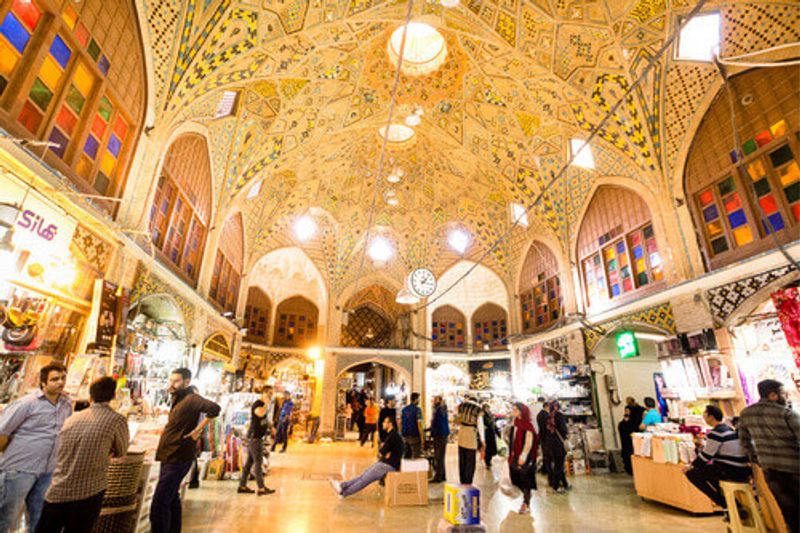 If the Grand Bazaar is all a bit too much, then the Tajrish Bazaar on Tajrish Square is a smaller, less stressful and a somewhat prettier version. You can find similar crafts and antiques to the Grand Bazaar – albeit prices might not be so cheap – and there is the lovely Imamzadeh Saleh shrine nearby. Tajrish Bazaar also has its fair share of teahouses and kebab restaurants to rest at when in need of refreshment.
One of the oldest cafes in Tehran is the Gol Rezaieh Café (Si Tir Street, opposite the Glass and Ceramics Museum). It's a taxi journey away from the Grand Bazaar but is a place where intellectuals, writers and academics discuss the issues of the day while sipping on coffee or snacking on kotlet (cutlet).
Near the Grand Bazaar is the glittering Golestan Palace where the Qajar Royal family lived in the 19th century. Made up of 17 buildings the Palace shows of the best of Qajar-era architecture featuring colourful tiles, mirrored interiors, intricate rugs and symmetrical fountains. A wonderful example of royal opulence.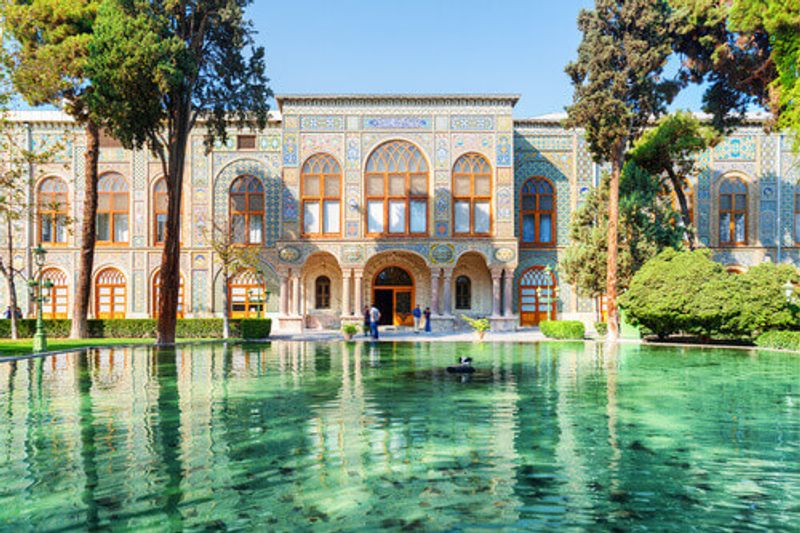 No trip to Tehran would be complete without a picture in front of the iconic Azadi Tower. A masterwork of 1970s brutalist architecture the Y-shape building in the centre of the city combines elements of pre- and post-Islamic architecture. Clad in 8,000 blocks of white marble from Isfahan, it was designed by 24-year-old architecture student Hossein Amanat who won a competition to create a structure to commemorate 2,500 years of Persian monarchy.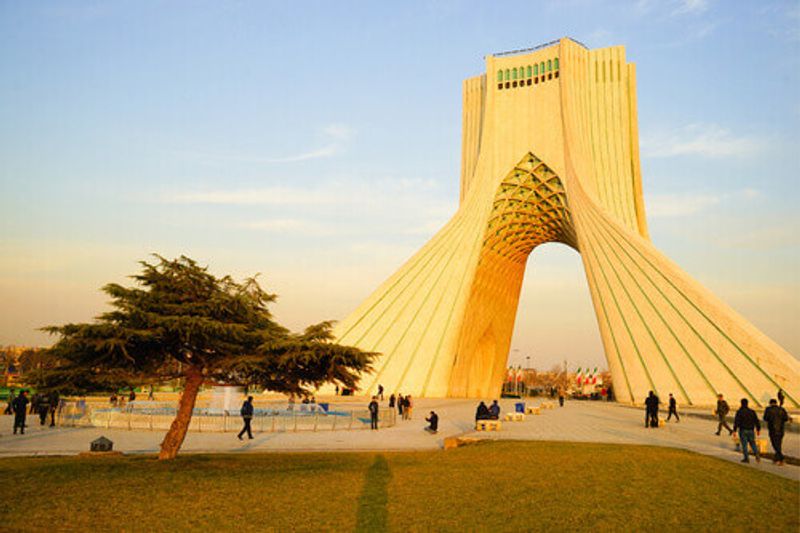 The National Museum of Iran is a fantastic way to learn about the history of Persia or for something more contemporary, the Tehran Museum of Contemporary Art has an extensive selection of both international and domestic contemporary pieces. Although much is hidden away it is an interesting place to meet and chat with young creative people.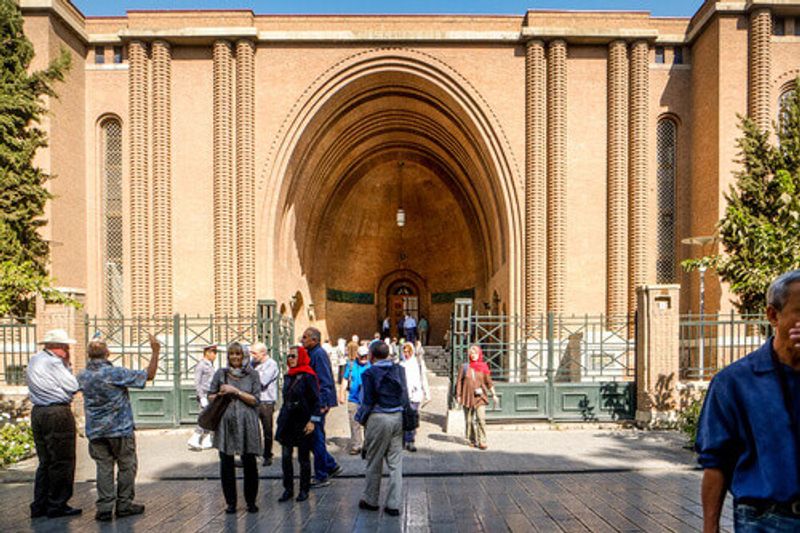 If the hustle and bustle (and pollution) is all getting a bit too much then Jamshidieh Park to the north of the city in the foothills of the Alborz Mountains is a great little escape. The views across the city are breathtaking and there are plenty of spots to stop off for tea and enjoy the clean air. For those more adventurous, a hike up Mount Tochal is an excellent challenge but the 45-minute telecabin ride is somewhat quicker and easier – however you get there, the views from the top are magical.