With good food, great beaches and spectacular scenery, it's little wonder that this Aegean gem is a fixture on any Greek itinerary
Mykonos is a Greek island dream come to life. Its main streets are whitewashed and labyrinthine, lined with bright bougainvilleas and trendy boutiques, while its beaches are truly picturesque. Throw in the buzzing nightlife and ruins from ancient Greece, and it's clear how Mykonos came to be known as a premier tourist destination.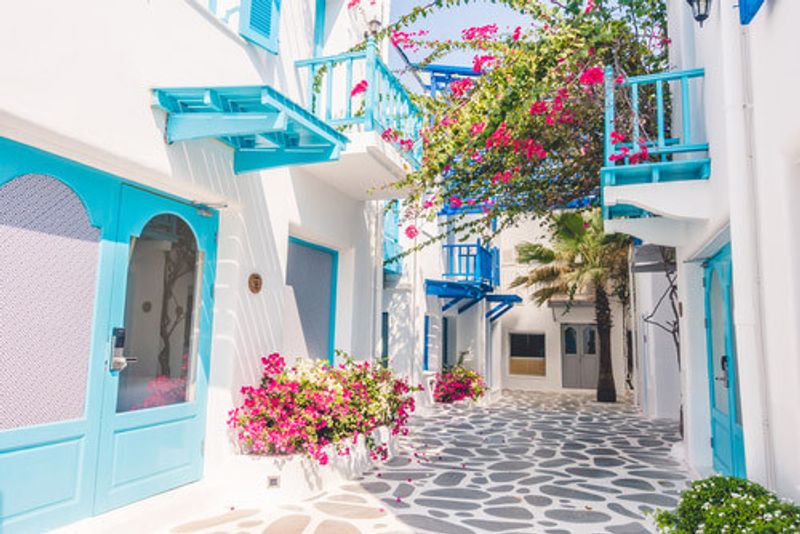 Part of the southeastern group of Greek islands known as the Kykládes (Cyclades), Mykonos is one of Europe's most popular destinations. Jump on a high-speed ferry from Athens and you'll reach the port in just a few hours. On land, the most popular means of transport is by bus - services are cheap, regular and run between all major attractions across the island. Those looking for more freedom can hire a car, but be aware that car rental in Greece requires an international driving permit, in addition to a regular driver's licence.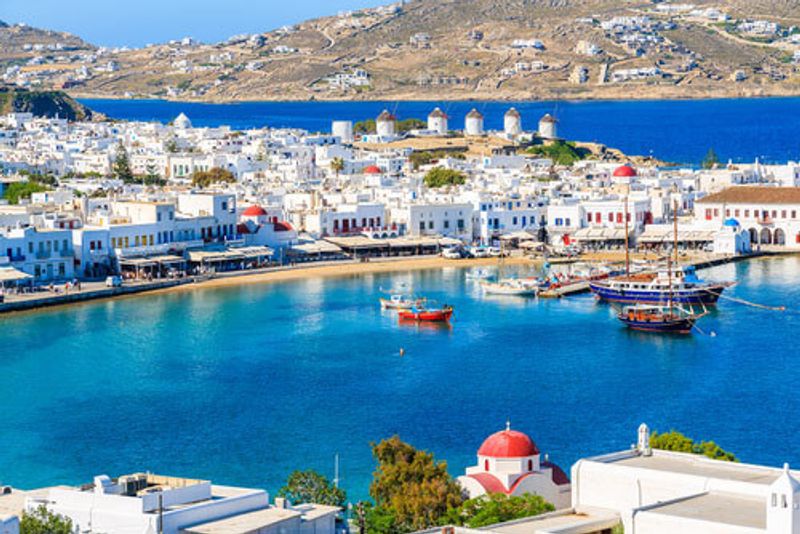 As with much of Greece, the origins of Mykonos are steeped in mythology. It's said that the island came to be thanks to a fight between Hercules, son of Zeus, and the Giants. During the battle, Hercules lured the Giants away from the safe confines of Mount Olympus and threw an enormous rock to defeat them. Depending on which myth you subscribe to, Mykonos is either the actual rock Hercules threw, or the place where the Giants were slain, with smaller rocks across the island being their petrified corpses.
Mykonos Town is the island's hub, where many of its most popular bars, eateries and clubs are situated. Wind your way through its white, cobbled alleys and treat yourself to a refreshing espresso freddo (iced coffee) or a Greek feast at one of many traditional tavernas. While Mykonos' poor soil and dry conditions limit its agriculture, the island is still known for a few local mezes (appetisers) such as kopanisti (spiced cheese) and louza (thin, spiced pork).
Wash it all down with a glass of ouzo and a hearty "yia mas!" (cheers!).
As for sights, this small island doesn't disappoint. Mikri Venetia (Little Venice) is a charming part of town, where colourful old houses line the shore. Visit in the evening for a great sunset view, or walk a little further down the road to Kato Mili to see the setting sun glow behind a row of thatched windmills. Other must-sees include the quintessentially Greek Church of Paraportiani, and the small Archaeological Museum displaying ancient treasures from Greece and beyond. If you've got time up your sleeve, the nearby island of Delos is well-worth exploring.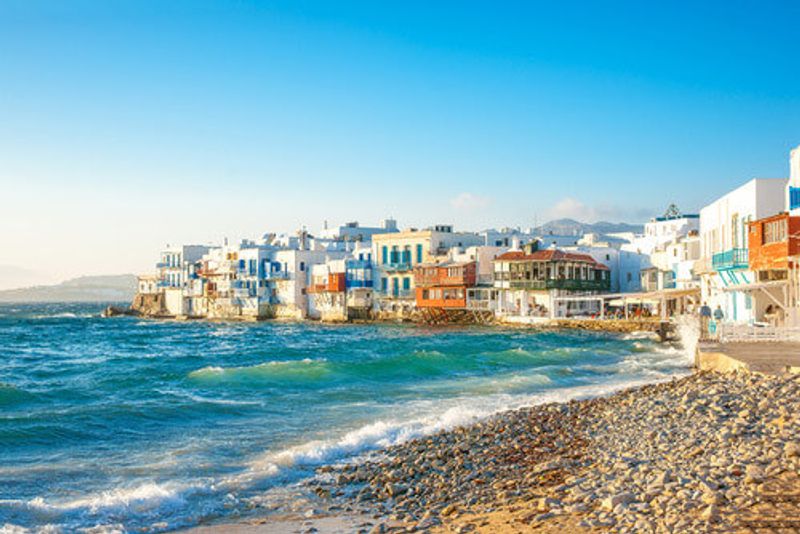 No trip to this Cycladian gem is complete without plenty of beach time and luckily for visitors, Mykonos is home to 25 of them. Paradise and Super Paradise beaches are the busiest, with loud music and bars that roar into the night; beach beds at both are hot-property and will set you back upwards of EUR20 (AU$31). For a pristine beach close to town, head to Platys Gialos, but those willing to travel further afield will be rewarded. Agios Sostis in the island's north and Fokos in the northeast are both spectacular spots for a dip and far enough from Chora that they're relatively peaceful.