Georgia is a bucket-list destination with its incredible capital, Tbilisi, as your first port of call
Nestled along the Kura River is the busy capital of Georgia, home to a veritable melting pot of cultures and histories from across the ages. Tbilisi has been around since 5 AD (at one point, it was known as 'Tiflis'), and while it's undergone much structural upheaval and foreign involvement, it has retained a strong sense of Georgian identity. It is undoubtedly one of the most fascinating, welcoming, and cosmopolitan cities in the region. Because of its strategic spot along the Silk Road, it has a long history of trade and commerce with far-flung nations, which brought their influence to Georgia's doorstep in the form of food, religion, sports, and architectural styles, to name a few.
Today, the country is well known for having modern draws like booming nightlife, future-forward designers, as well as a wealth of old-world attractions like UNESCO World Heritage sites, great outdoor activities, and a thriving arts and crafts industry.
Things to do
There's a lot going on in Tbilisi, from vibrant flea markets and archaeological treasures to kitschy Soviet-style cafes, live music venues and sleek nightclubs. There's no shortage of eclectic things to see, such as the hourly "puppet show" at the leaning clock tower next to the theatre of famed Georgian puppeteer, Revaz Gabriadze. Art Noveau fans will truly appreciate Tbilisi's beautifully detailed buildings, which sit alongside their Byzantine, Neoclassical, and even Middle Eastern brethren.
For the budding Indiana Jones lover, hit up Tbilisi's ancient sites like the Chronicles of Georgia (good-naturedly referred to as 'the Georgian Stonehenge'), and the capital's Old Town district, Abanotubani. This is where a Georgian king discovered sulfuric hot springs, which today take the form of brick-domed establishments where you can get scrubbed down by a masseuse. Even just outside Tbilisi, there's plenty to do and plenty to see – driving around the countryside is a journey in itself. Not far outside the city is the 13th-century Ananuri Castle, the battle-worn but well-preserved site of dramatic events from Georgia's history.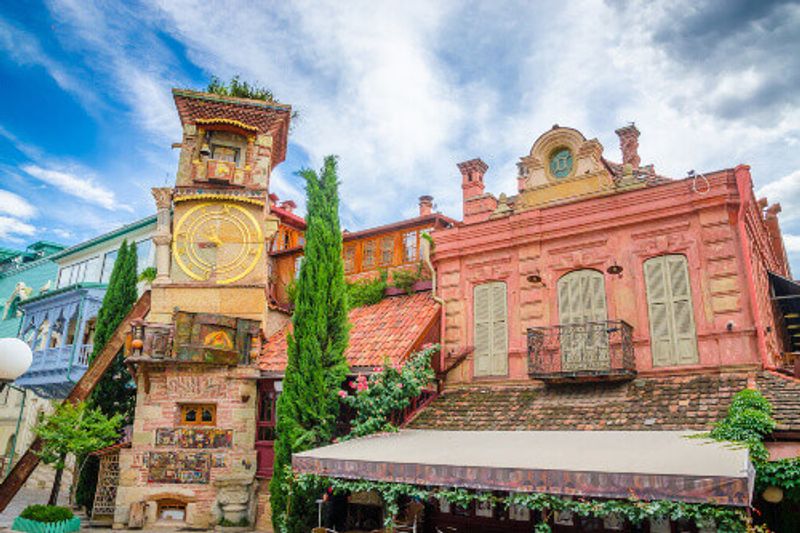 Things to eat
If you're a fan of breads, cheeses, dumplings, and other hearty fares, Georgia is the place for you. Tbilisi is the perfect spot to try the best of Georgia's regional food variations, which all boast a mouthwatering combination of flavours and herbs that are unique to Georgia. Georgian food is often served family-style with many courses laid out at once, not unlike tapas or Asian food, so dive in and try a bit of everything.
Save space for sweets, too – try churchkhela (a walnut-filled treat, flavoured with grape juice, which comes on a stick) and tklapi, which are brightly-coloured rolls of fruit puree (perhaps, the original fruit roll-up). There's also pelamushi, a little pudding made from grape juice. Don't forget that Georgia is also the birthplace of wine, which is frequently made both at home and all over the country's world-class vineyards (especially in the eastern Kakheti region). With any wine-loving culture also comes many traditions, such as the practice of toasting by a tamada or toast-maker.