Know your Baeckeoffe from your Bouillabaisse? Here's a handy guide to all the foods the locals (not tourists) eat
A country which gives the world croissants and Champagne deserves to be celebrated. Any self-respecting Francophile would be familiar with the usual suspects – foie gras, crème brulee and Croque-Monsieur. But what about the more unusual yet quintessential French dishes?
While travelling through France, look out for these picks the locals love.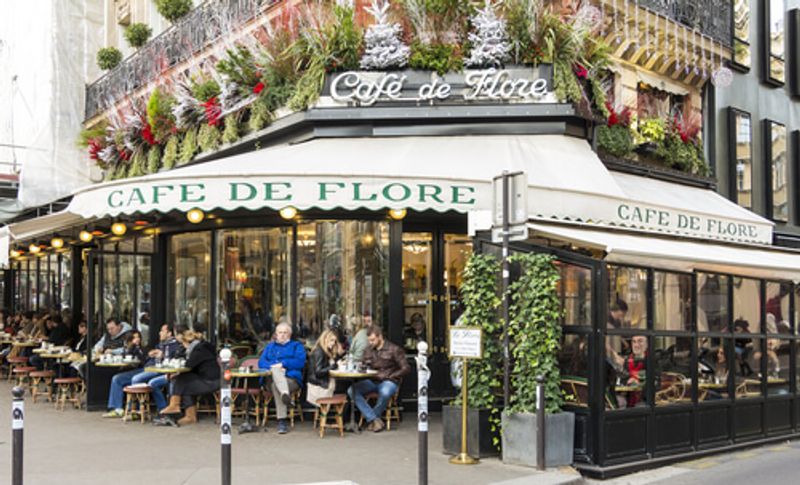 Armagnac
A type of brandy produced in Gascony, it's similar to cognac except distilled just once and is heavier in flavour.
Baeckeoffe
A casserole dish originating from Alsace, this wintertime favourite is packed with flavour and traditionally made a day ahead. The mix of cubed meat – mutton, beef, pork – plus sliced potatoes and onions, are marinated in white wine with juniper berries and covered by a bread dough before being slow-cooked in an oven.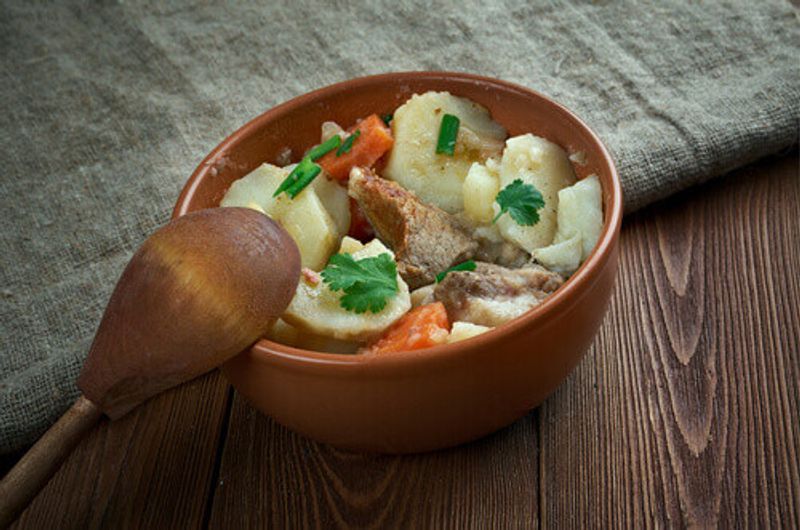 Baked Camembert
A popular winter dish, this festive favourite is normally baked whole with honey and rosemary in a wooden box, or in a special ceramic dish.
Beef bourguignon
A Burgundian signature, this classic French beef stew made with red wine, pearl onions and mushrooms is best paired with a good quality red wine.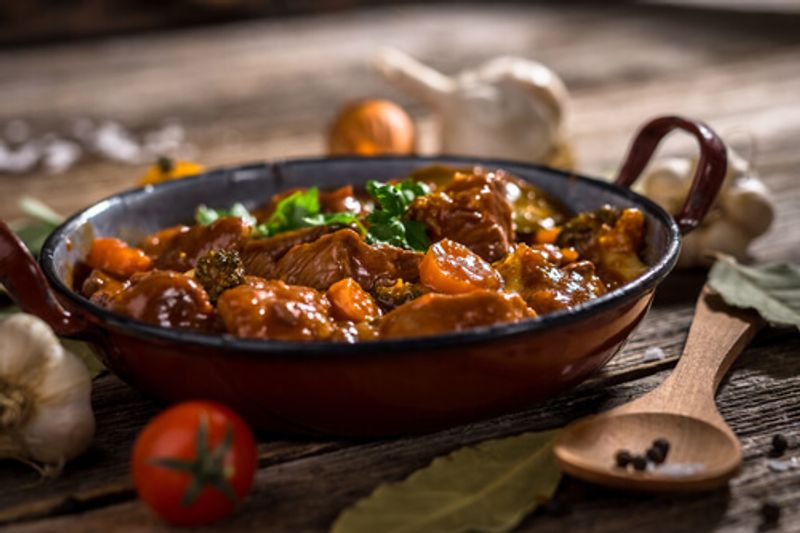 Boudin noir
Blood sausage may not be to your liking, but it's worth a taste. Using an age-old charcuterie method of preparation, there are several varieties of boudin. It can be made with sheep, goat, cow or duck blood and whether served alone or with baked apples, it's pretty delicious.
Bouillabaisse
This classic Provençal seafood stew made by Marseille fishermen is one seafood lovers will lap up. Lobster, three different types of fish and clams, a splash of pastis (anise-flavoured spirit) and root veggies, swim in a fennel-based broth. The stew is traditionally served with a rouille (a mayonnaise-based sauce of olive oil, cayenne, garlic and saffron) and grilled slices of bread.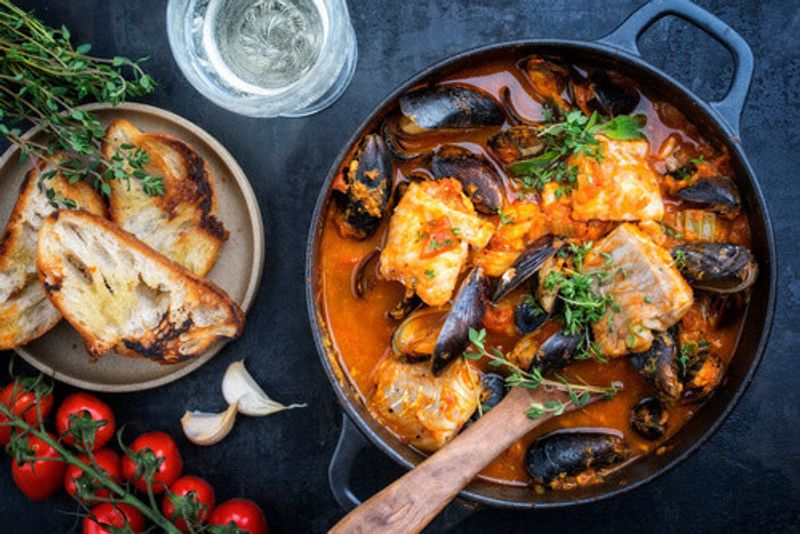 Belle Dijonnaise
Before you turn your nose up at fruit for dessert, you should give the Belle Dijonnaise a try – a skinned pear poached in wine and sweetened with sugar, cinnamon and vanilla. As you can imagine, it smells and tastes delicious.
Cervelle de canut
While the name literally translates to a rather unappetising phrase, "silk worker's brains," this cheese spread is anything but. A specialty of Lyon, it's made with a base of fromage blanc, seasoned with chopped herbs, shallots, salt, pepper, olive oil and vinegar. It's best eaten spread over freshly-baked bread.
Chartreuse
A so-called 'Elixir of Life', Chartreuse is a herbal liquor that has been made by Carthusian monks since 1605. Made with 130 different herbs, spices, roots and barks, it's a strong liquor – the spicy green Chartreuse contains 55% alcohol while the softer, slightly sweeter yellow Chartreuse contains 40% alcohol.
Clafoutis
A cake that's more of a flan, it's commonly made with cherries or rhubarb and pears, dusted with icing sugar and served warm with cream.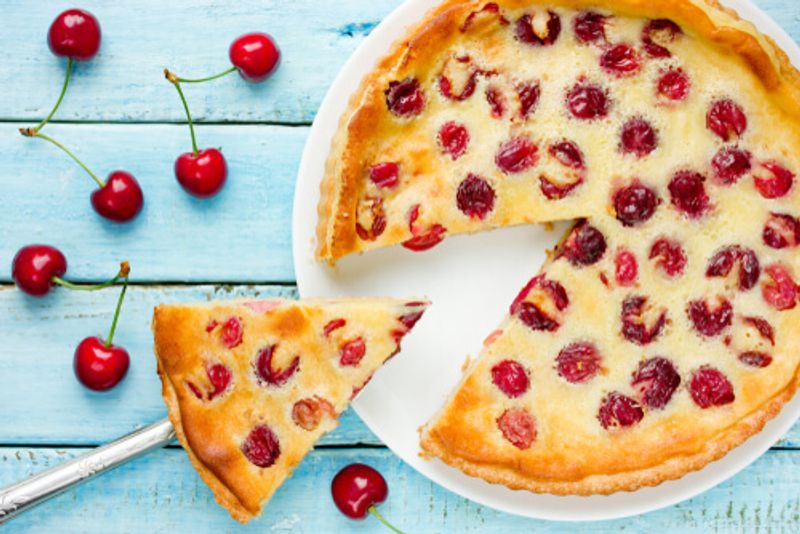 Coq au vin
A classic French chicken stew that's rumoured to have existed since the days of Julius Caesar. Chicken is braised in red wine and brandy for a rich sauce made tastier with the addition of bacon, pearl onions and mushrooms. There are a few variations based on the wine used, too – coq au violet is made with a Beaujolais nouveau while coq au Champagne is, of course, made with Champagne.
Corniottes
Savoury cheese pastries from the Morvan region, where three kinds of cheeses (fromage blanc, crème fraiche and Gruyere) are encased in a crisp, puff pastry dough, perfect as a snack or appetiser.
Dacquoise
A popular dessert cake made with layers of hazelnut meringue, almond and whipped cream supported by a buttery, biscuit base, you'll find variations of it across the country.
Escargots de Bourgogne
Originating from Burgundy, the best version of this dish will use snails endemic to the region known as helix pomatia (or Roman or Apple snail). Served as a hors d'oeuvre (appetiser), it's prepared simply in butter and herbs, and served with crusty bread.
Foie de Veau à la Lyonnaise
A signature dish of Lyon – and arguably one that puts it ahead of Paris as France's culinary capital – this hearty dish of seasoned calf liver and onions deglazed with vinegar is the epitome of French rustic cuisine at its best.
Gigot D'Agneau Pleaureur
Think of this as a simple leg of lamb but one slow roasted over a rack of potatoes so that all of its juicy goodness is absorbed by the spuds below.
#
Jambon persille
Directly translating as parslied ham, this rich meat terrine is a classic dish of Burgundy. Cooked ham and parsley are held together in meat-wine gelatin and served cold with a tangy sauce.
Magret de Canard
A meaty-type of duck from Moulard, this special breed is a cross between Pekin and Muscovy. Because of its richer flavour, it doesn't require much 'dressing up' and is served seared with thyme, honey and orange sauce.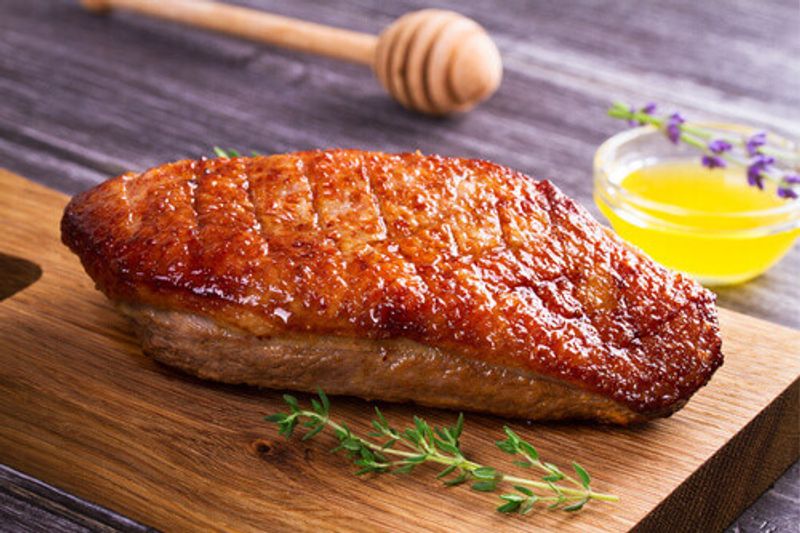 Mont Blanc
Not the pen (or the mountain), this dessert of pureed chestnut cream and meringue is one of the best things to eat in winter.
Moules marinières
A popular French holiday dish and an upmarket version of fast food, fresh mussels are cooked in a sauce of wine, butter and onions until the shells open.
Paris-brest
Not your average cream puff, choux pastry is filled with praline-flavoured cream and sometimes decorated with flaked almonds. The result? Dreamy.
Pastis
An anise aperitif, the drink is best consumed cold over ice cubes. The addition of water causes the anise oils to become cloudy and makes for a distinctive milky appearance.
Poulet de Bresse
This special breed of white chicken, raised in Bresse, is best eaten roasted with herbs, or in a cream sauce to thoroughly enjoy its juicy, succulent meat.
Quenelle
Do not mistake this for the controversial hand gesture. This dish famous in both Lyon and Nantua is, in fact, a baked dumpling made with a mixture of creamed fish, meat or chicken and sometimes combined with breadcrumbs before being baked.
Salade Lyonnaise
Because a salad from Lyon would not be quite right without some bacon, croutons, poached egg and marron glace (candied chestnuts).
#
Sole Meuniere
A classic French dish of fresh sole fish, lightly floured and pan-fried in butter, lemon and parsley. It's a good illustration that gourmet meals don't need to be complicated.