Meet Taavi Heikkilä, the CEO of Frozen Innovations, the man who designs and builds snow castles across Lapland.
How did you get into igloo making?
I am from Lapland so I grew up making igloos. Everyone in Lapland learns how to make an igloo as a child. We would always dig into the piles of snow that had been piled up beside the roads when our parents cleared the driveways and we make holes with our hands. It's a little bit different from how we do it now professionally.
In 1998 my father started a business when he built the Kemi SnowCastle and I started working for the family business then. My father has since retired and I am now the owner of the company. It's a dream come true to make snow castles for a living and get paid for it.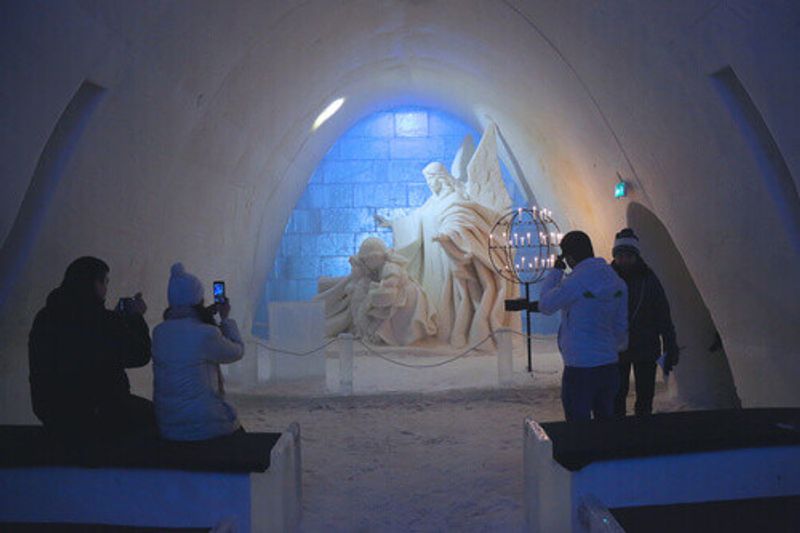 What are the main steps in building an igloo?
We use snow and ice when we build our hotels and castles. The snow is made with snow cannons – the same ones used on ski slopes – and we then use big tractors and diggers to move the big piles of snow we create. This type of snow is quite heavy compared to the natural snow so we have to break it and we then blow the snow into the moulds. We then use the same process as you would make wine to make the blocks – we press it with our feet. However, nowadays this process is becoming more mechanical.
How long does it take to build something like the Kemi SnowCastle?
We start planning one year in advance. Like any major structure, we have architects who are creating visualisations and floor plans, and engineers ensuring the weights and loads are safe and are designed according to code. The authorities have a regulation book and we also need to obtain a building permit from the city council. The authorities also check that the builders have the relevant experience, and the fire and safety authorities check there are enough doors and fire exits and that there are fire alarms. The authorities in Kemi are incredibly strict – even ensuring that the beds are not flammable. A few years ago there were reports that a snow house burnt down – can you imagine a snow house could catch fire? There was, in fact, a fire in an old wooden building near a snow house, but we certainly take safety very seriously.
Usually there is a 'warm building' next to the ice bar or snow building and they have toilets and a kitchen so it doesn't need water or plumbing but sometimes we install hidden containers inside the snow castle walls to get running water.
It's a funny thing with the snow and ice business because we spend the whole year imagining what can be done and planning, and then the actual construction happens in just a couple of weeks.
How many people work in a snow hotel?
With Kemi SnowCastle there are approximately 40 to 50 people working on it. First, we start making snow with a couple of people, then more people are needed for snow construction. We then harvest ice from the lakes, rivers or sea, which is naturally formed. This is then cut with chain saws and the blocks are lifted out with tractors. This ice is used to make some of the visible structure like dining tables, ice frescos and ice bars. Then finally the decorating team put in electricity and lights. The only thing that is made of wood are the doors – there is no metal or wood in the actual structure of the building at all.
Of course, if the weather changes the plan has to change too - so from a project management point of view, it is very time intensive. Often, a lot gets done at the last minute with people working 24 hours to get it finished. The challenge for us is that clients want to build a snow hotel as soon as winter starts so they can open it to make the most of the winter tourist season but we can't start work until the weather conditions are right.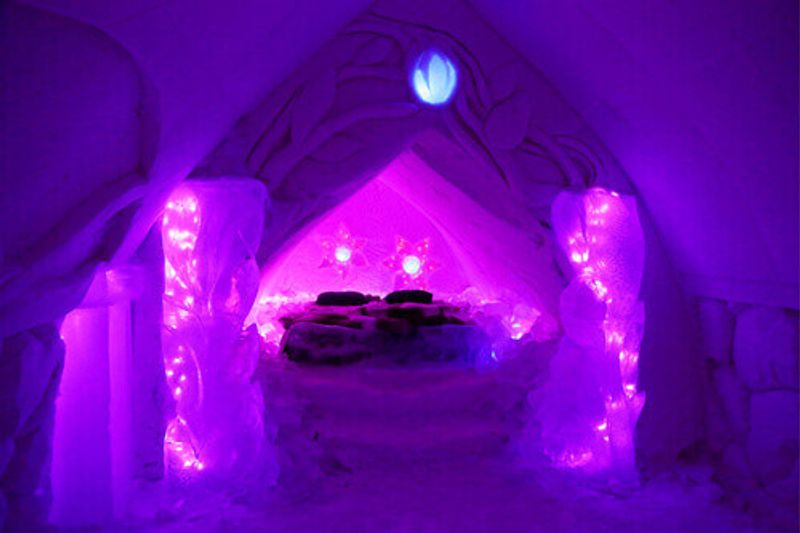 How do you come up with different designs every year?
Every year we are driven to improve on the previous year. That might be changing the layout or making new moulds, using new techniques or creating a better quality product. We talk with the client about the type and size of rooms, what kind of bar or restaurant they want, and whether they want a kind of exhibition space or even a wedding chapel. People sometimes ask if I'm sad that all our hard work is over when they melt, but it is great for our business!
What project are you most proud of?
Two years ago we made an opera stage out of snow in Denmark in the middle of summer – it was 27 degrees and we made it out of snow. We also build the ice tracks for luxury cars on the frozen sea every year. This year, we are creating an ice house in Portugal. I enjoy working out the challenges of how to keep a place cold when it's warm.
Is ice sculpture an art form that is still popular?
The most skilled people for ice sculpting are coming from eastern Europe – they are artists. There are some really talented people and in the summer when they're not working with ice, they make sand sculptures instead. A lot of them take part in international competitions throughout the year. We've been working with them for many years but it's always a challenge to get them to hit the tight deadlines without restricting their artistic expression.
Do people nowadays stay in traditional ice block igloos?
In the old days, a reindeer herder may well have created igloos during the winter, and the Finish military might sleep in snow holes during exercises but people don't stay in them for long because they melt!