For many Finns, ice fishing isn't just a hobby – it's a unique, if not a slightly extreme method of quiet contemplation
Ice fishing (pilkkiminen) is a quintessential part of the Finnish outdoor lifestyle and offers surprising thrills and insight into both the extreme nature and traditional culture of Lapland in northern Finland. It's a fantastic way to immerse yourself in the wilderness, especially in winter, when silence reigns across the white arctic landscapes; beneath the ice, a wise ice fisherman knows that the waters are teeming with potential catches. In fact, some avid ice fishers compare the pastime to meditation because of the calm atmosphere and patience involved. Some people use ice fishing huts or portable 'ice shanties,' which stave off some of the cold, but most outdoor-loving Finns prefer the original experience with nothing but a stool and warm, comfy outerwear (don't forget sunblock for your face – the sun can be deceptively strong, even in cold weather).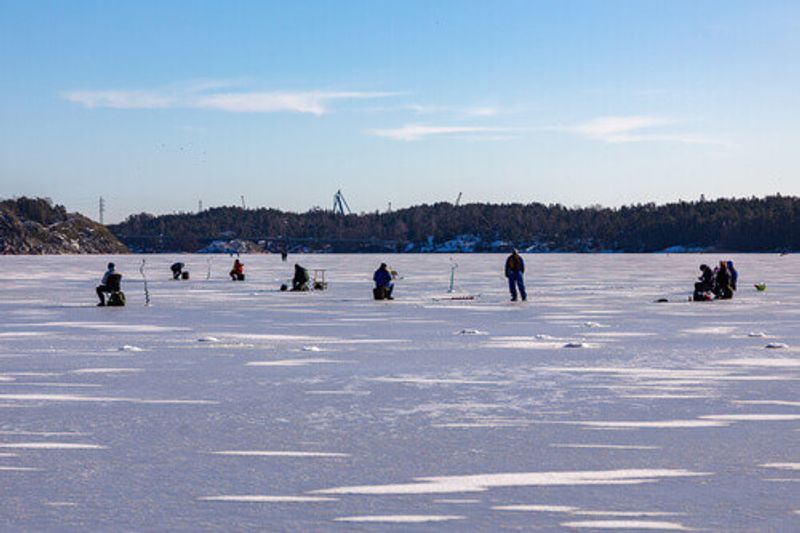 Most commonly caught fish – especially in lakes – are perch, roach, pike, and whitefish. Depending on your location, you might also nab yourself a salmon, or even a rainbow trout. Burbot is a popular night-time fish – it has an odd combination of a long, eel-like body and a long, solitary whisker on its chin, and is prized for both its meat and roe (ancient Finnish folklore claims that the burbot was made by the devil, probably because of its unnerving appearance).
Regardless of what you end up catching, one of the best aspects of ice fishing is being able to enjoy the fruits of your labour right after the expedition – that is, cooking your fresh catch over an open fire.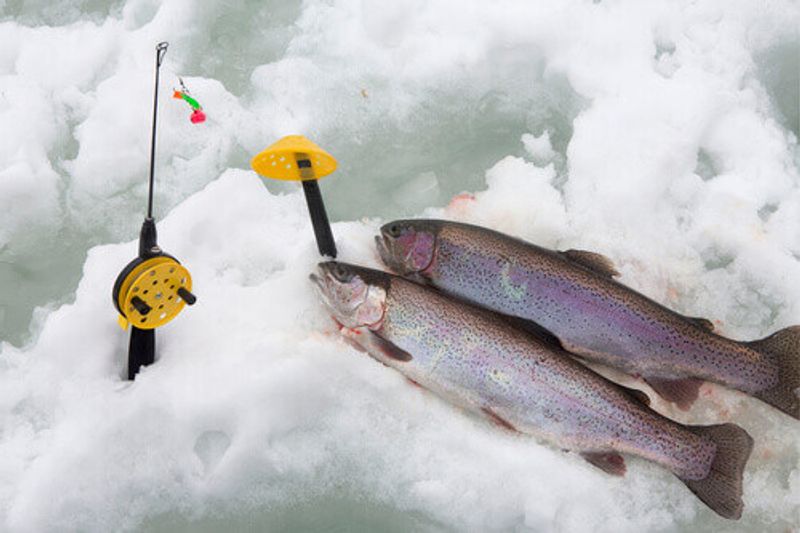 Venturing out with an experienced ice fisherman is the key here – someone who knows where to go, how to drill, and most importantly, how the fish behave during the time of day as well as the season. Watching where the locals go is also a good method – you can check out old ice holes to see where previous ice fishermen have set up camp. Along the Ounasjoki River, some of the most common fish caught are grayling, trout, and pike. Spring is largely considered to be the best time for ice fishing – there's more light beneath the ice. Ice fishing is such a popular hobby in Finland that there are even competitions based around it.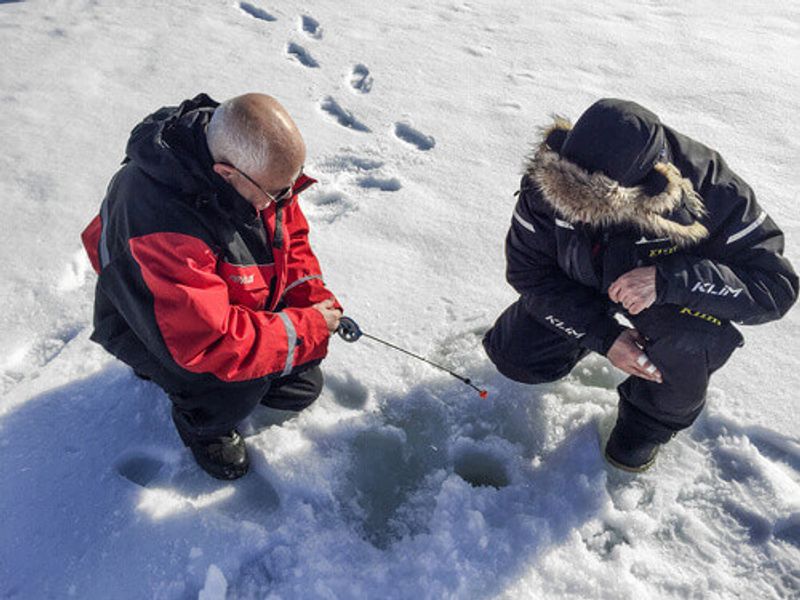 Basic tools for ice fishing include a comfy portable seat, a sludge ladle, and of course, an ice drill. The skimmer or sludge ladle is basically a tool for removing the 'sludgy' ice that remains after you've drilled a suitable hole – if you don't, your newly-formed hole will freeze over again relatively quickly. If you're feeling lucky, make sure to create a big enough hole if you land a particularly hefty catch – you don't want to have to let it go because your hole is too small. High-tech ice fishers might also bring along a portable sonar unit, which helps identify good spots. You might also want to bring along a hot thermos and some snacks to pass the time.