No visit to the Northern Territory is complete without a stop off to the breathtaking Kings Canyon, loved far and wide for its majestic beauty. Here's your guide on how to explore this special place
Kings Canyon is Australia at its absolute best: Think layers of rustic reds and sunburnt oranges, looming sandstone walls atop dense forest palms, hectares of vast national park to explore, and crevices that stretch as far as the eye can see. Kings Canyon is located about a five-hour drive from Alice Springs in the south-west of the Northern Territory and is part of the 71,000 hectares Watarrka National Park.
The national park has a beautifully rich and sacred history; the Luritja Aboriginal people have called the area home for more than 20,000 years. The park's scenic landscape teems with creeks, waterholes, gorges, 600 species of plants and animals and, of course, the age-old red rock walls of Kings Canyon that rise 100 m above Kings Creek.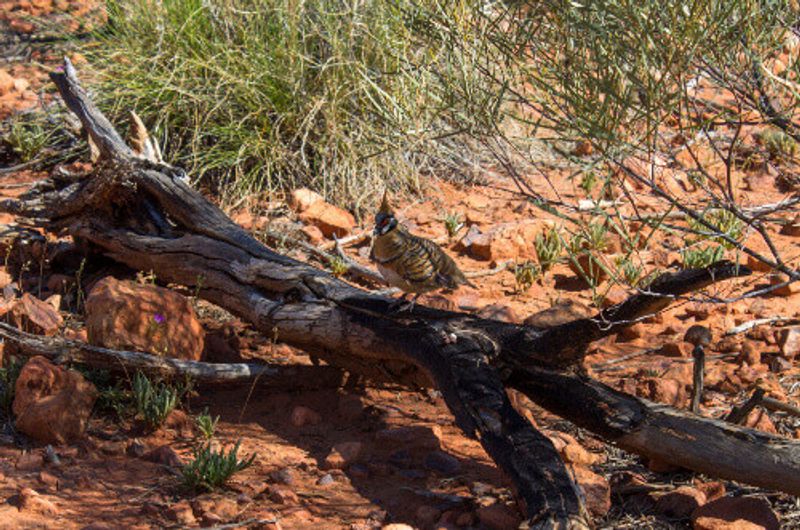 One of the best ways to experience the beauty of the canyon and truly be overwhelmed by its vastness is to pop on your hiking boots – preferably at sunrise – and climb the 6 km Rim Walkaround Kings Canyon. The circuit walk begins with 500 steps to ascend, then winds its way around the top of the canyon, past ancient sandstone domes known as the Lost City, and down into the verdant green Garden of Eden where a picturesque bridge crossing atop a sacred river provides the perfect picture opportunity.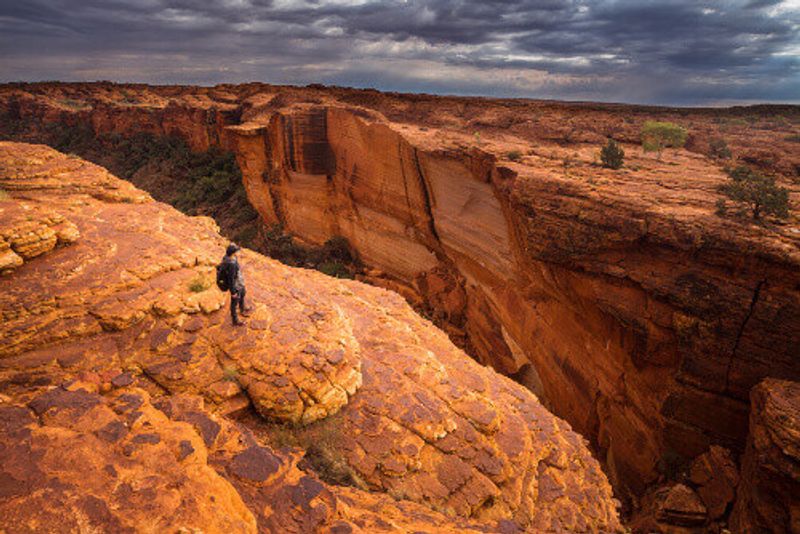 You can also opt to do this walk guided by an Aboriginal elder, offering insight into the importance of the area to its traditional custodians. Or, if 6 km is just too energetic for your liking, you can also walk along the canyon floor via the 2.6 km Kings Creek walk, an equally exciting adventure that allows you time to ogle the multiple layers of colours in the soaring sandstone walls.
Alternatively, scrap the walking altogether and opt to get a bird's eye view of Kings Canyon and its surrounds via a scenic helicopter flight from Kings Creek Station.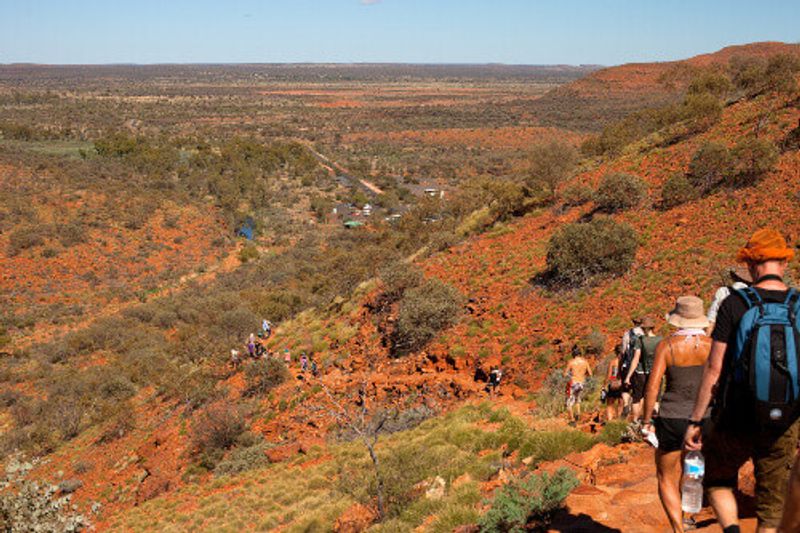 Beyond the canyon, there are 4WD tracks to explore, camel tours to go on, and quad biking adventures for that fix of adrenaline. For your culture fix, head along to one of the authentic, hands-on tours run by Karrke Aboriginal Cultural Experience & Tours. The hour-long tour will see you learn about native bush tucker foods, including the witchetty grub, bush plum and honey ants; edible tree seeds; and Aboriginal dot painting.
Accommodation options around Kings Canyon range from rugged camping experiences to an operational camel and cattle station with glamping and safari cabins and high-end resort-style rooms complete with luxe spas and large windows overlooking the desert beyond. A must for your itinerary is dining under the stars at Kings Canyon Resort. The true outback experience, aptly called Under a Desert Moon, is set around a flickering fire and includes five courses of seasonal fare with wine pairings. It doesn't get much better, right?