Argentina is a magnet for travellers who come to feel its energy, charm, culture and, of course, its natural wonders. But, when is the best time to go?
Whether you are looking for some of the most beautiful remote wilderness on the planet in Patagonia or a cosmopolitan city in Buenos Aires – there is something for everyone in Argentina.
The capital Buenos Aires is one of the most colourful and energetic cities in the world, full of culture, history and character. During summer, December to February, it is hot and can be humid – perfect sultry weather for learning to dance the tango! In El Calafate, Patagonia, summer is the peak travel period and the natural wonders of this immense region are all explored comfortable, with warm weather and clear skies. Further south, the southernmost city in the world, Ushuaia, is also at its warmest and busy with travellers preparing to depart on their Antarctic voyages.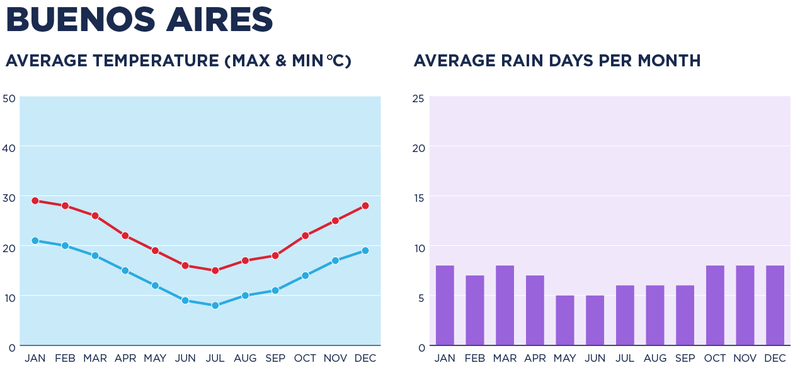 Expect averages of around 29 degrees celsius in Buenos Aires, 18 degrees in El Calafate, and 14 degrees in Ushuaia.
In autumn, from March to May, temperatures cool across the country. Patagonia remains idyllic, with plenty of opportunities for trekking, the national parks are still open and the landscapes begin to turn crimson. Buenos Aires cools a little and experiences more rain, but temperatures are still pleasant for exploring, watching a juego de fútbol (soccer game) or indulging in some mouthwatering wine and Argentinian barbecue.
Southern Ushuaia quietens in autumn, as the Antarctic travel period closes for winter. Meanwhile, Buenos Aires averages a temperate 22 degrees celsius, El Calafate drops to around 12 degrees and Ushuaia to 10 degrees.
Winter can be one of the best times to explore Buenos Aires; July and August experience cooler evenings and beautiful mornings, crowds have thinned, and the two-week tango festival kicks off! The city averages a lovely 15 degrees celsius in winter, while El Calafate and Ushuaia average just 5 degrees but can dip below zero. If you're eager to head south, keep in mind that winter does impact Patagonia. Come June, the days are much colder, and access to services and attractions in the parks is limited.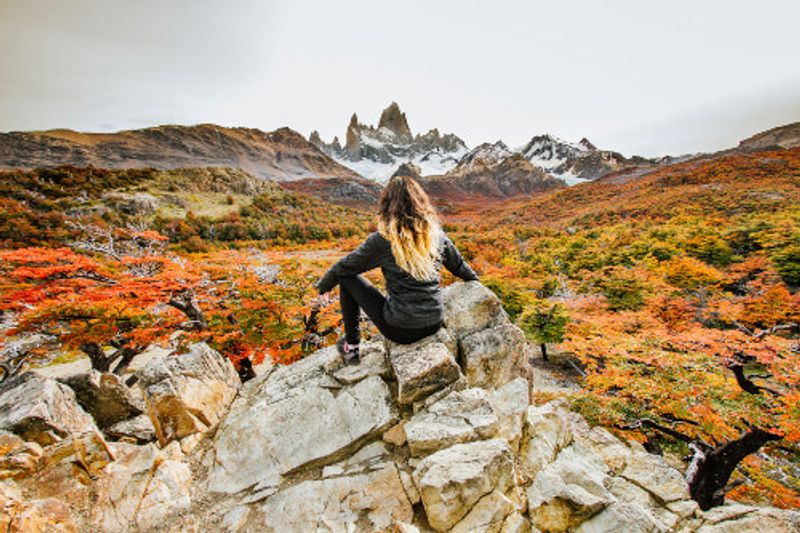 With Spring comes millions of magnificent wildflowers, which brighten the country and banish the winter blues. Towards the end of the season, Los Glaciares and Torres Del Paine National Park – two Patagonian gems – will amaze you with their vibrancy. As the weather warms, migratory animals like whales and penguins start making their way to Patagonian waters, making it a great time to visit before the summer crowds arrive.
In Buenos Aires, spring brings lovely warm days, perfect for exploring the city's San Telmo neighbourhood and its museums, markets and restaurants. Expect temperatures around 21 degrees celsius in October, 10 degrees in Ushuaia, and 14 degrees in both El Calafate and Los Glaciares National Park.
Argentina's charms are waiting to be discovered throughout the year.
When will you go?
Where else do you want to visit?