Hurtigruten's new addition is a world leader in innovation and environmentally-conscious expedition cruising
Exploring the Antarctic is a dream come true for many, and with the remote continent becoming more accessible every year, it's no longer a choice of "how do I get there?" But rather, "which option do I choose?"
Many ships operate Antarctic voyages between November and March, but Hurtigruten's custom-built MS Fridtjof Nansen is a magnificent new addition to their fleet with all the bells and whistles you could ever dream of.
Here, everything you need to know about the MS Fridtjof Nansen.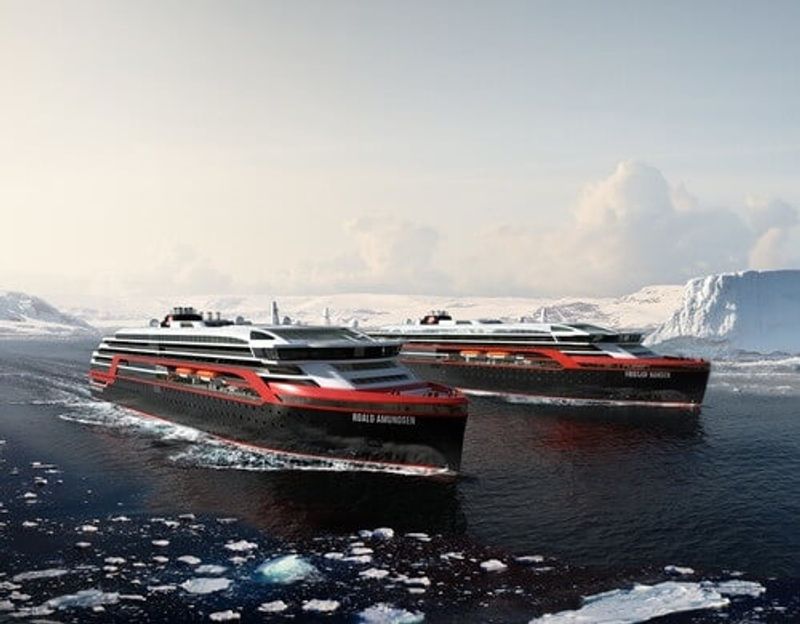 How environmentally-friendly is the MS Fridtjof Nansen?
The MS Fridtjof Nansen is one of two revolutionary new hybrid additions to the Hurtigruten fleet. Nansen and its sister ship the MS Roal Amundsen both utilise electric propulsion. This state-of-the-art technology, coupled with its advanced construction is expected to cut fuel consumption and CO2-emissions by 20%. Hybrid technology will also enable periods of silent cruising, immersing passengers in their Antarctic surrounds and allowing them to hear distant animal songs or icebergs as they shatter into the ocean.
Hurtigruten believes that the future of expedition cruising is silent and environmentally friendly, and their investment in these ships represents the largest single investment in the company's long history.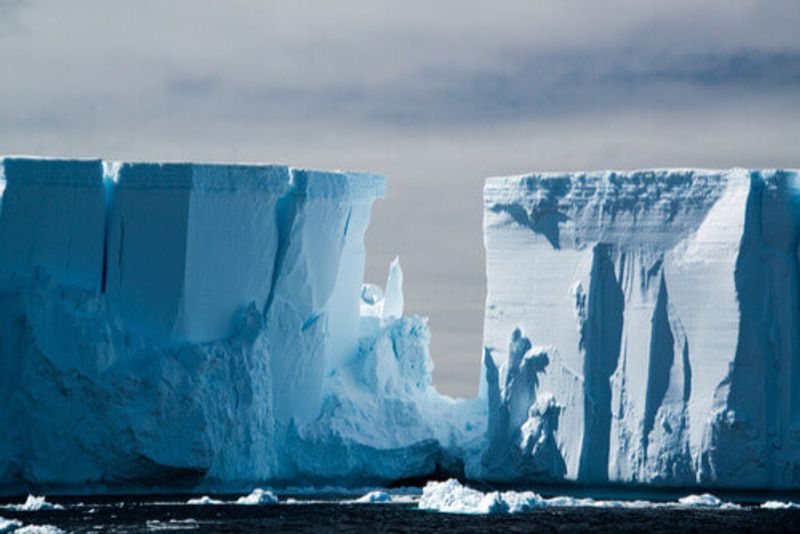 What are the cabins like?
Unlike many other ships, the MS Fridtjof Nansen does not have any inside cabins, meaning every room has either a balcony or large window. The standard cabins are classified as 'polar outside' and are primarily situated on the lower and middle decks. These are bright, comfortable rooms, fitted with a television and ensuite. Arctic superior cabins and suites are available as upgrades for an additional cost.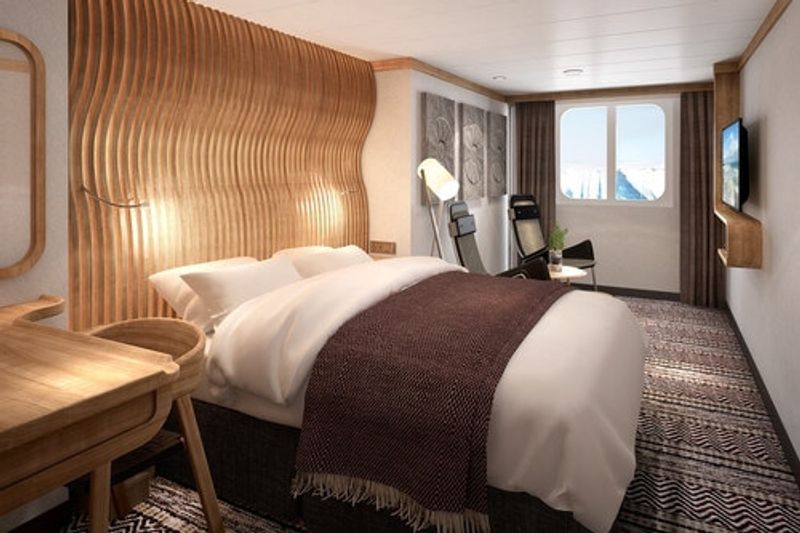 What facilities are there on board?
MS Fridtjof Nansen's size allows for extensive onboard facilities. When passengers aren't exploring the Antarctic on a shore excursion, they're free to wander the ship and enjoy the spacious lounges, gym, wellness centre, infinity pool and spas.
At the heart of any Antarctic expedition cruise are the lectures that educate guests on the intricacies of the icy ecosystem, its history and the animals that call it home. The MS Fridtjof Nansen's edu-tainment venue, the Nansen Science Centre, hosts daily presentations with their expert crew; times are set in advance, so passengers can plan their days on board. People can also do their own research in the resource library or experiment in the photo lab.
What are the drinking and dining options on board?
There are three restaurants offering a wide selection of dining options. Menus are inspired by traditional Nordic fare, as well as popular international dishes, ensuring there are plenty of options to suit all travellers and tastes.
Aune, the main restaurant, is open throughout the day to allow flexible dining around shore excursions and other activities. There's also the Fredheim – described as an 'informal international meeting place' – and a fine-dining restaurant named Lindstrøm, which offers refined Norwegian-style cuisine. Unlike the other two, Lindstrøm must be booked in advance and dishes are paid for on an a la carte basis (with the exception of suite guests).
A selection of beer, wine and soft drinks will be available with meals for no additional cost. Coffee and tea are also complimentary throughout each day of the Antarctic expedition.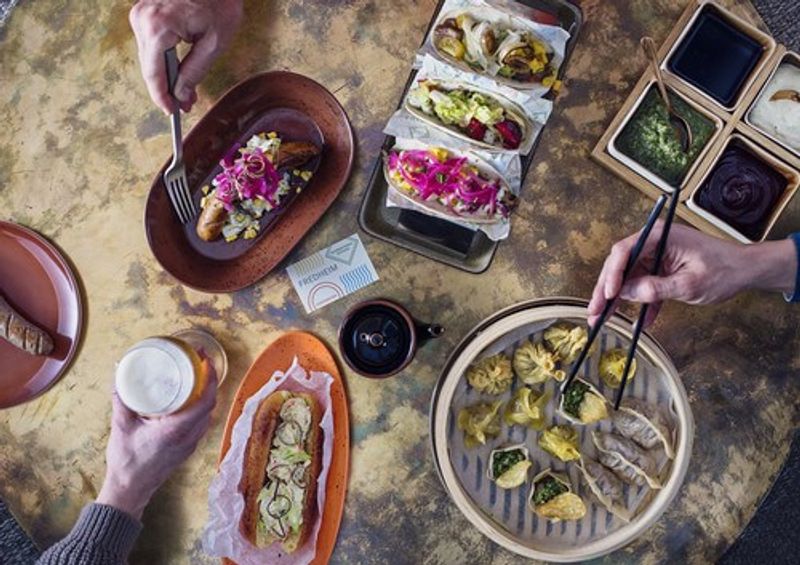 What about safety?
As one of the newest and most technologically advanced expedition vessels in the world, the MS Fridtjof Nansen is equipped with extensive safety features and procedures to comply with international maritime law. In addition, Hurtigruten is a member of the Association of Arctic Expedition Cruise Operators (AECO) and follows regulations set by Antarctica's governing body, the IAATO.
The vessel itself has lifeboats to accommodate all passengers, a double hull for strength and a Polar Class of 6 (1A+), making it an ice-strengthened expedition ship capable of tackling demanding conditions. Onboard, passengers will be briefed on safety procedures (as is required by maritime law). Passengers are encouraged to approach the expert crew with any questions.
How will the size of the MS Fridtjof Nansen impact the Antarctic Expedition?
While people may look to smaller expedition ships for their Antarctic expedition, travelling on a mid-sized, the environmentally conscious ship has many advantages. As well as increased levels of comfort and facilities unmatched by compact vessels, the MS Fridtjof Nansen has been specially designed for efficiency.
Its purpose-built tender pit, for example, enables passengers to board inflatable tender boats quickly and easily and ensures guests can embark on regular shore excursions. These features and many others ensure the size of the ship isn't a hindrance to expeditioners.