The ultimate nature reserve in South Africa is a dream destination for animal lovers who want to see it all
Kruger National Park covers an enormous area – almost 20,000 sq km of different landscapes and biodiverse eco-zones ranging from wetlands to grasslands and tropical forests. It has an ancient history of human occupation, and in 1898, was formally announced as a wildlife reserve by Paul Kruger, then-president of the Transvaal Republic (South African Republic). It became a full-fledged national park in the 1920s.
Today, Kruger is considered to be the flagship of the South African national park system, and offers a complete safari experience in terms of seeing the Big Five: the African lion, elephant, leopard, rhinoceros, and the Cape buffalo; all of these creatures are in varying levels of endangerment or near-extinction, with the exception of the buffalo. There are, of course, a wealth of other flora and fauna to see: birds, insects, reptiles, and plants, including popular tourist draws like giraffes, cheetahs, impala, eland, warthogs, zebras, hippos, hyenas, antelopes, and wild dogs.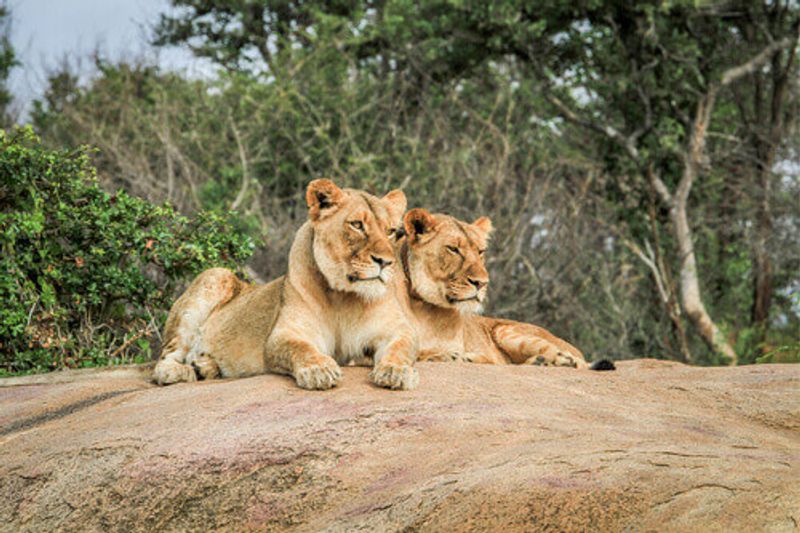 The park itself is massive and has several different entrances – plan ahead and figure out what you want to focus on within its expansive domain; the southern Paul Kruger Gate is often the most popular access point if you're coming from Johannesburg. Other reserve gates are Pafuri, Punda Maria, Phalaborwa, Orpen, Phabeni, Numbi, Malelane, and Crocodile Bridge; the gates close in the evening to deter intruders and poachers.
While you can definitely DIY your own safari experience, guided tours offer better opportunities to see wildlife, as guides share information and know the best spots for specific animals. As a rule, the southern area of the park is a bit cheaper but more saturated with visitors; the landscape here is peppered with small hills called koppies. The central area has thicker bushveld – greater cover for animals to hide, but offers a more immersive, natural visiting experience, and spectacular views; the central grasslands also has a wealth of lions, due to the lush greenery that support a big range of prey.
In general, the northern part of the park is a wonderland for bird-watchers and visitors who want to go off the beaten path; the north has sandstone as a geological foundation and a tropical climate, which makes it quite different from the rest of the park.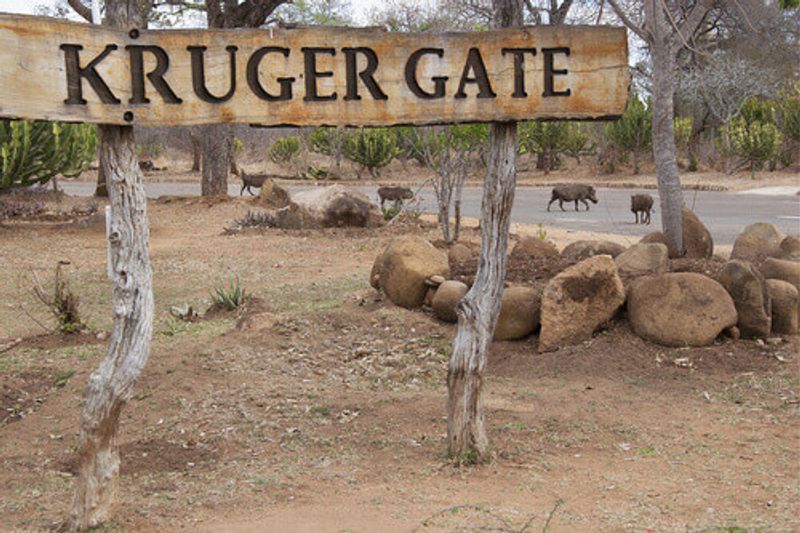 Basic park etiquette includes staying quiet and calm, so as not to disturb both the animals as well as other visitors' safari experience. Self-driving safari-goers should research and plan ahead well in advance, especially with regard to booking campsites and making reservations at lodges – also read up on driving etiquette, including when it is appropriate to leave the safety of your car, and what to do in an emergency.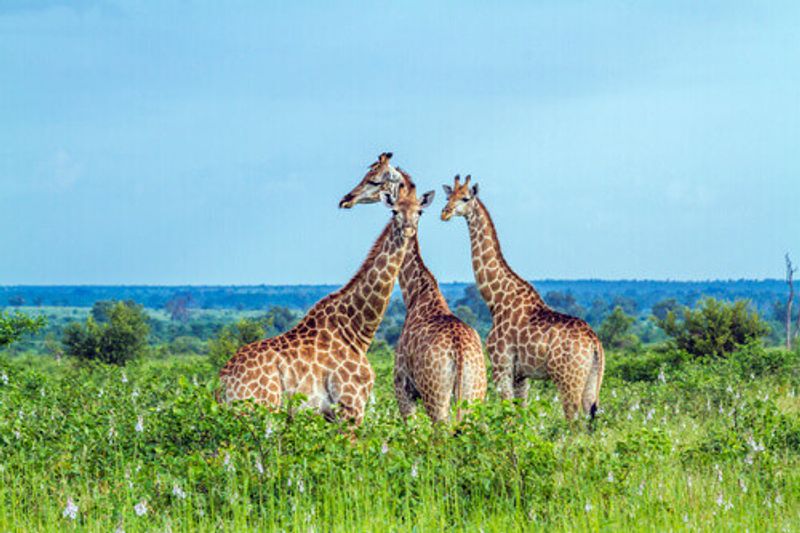 How to pack
There are a few general universal rules for safari packing, which includes sticking to neutral, earth-tone clothing, as bright colours might not go over so well with your goal of discreetly watching exotic animals. Wear comfortable, sturdy walking shoes, and stick to long, light pants over shorts. Jetting about in a 4x4 can get windy and dusty, so bring something to cover your mouth and eyes, as well as a light jacket for those early-morning expeditions or evening adventures. Some must-bring basics are binoculars, bug spray, sunblock, and a bag to keep your own garbage as you travel around. If you're staying at a lodge with a pool, don't forget to bring your bathers.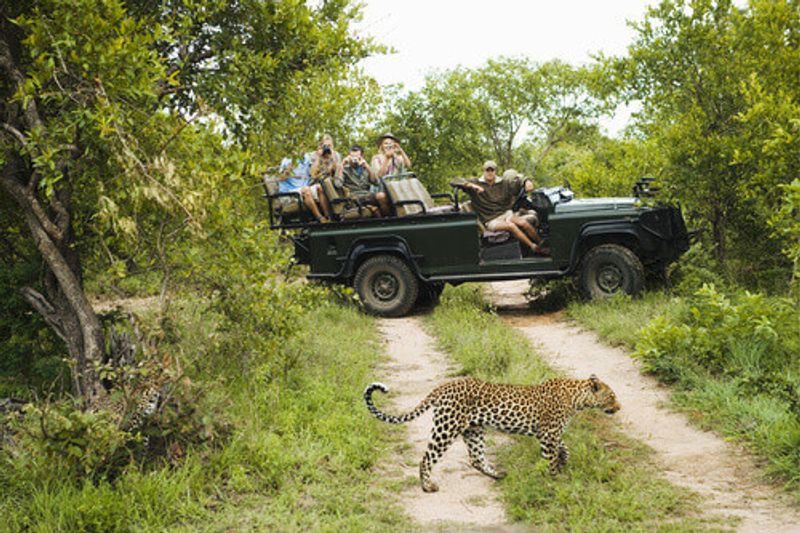 Kruger also has small convenience shops that sell snacks and bottled water, as well as necessities like bug repellent and batteries, so don't fret if you forget something.
When to go
Planning ahead is the best strategy to optimise your time at Kruger, so whether you're doing a self-drive or a guided tour, think ahead and be prepared. Different times of the year yield vastly different experiences at Kruger, as animals have varying seasons for migration, mating, and so on. For instance, summer (November-December) is a popular season for birthing, and also marks the arrival of many migratory bird species. June through August is a popular period to visit Kruger, as South Africa leans towards milder winters.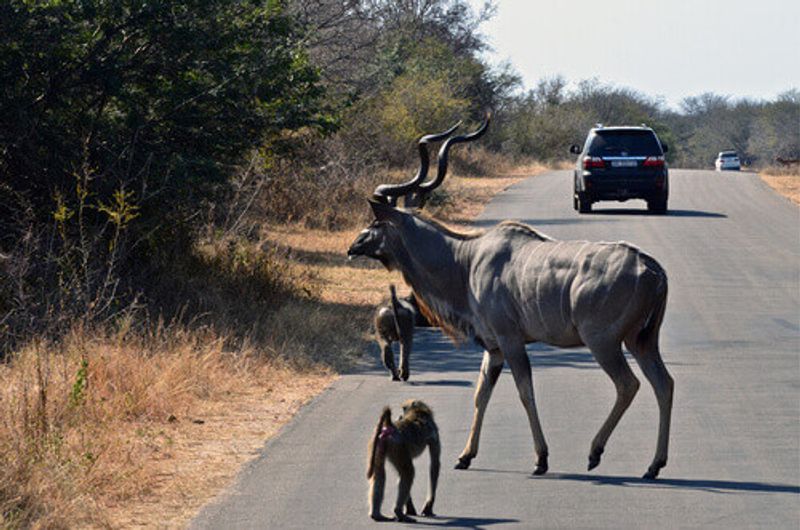 Things to do
Camping is an extremely popular activity at Kruger, and the park offers 21 rest camps, most with restaurants, small souvenir/convenience shops, safari tents, and bathroom facilities. Some even have amenities like swimming pools and internet; some people choose to bring their own tents, but at many camps, it's also possible to rent huts, bungalows, and cottages. Skukuza, the largest of these camps and the administrative seat of Kruger, even has a golf course, safari helicopters, town amenities, and a small local airport. There are several private lodges in the park that offer luxurious facilities and arranged game drives and walks.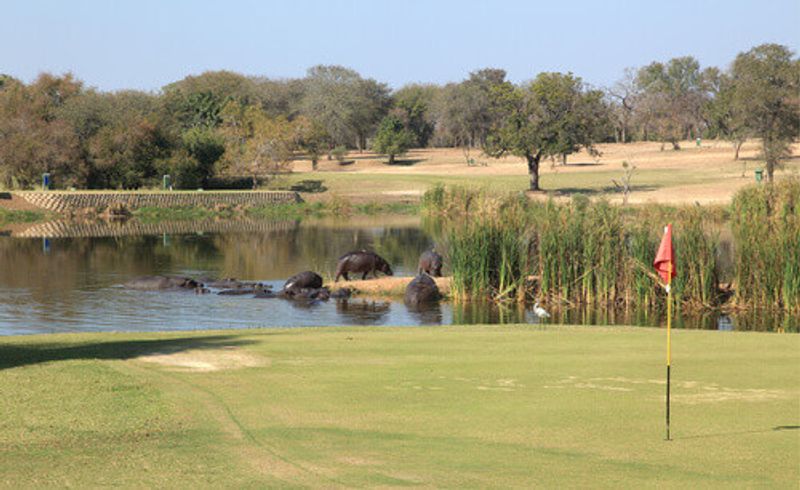 Given Kruger's massive size and scope, different parts of the park have different types of wildlife. Morning walks are a must for those who want an authentic safari experience, so get ready to rise and shine early. On the other hand, there are also fascinating evening tours that allow opportunities to watch crepuscular or nocturnal wildlife. Birdwatching is an extremely popular pastime, but since there's no phone coverage, download a good birding app with offline capabilities, or bring a good old fashioned guidebook. Archaeology buffs should check out Masorini Village Museum, a Stone-and-Iron Age site near the Phalaborwa gate that has been reconstructed to illustrate hunter-gatherer life before European colonisation.
Things to eat
Campers often make good use of the picnic and braai (barbecue) facilities, with food and firewood available at the camp shops. Menus are fairly limited at the camps, and alcohol can only be purchased by visitors who are staying in the park. Private lodges, while more expensive, offer a little more dining options, including well-prepared local eats like warthog, springbok, and ostrich. Biltong – similar to dried, cured meat jerky – is a common snack on the go, and can be made from popular game meats like zebra or kudu. Bring your own snacks, but be mindful of storing your litter in a bag and disposing of it properly. Kruger is not a place to expect bustling nightlife – most visitors are focused on getting an early start the next day.