Things are looking up for Yangon's contemporary art culture, which has become a creative backbone for the city
While Myanmar may be known for its rich ancient history and culture, today's most popular pursuits in the old capital are decidedly more modern. The contemporary art scene in Yangon is made of a growing collection of independent artists and galleries looking to put their mark on the global map. Young artists are breathing new life into the city not only through expressive visuals, but also street art and a host of industry-related events like exhibitions, installations, gallery and museum 'dos, art lectures, and drawing or painting classes.
We spoke to Patricia Pun, the owner/founder of Trish Gallery and highly-regarded art collector, for an insider's thoughts on the Yangon art scene.
Tell us a little about how you got involved in the art gallery scene in Yangon
In spite of not being able to draw or paint, I have always been very interested in art. The first piece of art I collected was purchased by pocket money that I saved when I was 17 years of age. After my return to Myanmar in 1996, I continued to pursue my interest in collecting Burmese art. My collection consisted of works by both famous and infamous up and coming young artists. I visited many art galleries in Yangon but the one I spent most time and money was a small art gallery known as Taw Win Gallery inside Bogyoke Market, known as the Scot Market during the British occupation. The owner, U Tin Win, became my advisor for my collection. My collection grew to a point that U Tin Win suggested I should open an art gallery to display my collection. This was how Trish Gallery was founded and was how I got involved in the art gallery scene in Yangon.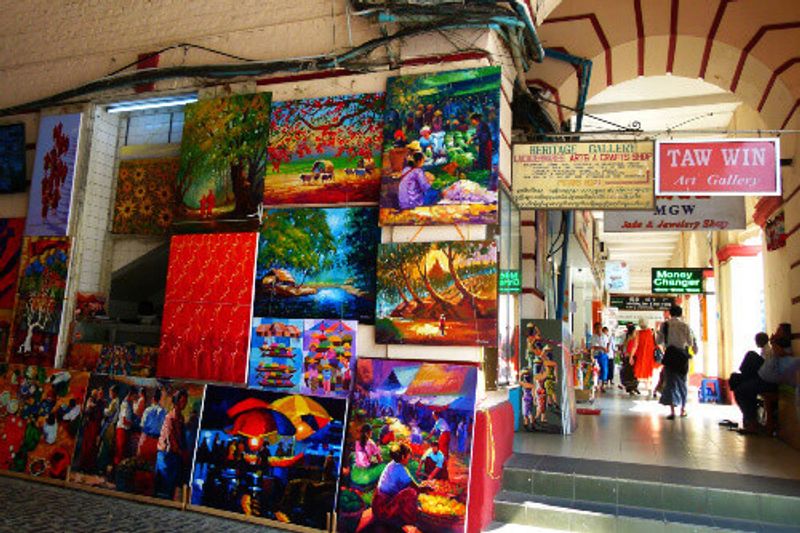 What makes the art scene in Yangon so special? What do you love most about it?
Artists in Myanmar express their appreciation of the beauty of nature this country has to offer. They showcase the untouched and unexplored area of this country and its people that makes their works so unique. I love the realism in their expressions and the details they demonstrate with their brushes.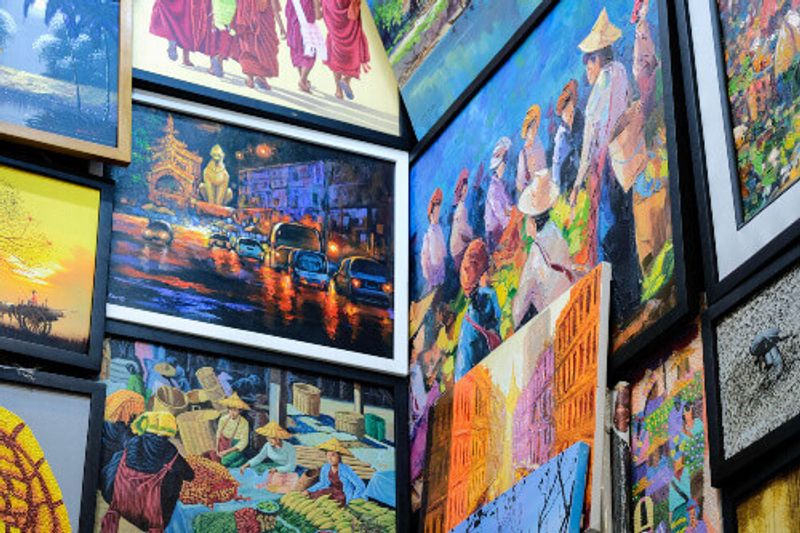 Can you tell me some of the challenges of running an art gallery?
Running an art gallery in Yangon is not as simple as it looks. Many years ago, art galleries were constantly under surveillance by the Government Censor Board. Organising art shows need the approval of the Censor Board for all art pieces that will be hung on the walls of the gallery. Freedom of thought cannot be expressed openly by the strokes of the artist's brush especially when [the work] is involved with politics one way or the other. Gallery owners have to be very careful with their choice of paintings that will be shown on the walls of their galleries.
What are some defining characteristics of contemporary art in Yangon?
Art collectors locally were not very familiar with contemporary art when I first opened the gallery, and therefore there was not a demand for them previously. It was only in recent years that contemporary art began to emerge from younger artists and had attracted the interest of foreigners working and visiting Myanmar. I would say that some of the defining characteristics of Yangon's contemporary art are not unlike previous iteration of modern art in which the themes are still closely tied to the Buddhist faith and nature. But there's a broader experimentation in mediums and exploration into interactive art with younger artists.
How do you think the Yangon art scene has changed over the past few years?
There have been tremendous changes in the art scene of this country over the past few years. In the past artists were not able to put brush to canvas, [revealing] their innermost feelings or expression in conveying their thoughts and beliefs. [As of] the past couple of years, artists are no longer under the control of the Government Censor Board. Artists can now express their opinion and thoughts as long as they do not attack the government directly. Local artists are now able to travel abroad to showcase and sell their works.
What is your ideal future for Yangon artists?
In ten years' time, I can see the art scene in Myanmar reaching the next level in the worldwide market. Due to the increased level of freedom the art world in Myanmar has now, we will see more young and upcoming artists having a much broader view in their expression and more opportunity to raise the level of their knowledge to international standard so as to be competitive in the world market for art. Myanmar as a country has yet to make itself known globally so that Myanmar art can reach all corners of the world.