Chinese New Year is serious business in its motherland, but it also offers a glimpse at the best and brightest of traditional Chinese culture
Chinese New Year, also known as Spring Festival or chunjie, is a 15-day festive period at the beginning of the year – usually late January or mid-to-late February, in 2020 it falls on January 25 – that follows the traditional lunar-based Chinese calendar. Each year, the Chinese celebrate a specific zodiac animal, which represents certain qualities. This year is the Year of the Rat, which is commonly associated with spirit, wit, alertness, diligence and vitality.
New Year's Eve and the first three days of Spring Festival are considered to be the most significant, and many businesses shut so that people can visit families and pay respects to their elders and ancestors. Afterwards, most businesses resume operation, but celebrations continue - many companies will host a staff dinner on the fourth night. The best time to plan a trip is usually after the first week when fewer people are on the move, and the most significant part of the festival is over. Keep in mind that some businesses might shut down for the entire two weeks – check ahead if you're not sure.


Like many Chinese traditions, Chinese New Year has its roots in a famous legend that tells of a monstrous creature named the nian that terrorised people at the beginning of the year. Villages would use firecrackers to scare it off, beginning a long and storied tradition of loud demonstrations – lion and dragon dances – to 'chase away' bad luck, as well as to invite good fortune. People would also leave food at the doorstep for the nian, to discourage it from eating their children.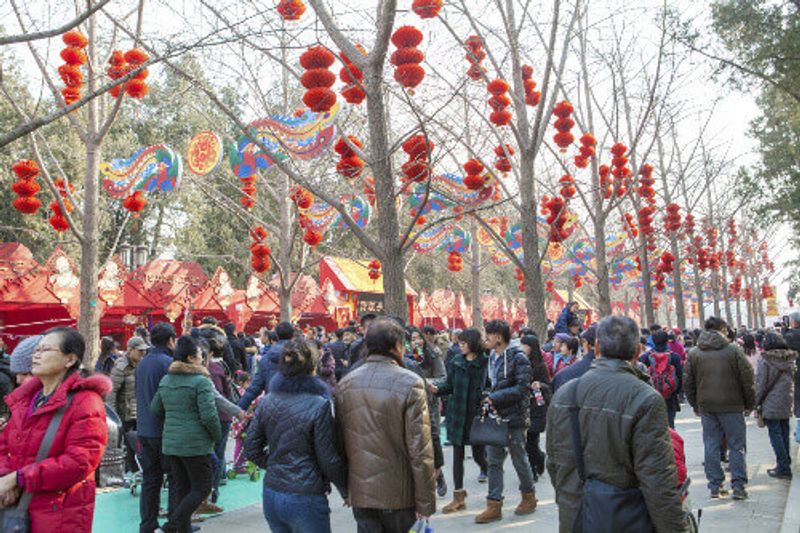 What to expect
Spring Festival involves the largest annual human migration on earth (chunyun), so plan a few months ahead and be prepared to go with the flow. An appropriate proverb is renshan renhai, which translates to 'people mountain, people sea' to describe the sheer magnitude of the crowds. Many Chinese will book their New Year travel tickets as early as possible (train tickets are only available 60 days in advance), so getting around before New Year's Eve can be overwhelming. Some of the busiest destination cities are Beijing, Shanghai, Guangzhou, Shenzhen, Kunming, Chengdu, and Hangzhou.


A general rule of thumb is that Chinese New Year festivities are more vibrant and atmospheric in smaller towns. Major cities like Beijing and Shanghai turn into ghost towns as everyone heads back to their home provinces, but tourist attractions – including Shanghai Disneyland, the Great Wall, and the Terracotta Warriors – stay packed with domestic tourists. In recent years, it has also become more popular for the Chinese to spend the holiday on vacation. While big restaurants and malls, and tourist-based services stay open, everyone else – including banks, schools, corporate offices, factories, post offices, government offices, and smaller shops and restaurants – tend to shut from New Year's Eve until at least the third or fourth day.


Holiday traditions
Many ritual preparations are made for Chinese New Year, including spring cleaning (which must be done prior to New Year's Eve), buying new (preferably red) clothes to wear during the holiday, decorating one's house with red couplets, and following various cultural superstitions, such as not cutting one's hair before the New Year. Sprigs of plum blossoms and pussy willow are common decorative accents, the Chinese character for blessing (福), as well as oranges, which are considered as symbols of good fortune. Red packets containing money are also exchanged – standing tradition is for younger people to receive red packets from the family's elders and married couples.


The holiday itself is a vibrant, raucous affair, full of exuberant well-wishes, auspicious greetings, and lion and dragon dances – these are accompanied by loud, clashing cymbals, to scare off evil spirits and bad luck. Depending on where you are in China, there are firecrackers and fireworks – this used to be more common until some regions banned them as a fire hazard. Many families gather to watch the Spring Festival Gala on Chinese television after their traditional reunion dinner. Gambling is also extremely popular, and many fortune hunters end up playing mahjong late into the night.


Keep in mind that Chinese New Year has many superstitious taboos – don't give someone scissors (which can 'cut' longevity) or clocks (which imply that time is running out). If you're visiting a Chinese family, avoid wearing white, which is the colour associated with death.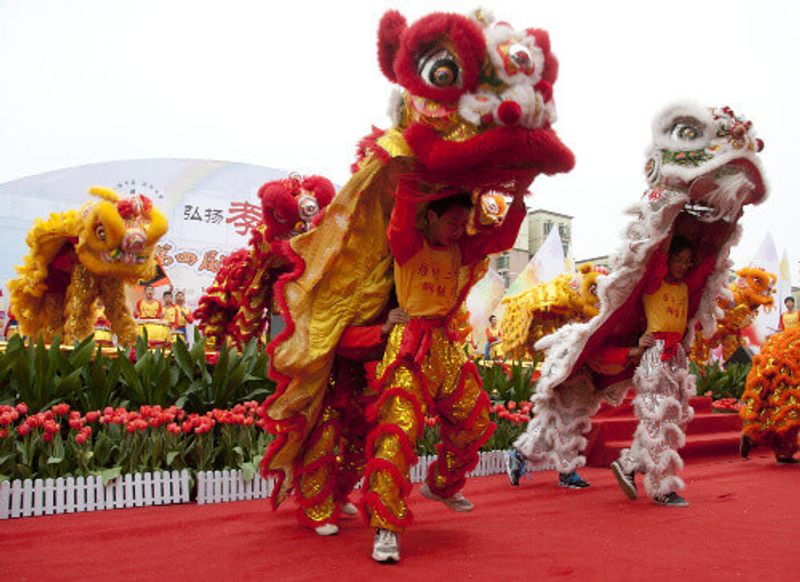 Food, glorious food
Chinese households receive guests with vigorous greetings, and arguably the most universal symbol of hospitality: food. Indeed, one of the best parts of Chinese New Year is the food, which really takes the stage during the reunion dinner; one popular reunion dinner dish is steamboat or hot pot, a symbolic meal where extended families literally share from a communal pot. In the north, New Year is commonly celebrated with dumplings, which resemble gold ingots; the south favours glutinous rice cakes called niangao (literal translation: year cake). There's also tangyuan (also known as yuanxiao) – a distinctly Chinese dessert that features glutinous rice balls with different fillings (commonly black sesame or red bean) in a sweet soup.


Travellers might also observe pairs of kumquat trees – loaded with tiny golden fruit – flanking many gates and doorways. Don't pluck the fruit and eat them – these are there as symbols of prosperity and good fortune so look, don't touch.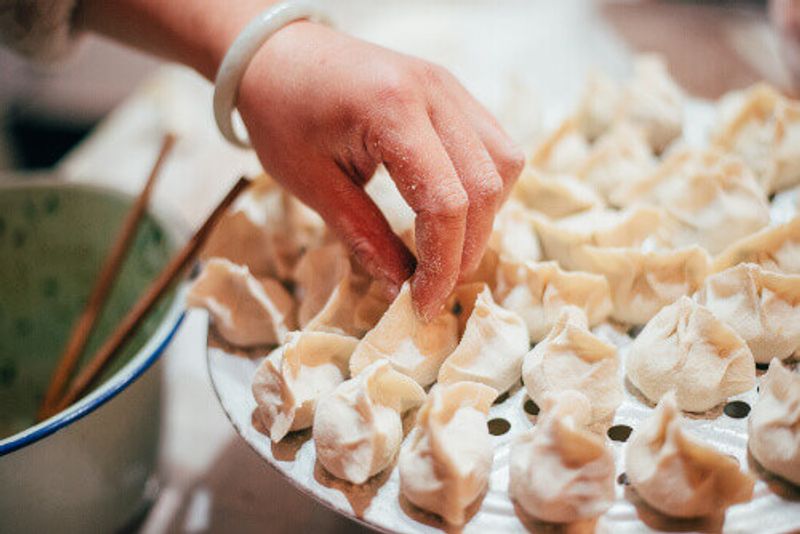 The tradition of visiting
The first day of New Year is filled with family visits to elders and grandparents. Filial piety is an extremely important concept in Confucian-influenced Chinese society, and this is very much a holiday devoted to that guiding principle. The second day of New Year is traditionally for married women to visit their 'birth' families. Most traditional Chinese don't visit on the third day, nor do they accept guests. If you're in Beijing or a major city, consider visiting local temple fairs or miao hui for delicious street food, a taste of Chinese opera, and musical performances.


Lantern Festival
On the last day, Spring Festival comes to a close with the Lantern Festival, during which people eat tangyuan and families light lanterns to pay respects to the gods and their ancestors. Lanterns come in all shapes and sizes, including all the Chinese zodiac animals. Many of these are 'floating' lanterns that people let up into the sky – the biggest lantern festival in China is held at the Confucius Temple in Qinhuai, Nanjing. Today, some people even fly lit-up drones.